Your Guide To Minimizing Pores With Makeup
Prostock-studio/Shutterstock
Everyone has pores. However, some people have pores that are more visible than others. There's absolutely nothing wrong with this, but large pores can be obvious even when you're wearing makeup, which could cause you to feel self-conscious. If this sounds like a familiar situation, you're in luck. There are ways to make your pores appear smaller without doing anything drastic, and we've got all the info you need on how to do just that.
The most important (and first) step of any makeup routine should be to make sure your skin is prepped and ready. You can apply your makeup beautifully, but it will crease, fade, and generally look weak if it sits on un-prepped skin. Speaking to Byrdie, celeb makeup artist Daniel Martin recommended using a toning pad or hydrating toner to help prep your skin. Even if you have super oily skin, a toner will help clear your skin of any prior debris so you're ready to get to work. "If I'm dealing with a client who has large pores, I try to neutralize the skin as much as possible so that whatever foundation I use doesn't 'sit' on the skin after hours of wear," he shared. Basically, prep is everything.
It's about how you apply the products as well as the products themselves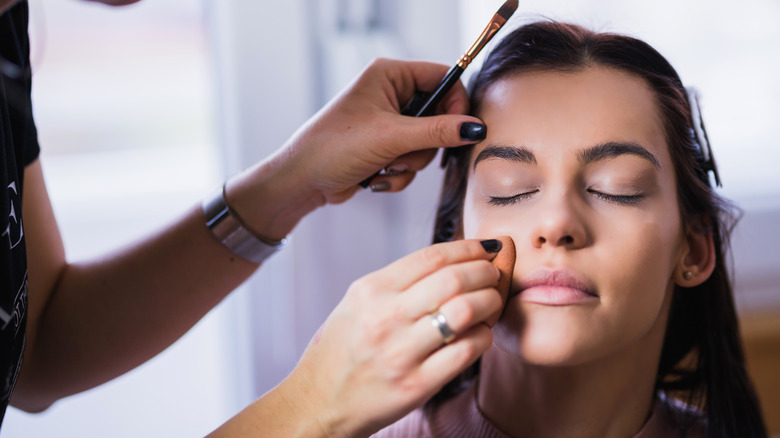 Dobrila Vignjevic/Getty Images
For your base makeup, the texture of the products and how you apply them are both key factors. Most pore-minimizing primers contain silicone, which is the magic ingredient that will give you the desired outcome. When applying concealer or primer, never rub in the product; tap it in until it's blended. This will create a more even appearance. Plus, as Daniel Martin told Byrdie, "Silicone can break up with too much rubbing or tugging, which will cause the product to roll and peel off the skin" — a result no one wants.
As for foundation, glass skin may be in, but you should reach for a matte foundation if you have larger pores. A dewy foundation could cause your skin to look oily rather than fresh and emphasize your pores instead of hiding them. When it comes to applying your foundation, swap out your usual blender for a brush. Per Martin, you should then buff in a circular motion to blend. This is a good way to minimize pores and give your skin a "blurred" look.
Final steps are important to make sure your makeup stays in place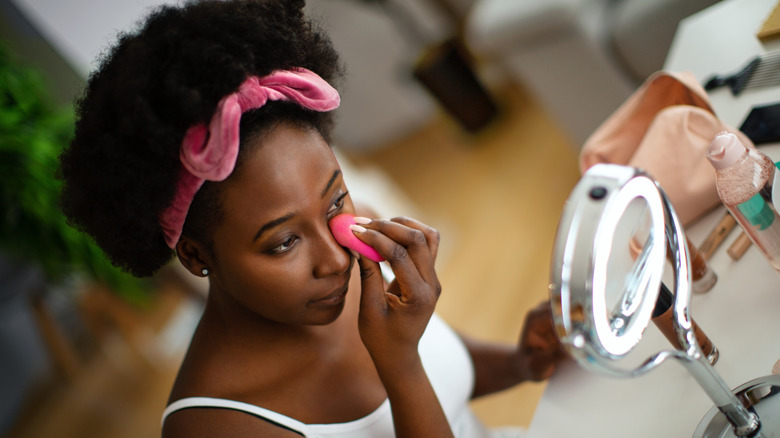 Aja Koska/Getty Images
As you should opt for a matte foundation, you should also choose a bronzer and finishing powder that has a mattifying finish. Powders can cause your base makeup to separate if you choose the wrong consistency, so find one that matches your foundation for the best effects. Highlighter can often give you that extra glow and sparkle, but it may undo your foundation's blurring effect. To prevent this, keep your highlighter to areas where your pores are smaller, or apply to places like your eyelids or cupid's bow instead.
Though this isn't a necessary last step, we recommend finishing with a setting spray if you are going on a night out or don't think you'll do many makeup touch-ups throughout your day. The Benefit POREfessional Setting Spray is a great option that will minimize your pores and keep your skin matte without making it look cakey.
No one has pores that are invisible, but with the above makeup tips, you can feel more confident if yours are on the larger side.