Here's How You Detangle Coarse Hair In The Blink Of An Eye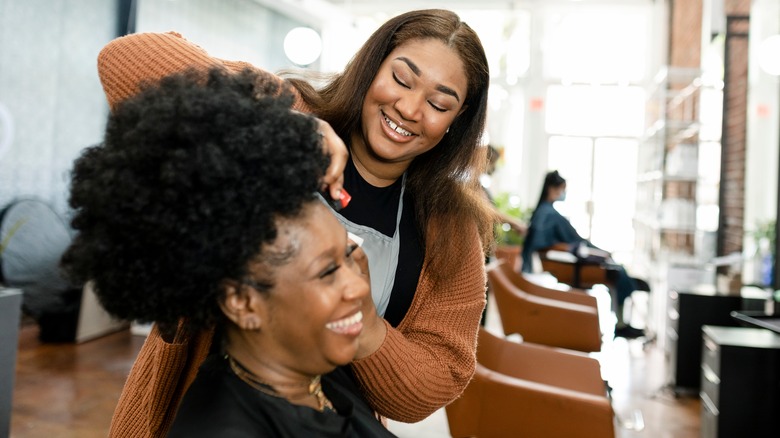 Rawpixel.com/Shutterstock
We may receive a commission on purchases made from links.
Anyone with thick hair can attest to its beauty and its extensive upkeep. Unfortunately, curly hair can be a task, especially when it comes time to wash and detangle it. Different people will have their own techniques depending on whether or not the hair is kinky, coily, or wavy though, so finding the perfect care hacks are usually trial and error. Those with fine hair won't have to undergo the same prepping and experimentation, as their hair is straighter and contains less dramatic tangles. On the other hand, coarse hair can knot more easily since it tends to be thicker. This is only exasperated if the hair is longer. 
Thankfully, hairstylists have put a lot of time and research into finding remedies that work universally for anyone with coarse hair types. Even better, many of these techniques can be performed at home during your normal wash routine, leaving you with flawless curls quickly.
Properly moisturizing helps coarse hair detangle easily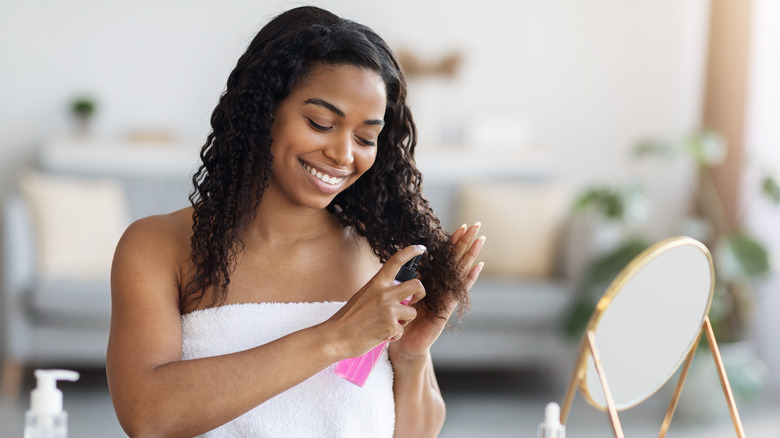 Prostock-studio/Getty Images
While dry hair can be detangled, this may be one of the ways you're ruining your curls. Many hair experts suggest doing it while the hair is moisturized instead. Owner of Intangible Inches Hair Salon, Lakeisha Heard, swears by this technique. In her advice to Byrdie, she says wetting the hair and using conditioner can make detangling a breeze. A great product for this process is the Shea Moisture Coconut & Hibiscus Curl & Shine Conditioner. This creamy formula restores moisture to curly hair after shampooing because of ingredients such as coconut oil, Vitamin E, and fatty acids, all of which add shine to the hair while strengthening it.
Once the hair is saturated, Heard says the best way to begin detangling is by doing so in sections. After the curls are separated, brush through the sections from ends to root until the entire head is completed. Since the hair will require a good amount of water, completing this detangling technique can be most convenient when done in the shower. However, spritzing the hair using a water bottle and applying a leave-in conditioner can also yield similar results. Make sure you also have the right brush to properly detangle. You'll want to go with one that has strong, spread-out bristles that can safely glide through hair without causing breakage, such as the dae Vegan Detangle + Style Brush.
Try not to scrub or rub curly hair during wash day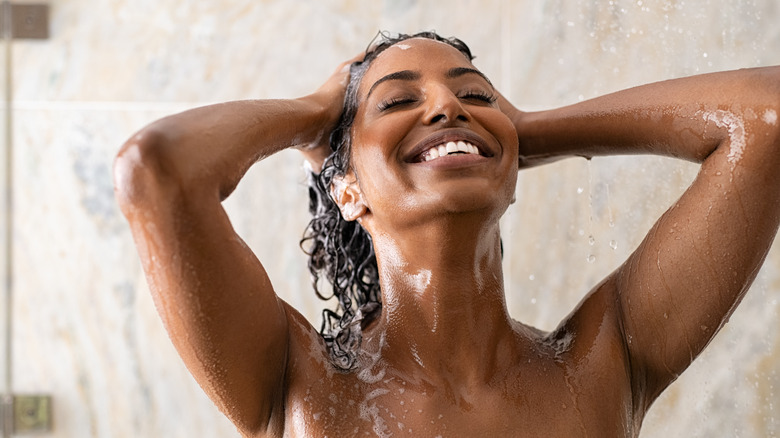 Ground Picture/Shutterstock
Before you get to the conditioning and detangling, you want to take preventative measures when washing to ensure you don't make the hair more unmanageable. When cleaning your tresses, you want to avoid scrubbing when lathering the shampoo. Many people do this to get more product in the curls. However, this friction can make more knots. By the time you begin brushing it out, you may find yourself with more kinks than you started with. Make your life easier by focusing on the root and scalp, where the hair tends to be its oiliest.
The truth about curly hair is that, while beautiful, it can be a lot of work. However, maintaining your gorgeous mane does not have to be a headache. As summer approaches, you'll want to let those curls fly as you enjoy more sunshine, but only after taking steps to protect them against the dry heat. With a little patience and the correct products for your hair texture, your inches will go tangle-free.