Who Was Kate Hudson's Best On-Screen Kiss?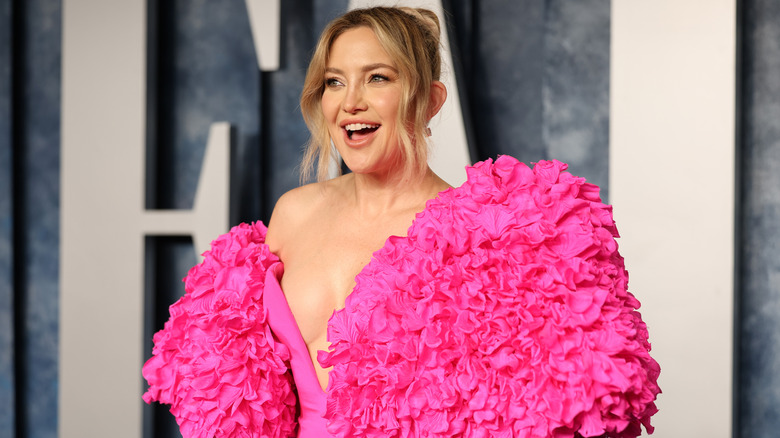 Cindy Ord/vf23/Getty Images
Kate Hudson has had some pretty iconic on-screen kisses over the course of her 25-year career. There was the smooch between her and Dane Cook in the film, "My Best Friend's Girl." Some pretty notable lip-locking with co-star Billy Crudup that took place in "Almost Famous" also stands out in fans' minds.
During an Instagram Live session in February 2023 with Matthew McConaughey celebrating the 20-year anniversary of their rom-com, "How to Lose a Guy in 10 Days," one fan asked Hudson how it was kissing him in the film. She referred to it as "a very nice kiss," playing coy with respect to their current relationships. In addition to scripted romance, the movie star also dated former "You, Me and Dupree " co-star Owen Wilson, so it's no doubt she's gotten to kiss some of Hollywood's most desirable folks on and off screen. However, does the actor have an all-time favorite smoocher? Well, that depends on when you ask her.
Years ago Kate Hudson called Heath Ledger her best on-screen kiss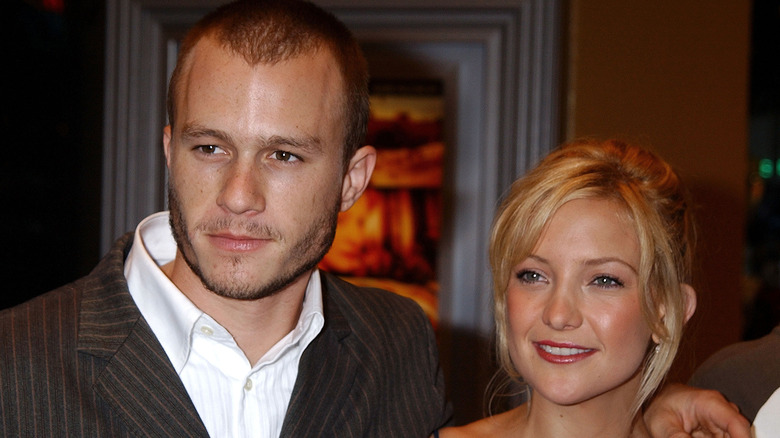 Gregg Deguire/Getty Images
Back in 2014, Oscar-nominated actor Kate Hudson revealed that late actor Heath Ledger gifted her the best work kiss. Before his accidental overdose death in January 2008, Hudson and Ledger starred together in the 2002 drama "The Four Feathers." Set in 1875, the film follows British officer Harry Faversham, portrayed by Ledger, as he defies his military father and leaves his position to be with his fiance Ethne Eustace, played by Hudson. His comrades look at him as a coward and send him three white feathers, a sign of cowardice, while Eustace sends him the fourth. Needless to say, this movie is a dramatic, patriotic romance filled with plenty of lovey-dovey moments between Hudson and Ledger.
During her 2014 appearance on "Watch What Happens Live" with Andy Cohen, Hudson called the kiss with Ledger "pretty excellent." She went on to gloat over the immensely talented actor and his immaculate lip abilities. "He was just so beautiful and sweet and gentle," she shared.
Kate Hudson recently dubbed Liv Tyler her best on-camera kisser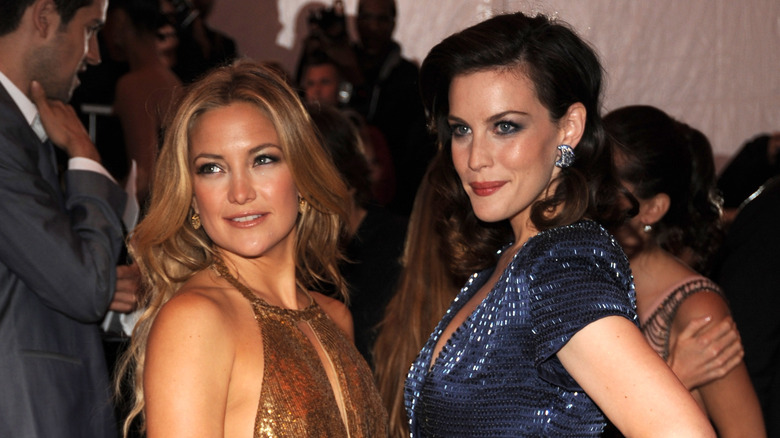 Kevin Mazur/Getty Images
Kate Hudson is not limiting her best kisser to her male counterparts. In fact, she dethroned "The Dark Knight" performer Health Ledger for her best on-screen smoocher in 2022. During her Vogue lie detector test, Hudson revealed to moderator Janelle Monae that it was actually Liv Tyler who planted the best kiss. She says the two, who remain friends, still question why they didn't continue their makeout session in the flick "Dr. T & the Women."
"She has the softest lips of them all," Hudson confirmed. Hudson and Tyler portrayed the roles of Dee Dee and Marilyn, respectively in the 2000 film. The women are involved in a secret relationship, despite Dee Dee preparing to marry someone else with Marilyn serving as her maid of honor. With such a passionate storyline, it's no surprise that these two shared the best kiss of Hudson's career.
With her return to rom-coms, fans may be in for many more stellar kisses in the near future. If not, we can always relive the magic in some of her most beloved previous works, where we can admire Hudson's stunning transformation over the years.