Why Savannah Chrisley Feels Her Mom Julie Is 'Scared' In Prison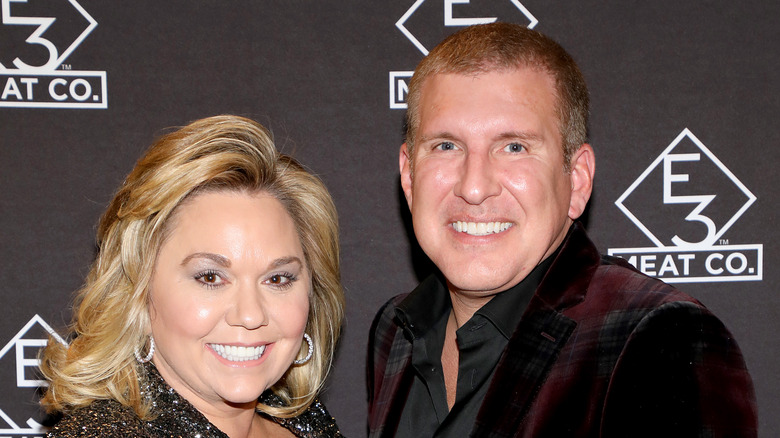 Danielle Del Valle/Getty Images
One can only imagine what reality star Julia Chrisley is feeling while completing the first leg of her seven-year sentence. The "Chrisley Knows Best" star kicked off 2023 surrendering to authorities alongside her husband Todd Chrisley after they were found guilty of tax fraud, via E! News. The reality star couple knew their time in federal prison was impending following their indictment in August 2019 on 12 counts, including wire fraud and conspiracy to commit bank fraud. Despite pleading not guilty to charges accusing them of trying to hide income from their hit reality show, via CBS News, a federal jury found the television personalities guilty in June 2022 on all counts and sentenced Todd to 12 years in prison, and gave Julie seven.
While their two oldest children, Savannah and Chase Chrisley are old enough to take care of themselves, Todd and Julie's prison sentences meant they wouldn't be around to care for their youngest son Grayson Chrisley, who was just 16 and had a "breakdown" when his parents turned themselves in, via Page Six. Savannah is now the sole guardian of Grayson and her 10-year-old niece Chloe. Now in the months since beginning their sentences, Savannah is opening up about how "hard" prison has been on her mom, who hasn't been able to speak to her husband of 30 years. 
How Julie stays busy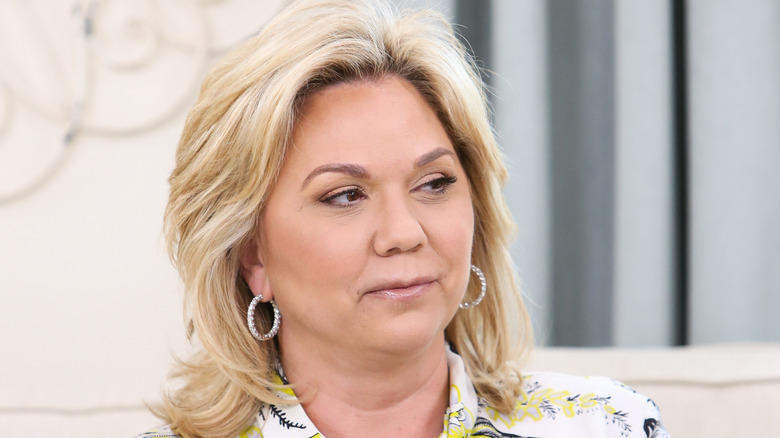 Paul Archuleta/Getty Images
Savannah Chrisley has made it her mission to continue advocating for her parents, whom she believes are "100%" not guilty, via Fox News. Todd and Julie Chrisley spent 30 years attached at the hip while building an empire and achieving reality star fame. But once they turned themselves in, Julie was sent to serve out her time at FMC Lexington, Kentucky while Todd was sent to the minimum security prison FPC Pensacola in Florida, via KCRA. While appearing on the "Unlocked" podcast in May 2022, Savannah explained how her mom is "trying to stay busy" while serving out her time (via Page Six). The television star is reportedly willing to do "anything and everything," according to her daughter. But the truth of the matter is prison is no easy feat, and it's likely even harder for someone who enjoyed a life of luxury prior to going behind bars. It's likely why Julie has been "sticking to herself," and writing daily letters to her kids.
The letters have helped paint a picture for Savannah of how "tough" prison has been for Julie. "To see the accounts of her day and just things that she's scared of or nervous about or just all the thoughts that go through her mind," Savannah explained. When it comes to her dad, it's been a surprise for Savannah to see her father with grey hair while in prison, considering how much he used to regularly dye his hair. But that's not even the hardest part.
How prison is affecting Todd and Julie's marriage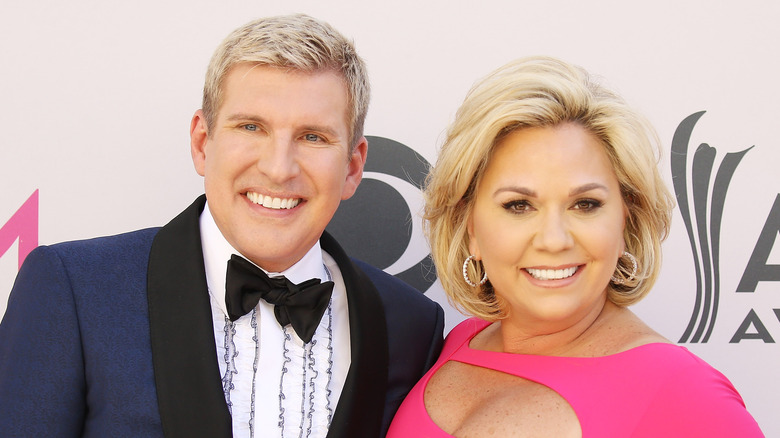 Michael Tran/Getty Images
The most challenging part of Todd and Julie Chrisley's prison sentences might be the separation forced on the longtime couple. To go from spending nearly every day together for 30 years to not being able to speak at all, can take a toll on the strongest relationships. "I don't think there's a single letter that goes by that she does not say how much she misses my dad. They don't get to talk," Savannah said of her mom's daily letters. The eldest of the Chrisley children believes the distance and lack of communication is "the biggest" challenge for her parents, who still have ways to go before being released. 
Todd and Julie remain hopeful for retrial since receiving their sentences, via E! News. According to their lawyer, there were documents "unlawfully seized" by the government that violate the Fourth Amendment, and the Chrisleys think it'll help their case in court. If they do get a retrial, the Chrisleys might want to show a little more remorse in court, since even their own lawyer Alex Little admitted might've impacted the judge's decision to issue out the lengthy sentences. Savannah has been teasing her parents' plan to appeal their conviction since they "were never given an evidentiary hearing by the judge," she told the "Off The Vine With Kaitlyn Bristowe" podcast, per Page Six.