How Kate Middleton's Striking Coronation Headpiece Paid Special Tribute To Queen Elizabeth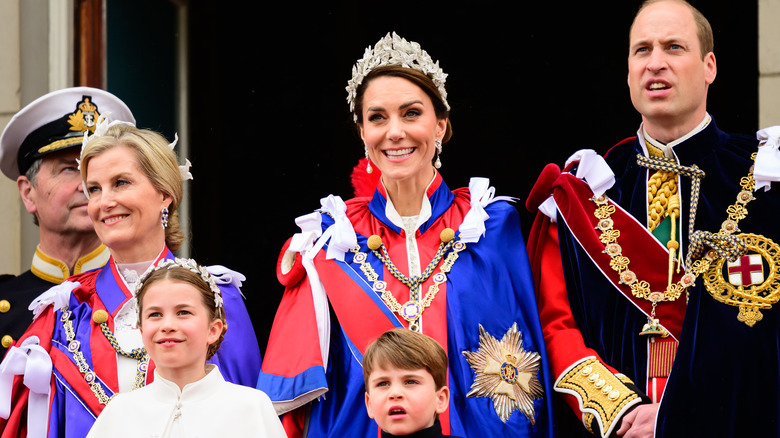 Leon Neal/Getty Images
In the days before King Charles III's coronation, there was speculation about what it was that Catherine, Princess of Wales would wear, particularly when it came to the top of her head. If you've paid attention to any big royal event, you know that the women pretty much all wear hats or fascinators. It's a part of the strict dress code that guests have to follow at royal weddings. But when it comes to white-tie formal events, women in the royal family get the option to up their headwear game and don a tiara from the royal collection. This generally applies to official evening events and a bride on her wedding day, according to Marie Claire Australia.
Kate's been seen wearing three tiaras over the years, and these are Kate's best tiara moments yet: The first time was when she officially joined the royal family on her wedding day; for that occasion, she wore the Cartier Halo Tiara, though we haven't seen her wear it since. Instead, she's worn the Lotus Flower Tiara and, most frequently, the Lover's Knot Tiara, which was a favorite of Princess Diana.
And since there aren't many more formal occasions than a coronation, it seemed like a tiara would have made sense for Kate. But instead of a tiara, she wore a sparkling crystal and silver floral headpiece that actually echoed a look worn at Queen Elizabeth's coronation.
Kate Middleton's headpiece looked a lot like those worn at Queen Elizabeth's coronation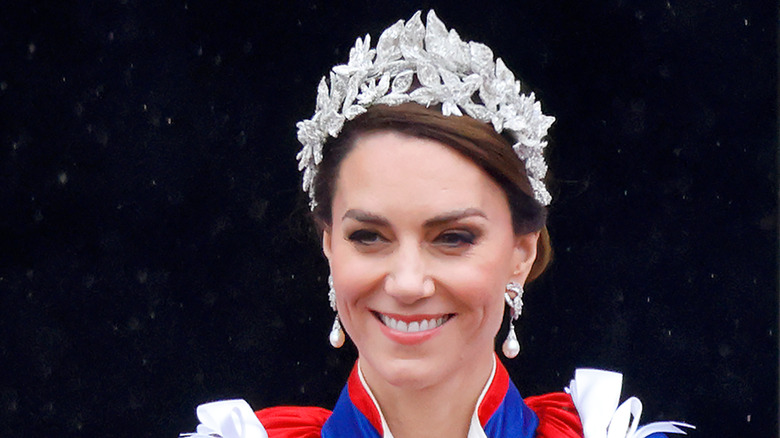 Max Mumby/indigo/Getty Images
The three-dimensional, silver and crystal-embroidered floral headpiece that Catherine, Princess of Wales wore to King Charles' coronation was custom designed by Jess Collett and Alexander McQueen. And while it didn't contain any diamonds like a tiara from the royal collection, it did still have a connection to royal history. What Kate wore looked a lot like the headdresses worn by the six women who helped Queen Elizabeth at her coronation 70 years ago. Queen Elizabeth had six "Maids of Honour"' who, among other things, helped carry the train of her robe, and their headpieces were definitely floral-themed with a look a lot like Kate's. And although they seemed to contain some gold in them while Kate's was purely silver, the connection seems clear.
Considering the level of detail that went into what Kate wore to the coronation, it seems unlikely that it was pure coincidence. The embroidery on Kate's silk dress by Alexander McQueen featured the national flowers of the four nations of the United Kingdom, and Kate's other accessories included a diamond necklace, originally made for Queen Elizabeth, as well as diamond and pearl earrings that used to be Princess Diana's.
Kate Middleton and Princess Charlotte had matching coronation headpieces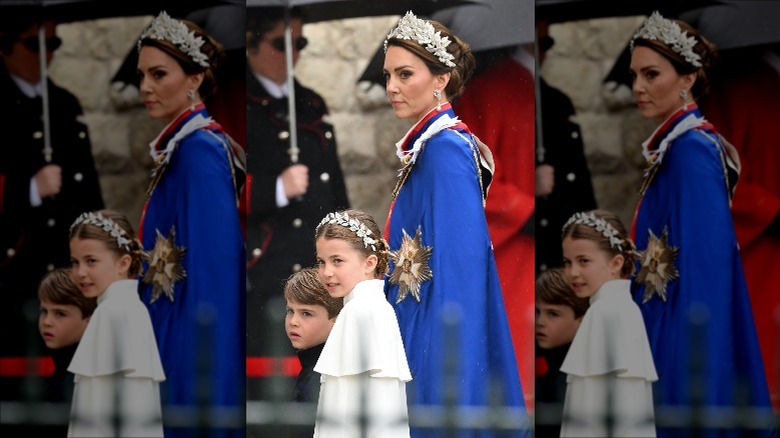 Karwai Tang/Getty Images
Before we got to see Catherine, Princess of Wales' choice of headwear for the coronation, it had been reported that if it wasn't a tiara, she was potentially considering a flower crown made from real flowers, according to Hello!. She seems to have split the difference with the custom piece, and Princess Charlotte even got to wear her own smaller version of her mom's headpiece. Mother and daughter also wore coordinating Alexander McQueen ivory silk dresses, though Kate's was topped with the blue and red Royal Victorian Order mantle.
As stunning and put together as Kate looked when she and William, Prince of Wales, walked into Westminster Abbey with Princess Charlotte and Prince Louis, they were actually running late, for a very relatable reason. Omid Scobie, royal reporter, said there had been a delay that morning in the Wales household getting the kids ready and out the door, as reported by Harper's Bazaar.