How Sheila Carter Ended Up On The Bold And The Beautiful After Starting On The Young And The Restless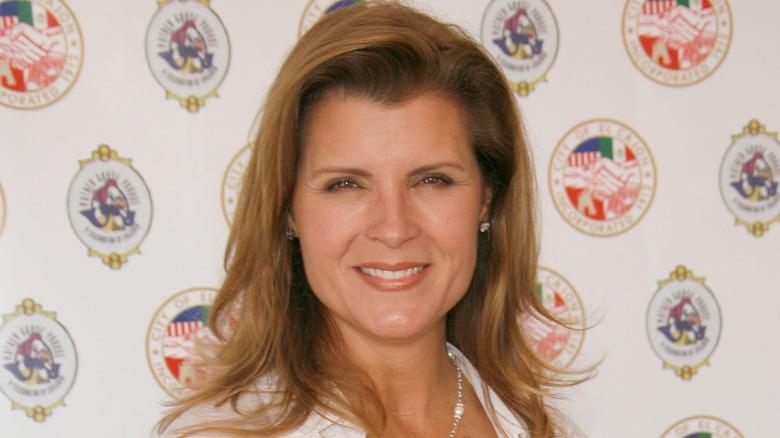 Michael Bezjian/Getty Images
"The Young and the Restless" and "The Bold and the Beautiful" universes are connected. Deacon Sharpe (Sean Kanan), Sally Spectra (Courtney Hope), and Lauren Fenmore (Tracey Bregman) are a few characters fans can spot on either soap opera.
In 2021 CBS even had a crossover event for the sister shows. Wyatt Spencer (Darin Brooks) and Flo Fulton (Katrina Bowden) from "B&B" left the fashion sphere of Los Angeles for Genoa City and stirred up drama in the world of "Y&R." While the "Y&R" character Summer Newman (then Hunter King) was spotted on "B&B," seeking out Sally Spectra.
That is a lot of young, bold, restless, and beautiful people in California and Wisconsin. However, Sheila Carter is one villain that casts a dark shadow on whatever state she's in. The wicked Sheila has been flawlessly played by Kimberlin Brown since 1990. But before wreaking havoc on "B&B," Sheila was crazy in love on "Y&R."
Who was Sheila on The Young and the Restless?
Sheila Carter first graced "The Young and the Restless" as a nurse, hopelessly in love with Dr. Scott Grainger (Peter Barton). But work romance is never a good idea. Plus, Dr. Grainger was married to Lauren Fenmore. However, knowing he had a baby on the way with Lauren did not stop Sheila. She drugged Dr. Grainger and took advantage of him in hopes of having his child. Shelia did get pregnant, but the baby did not survive. In turn, the ice queen did a switcheroo, stealing Lauren's baby at birth.
As the saying goes, "What's done in the dark will come to light." Lauren got wind of Sheila's evil ways and confronted her. Lauren wanted her son back, and Sheila was out to silence Lauren for good. Like any soap opera debacle, the struggle that ensued led to a raging fire. Fortunately, motherly love conquered all, and Lauren walked away with her son, Scott.
But Sheila couldn't be stopped. She survived the inferno and fled to Los Angeles, where "The Bold and the Beautiful" gained a crazed villain.
The Bold and Beautiful's Sheila Carter
Sheila Carter's reign of terror in "The Bold and the Beautiful" has been a roller coaster. In L.A., she found a new infatuation — lead fashion designer Eric Forrester (John McCook). After hospitalizing Eric's nanny, Sheila wiggled her way into filling the vacant childcare position. The next person she got rid of was Eric's wife, Brooke Logan (Katherine Kelly Lang), and Sheila happily took the place of Eric's new love.
But a familiar face showed up in California — Lauren Fenmore. Sheila tried to convince Lauren she had changed, but we don't blame Lauren for not buying it. So a new plan kicked in, and Sheila blackmailed Lauren to keep her from going to the police and to stay away from the Forrester family.
However, Sheila and Lauren remain enemies for life, even after Lauren's son Scott passed away still wishing the two ladies hashed things out. Whether in Genoa City or Los Angeles, they continue to fight for the upper hand physically and with the help of blackmail, imprisonment, poison, and anything else the writers come up with.