Why Kelly Ripa's Kids Have Her Blocked On Social Media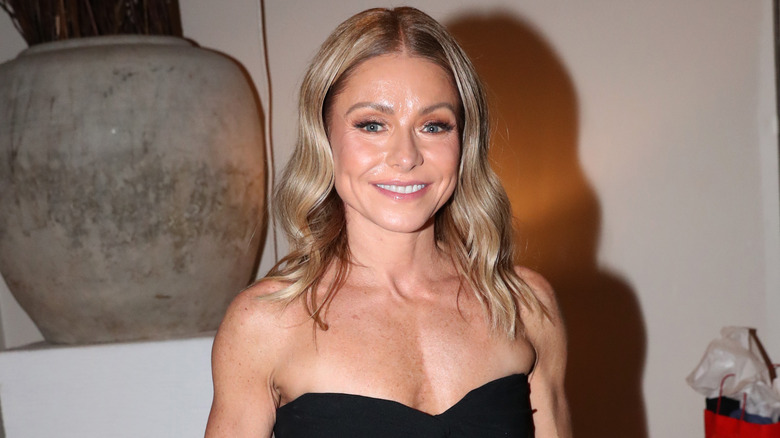 Johnny Nunez/Getty Images
For anyone in their early to mid-twenties, it's not uncommon to want a little distance from mom and dad. That may prove even more true for the children of celebrities. Talk show host Kelly Ripa says her kids Michael (25), Lola (21), and Joaquin (20) are no exception, having found ways to keep themselves out of their parents' spotlight. In addition to their superstar mother, their father is actor Mark Consuelos, who is best known for his roles as Mateo Santos on the long-running soap opera "All My Children" and Hiram Lodge on CW's "Riverdale." To stay away from the public eye of show business, Ripa says her kids have blocked her and her husband on social media.
A 2016 New York Times survey found that children are likely to request parents not to share information about them on social media without at least asking their permission. Therefore, Ripa's revelation that her children want no part of her online presence does not come as a shock. It appears that the three young people have good reasons for wanting to establish their individual reputations, especially in light of their respective career trajectories.
Kelly Ripa's children want to create their own success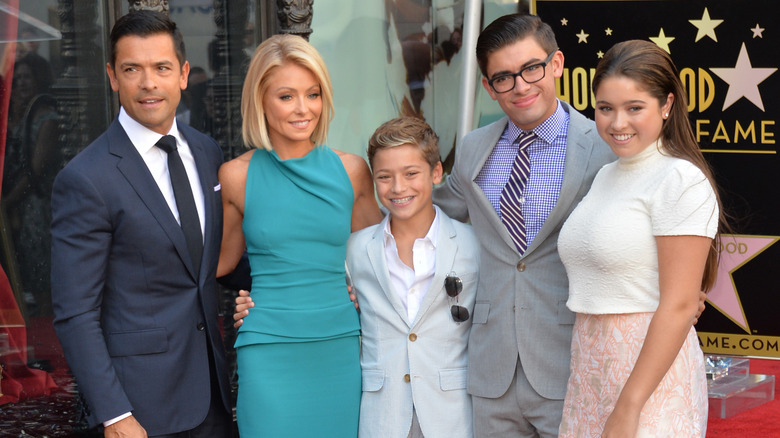 Jaguar PS/Shutterstock
In April 2023, former soap opera darling Kelly Ripa told E! News that her blossoming offspring have "blocked any channel" that makes mention of Ripa or her new TV co-host and husband, Mark Consuelos. "They block us any way they can," the 52-year-old joked.
Even though the couple's oldest son Michael has done some acting himself, he has found success as a writer and producer after graduating from New York University's Tisch School of the Arts. Lola also attended New York University; she graduated in May 2023 and she studied music. In 2022, she released her debut single, "Paranoia Silverlining." Joaquin, the youngest of the crew, is a wrestler at the University of Michigan. With each of the blossoming Ripa-Consuelos kids now out on their own, Ripa says they've each gone through a phase where they didn't want their parents to mention them in their work.
Kelly Ripa respects her children's decision to distant themselves
Kelly Ripa's children may be keeping themselves away from their family's fame, but the beloved host harbors no hard feelings over their "self-preservation" tactics as she told E! News. In fact, she and Mark Consuelos respect their children's decision to stay in their own lanes. The couple even shared that neither Michael, Joaquin, and Lola realized their father was replacing host Ryan Seacrest on their mother's popular talk show "Live With Kelly." Instead, the crew is simply happy knowing their parents are "finding ways to pass the time" now that they are empty nesters. 
Though Ripa may refrain from speaking too much about her children, she still dotes on them on social media from time to time. Recently, she shared an adorable throwback on Instagram of Michael and Mark on a stroll in Italy in the late '90s. In December 2022, she displayed a carousel post of her children over the years, calling it "#tbt holiday card edition." Kudos to Ripa for being the ever-so-proud parent while still respecting the boundaries of her now grown-up kiddos, despite her glamorous life with Consuelos.