Eagle-Eyed Fans Believe Prince William's Subtle Nod To Harry Signals Hope For Reconciliation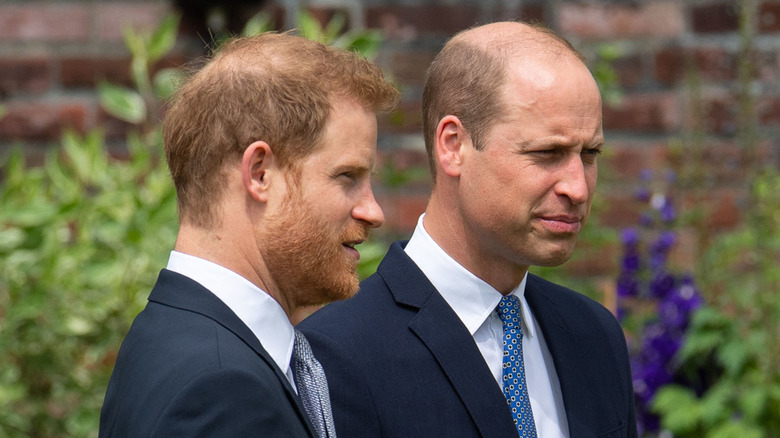 Wpa Pool/Getty Images
Could William, Prince of Wales finally be waving a white flag amid his ongoing feud with Prince Harry? Some dedicated royal fans believe this to be the case after seeing what many perceived as William extending an olive branch to his younger brother.
As much as we love to dish out details on juicy royal drama, we can't help but feel downright upset whenever we hear mentions of the crumbling relationship between Princes William and Harry. The quarreling brothers seem as distant as ever, a fact highlighted by William's inclusion in his father King Charles III's coronation ceremony, while Harry sat idly in the crowd, looking on. The moment mirrored their relationship: while William is fully embracing his royal blood, Harry has done interviews and, most famously, published a chilling memoir that exposed his distaste for royalty. It was a decision that sources close to William claim the elder brother is still "furious" over (via Cosmopolitan).
Despite the rocky history between the two, eagle-eyed fans have discovered what's being called a subtle nod from William to Harry in behind-the-scenes footage from the coronation weekend. In a touching moment, a photo of the two young princes hugging their mother, the late Princess Diana, can be seen on display in the background, and fans believe this could be a sign of future peace talks.
Prince William's touching inclusion of Harry and Princess Diana
There was plenty happening during King Charles III's coronation weekend, and a YouTube video shared on the official channel of the Prince and Princess of Wales manages to highlight many of the royal family's most memorable moments from the event. Inside William and Kate Middleton's London home, Princess Charlotte is seen in the video dashing in front of a framed black-and-white photo of Princess Diana and her two sons. It's a "blink-and-you'll-miss-it" shot near the 1:40 mark of the video, and it's this famous photo that has fans hopeful for a ceasefire between the brothers in the future. "I honestly wish Harry and William could come together. Diana would be devastated," one fan wrote, according to Mirror.
There's no denying that there were some jaw-dropping claims Harry made about Prince William in "Spare," and that William seems to have taken deep offense to them. Regardless of that, William included a subtle, yet heartwarming tribute to his brother and their late mother in the video, proving his little brother isn't far from his heart.
One royal could help end the brothers' feud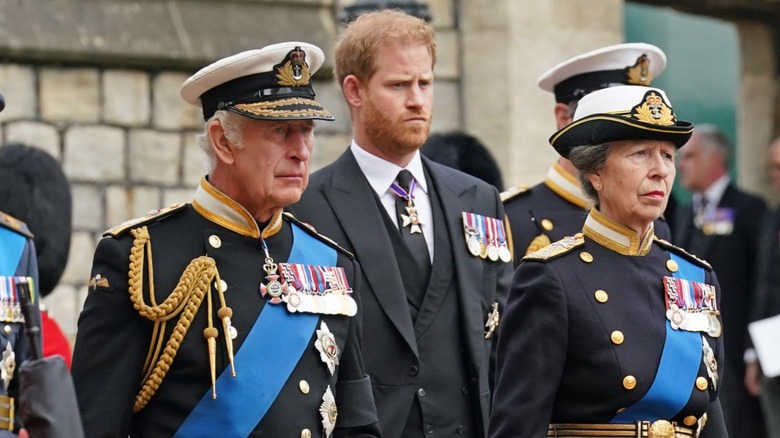 Wpa Pool/Getty
A few people believe Princess Anne, who some royal fans think won the coronation with her regalia, might be the answer to ending the feud between Princes William and Harry — and the one to squash any lingering bad blood in King Charles and Prince Harry's relationship.
Before Charles' coronation began, Anne and Harry were seen chatting, and lip-readers could see that they were discussing her hat and the fear that it would block his view. According to the Daily Mail, Harry apparently said, "I don't mind," and, "Sit at the front!" A royal insider also discussed how Anne and Harry have commonalities that bond them, saying, "People talk about Prince Andrew being the Spare, but Anne was the second-born, too, and particularly since Diana died, has always felt a duty to support her nephew. Both Anne and Harry have a great sense of humor and more in common than it might seem."
The fact that Anne and Harry faced similar experiences as second-born royals and get along so well means she is someone he trusts. With her ability to get things done as the hardest-working royal, will she be able to get the brothers to discuss their issues and finally make peace?