Blake Lively Was Reportedly Furious With Husband Ryan Reynolds When He Bought A Soccer Team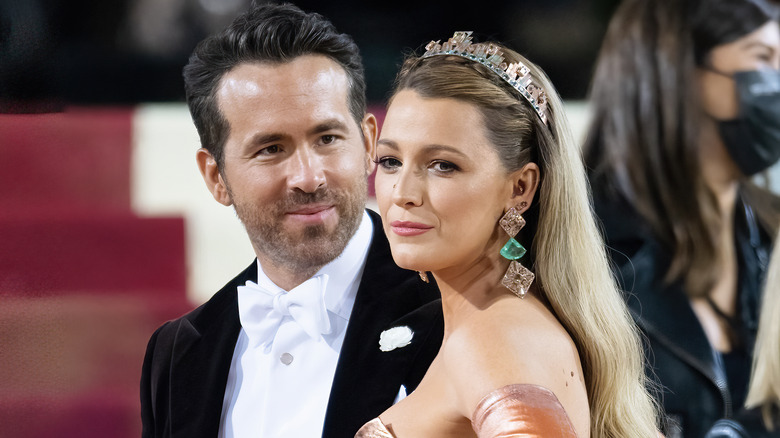 Gilbert Carrasquillo/Getty Images
Blake Lively and Ryan Reynolds' enchanting love story and undeniable chemistry have been celebrated by fans. The timeline of Reynolds and Lively's relationship started when they first crossed paths on the set of the film based on the DC Comics of the same name "Green Lantern " in 2010. Although the film did not receive critical acclaim, it marked the beginning of a beautiful journey for the two actors. While the pair's relationship started as a mere friendship initially, little did they know that it would quickly blossom into a real-life romance.
Lively and Reynolds are living the best of their lives as they grow their family. However, Reynolds admitted that the "Gossip Girl" actor wasn't really pleased upon hearing that he bought a fifth-tier Welsh soccer team. This was due to the fact that Reynolds apparently bought the soccer team without consulting Lively. It was reported that Reynolds bought the team for $2.5 million in November 2020, per CNBC.
Ryan Reynolds bought a soccer team with Rob McElhenney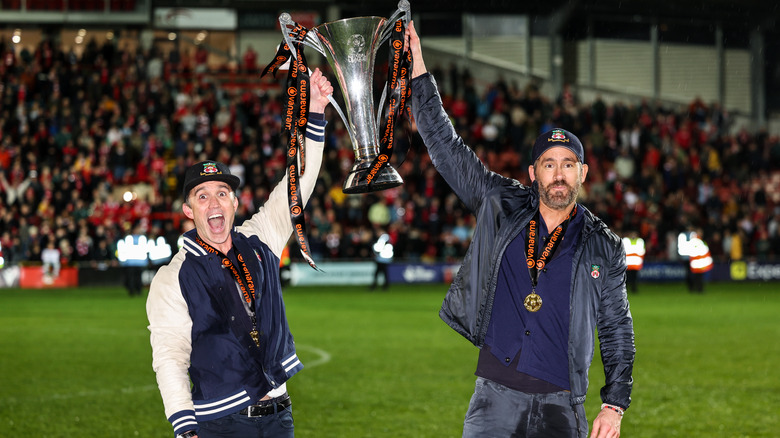 Matthew Ashton - Ama/Getty Images
Ryan Reynolds and Rob McElhenney bought Wales' Wrexham football league together. During an appearance on "Jimmy Kimmel Live" in 2022 to promote the documentary series "Welcome to Wrexham," the two actors share how they bought the team. Their friendship started when Reynolds sent McElhenney a DM after watching him on the longtime running show "It's Always Sunny in Philadelphia." Their supposed online relationship grew deeper through texting and Zoom calls daily. The pair apparently never even met in person before buying the team together. It was McElhenney's idea and although Reynolds thought it was an "absolutely insane idea," they still bought it. 
Unfortunately, Reynolds admitted he never asked for his wife's input before buying the team. He explained, "I remember showing up and seeing Blake and saying you know I have bad news and I have really bad news. The bad news is I slipped into someone's DMs again. The really bad news is that I might have bought half of a fifth tier football league in Wales." The actor further added that her reaction was "not great." He said, "We're still working through that one."
Blake Lively and Ryan Reynolds' deep admiration for each other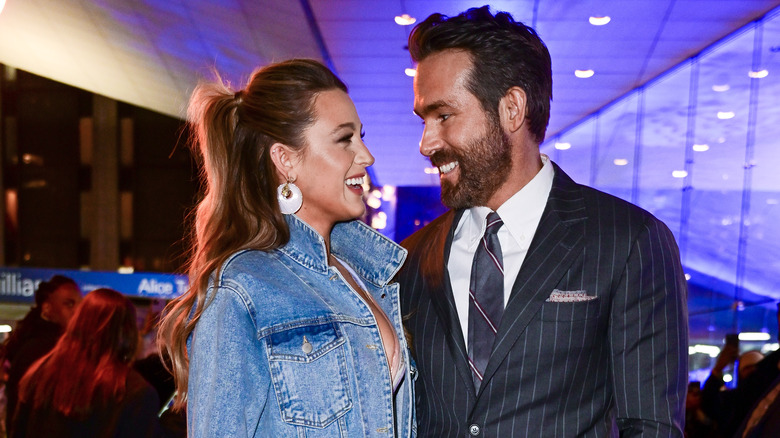 James Devaney/Getty Images
Ryan Reynolds might have joked about being in trouble with Blake Lively, but their relationship has been characterized by a deep sense of mutual respect, shared values, and playful camaraderie. The couple has been married since 2012 and their relationship seems to grow deeper each year. Reynolds' admiration for Lively was pretty evident after he patiently waited for his wife to shine as she walked the red carpet of the Met Gala in 2022 when they served as co-chairs. Her hard work paid off as she ended up among the best-dressed stars at the Met Gala in 2022.
Now blessed with four kids, Lively believes she was lucky she's in love with her best friend. In an interview with Marie Claire in 2016, she explained why she wanted to be with Reynolds. She said, "I knew he would always be my best friend for my whole life. That was the biggest thing to me. I'd never known anything like the friendship that I had with him. I could like him as much as I loved him."