How Taylor Swift's Ex Joe Alwyn Reportedly Feels After Their Breakup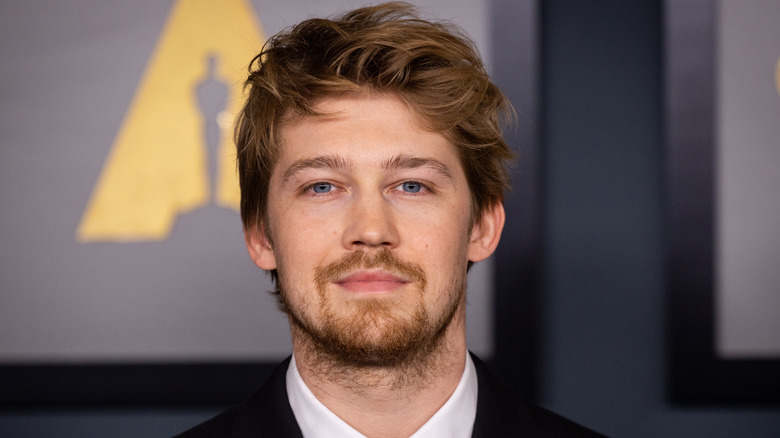 Emma Mcintyre/Getty Images
Life hasn't been the same for Swifties since the news of Taylor Swift's breakup with Joe Alwyn — whom you might not know much about —  came to light. On the outside, the couple seemed to be going strong, with six years under their belt. They regularly sparked engagement and marriage rumors, and days before their breakup went public, Swift was reportedly looking to purchase a mansion in London. But on April 8, it all came crashing down when a source told People that the couple had parted ways weeks prior.
The source offered insight into the split by saying, "They had plenty in common and fell in love in a safe bubble while she was retreating from the world during 'Reputation,'" they added. "Then the pandemic hit, and they were locked down together and able to continue growing their relationship in this insulated way. But he didn't really 'know' her yet outside of that bubble." The insider also said that Alwyn had always struggled with Swift's stardom, and their different personalities only added fuel to the fire. Ultimately, they grew apart, as the source noted.
While the split was reportedly "amicable" and "not dramatic," Swift's closest friends, Gigi Hadid, the Haim sisters, and Ryan Reynolds, unfollowed Alwyn on Instagram shortly after. This caused many fans to speculate the real reasons for the breakup, and some believed that Alwyn was in a relationship with co-star Emma Laird. Meanwhile, Swift seems to have found new love with The 1975 lead singer Matty Healy.
The actor was surprised by Taylor Swift's new relationship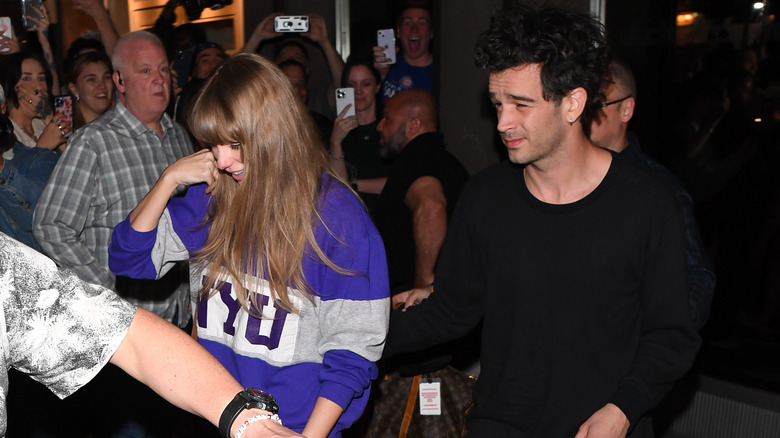 Robert Kamau/Getty Images
A few weeks after the split's announcement, The Sun reported that Taylor Swift was in a relationship with Matty Healy. A source close to Swift told the outlet, "She and Matty are madly in love. It's super-early days, but it feels right. They first dated, very briefly, almost ten years ago, but timings just didn't work out." They added, "They are both massively proud and excited about this relationship and, unlike Taylor's last one — which was very much kept out of the spotlight, deliberately — she wants to 'own' this romance, and not hide it away."
They also clarified that there had been no overlap between the two relationships because Swift and Joe Alwyn's romance ended in February. Shortly after the article's release, Healy appeared in Nashville to watch Swift perform. Fans shared video of Swift looking over at him while singing her love song, "Fearless." Swifties also caught video of her seemingly dedicating "Cardigan" to him by mouthing, "This one's about you, you know who you are. I love you." At his concert, Healy mouthed the same words to the camera while performing "About You."
Naturally, Alwyn wasn't too happy to hear about his ex's new love. A source close to Alwyn told Daily Mail that he "feels slighted and is distraught," they added. "Joe was aware that Taylor and Matt were making music together and collaborating. She told him that they had become friends, and he trusted her." However, even the source agreed that there was no overlap.
Joe Alwyn isn't the only one who feels distraught by the news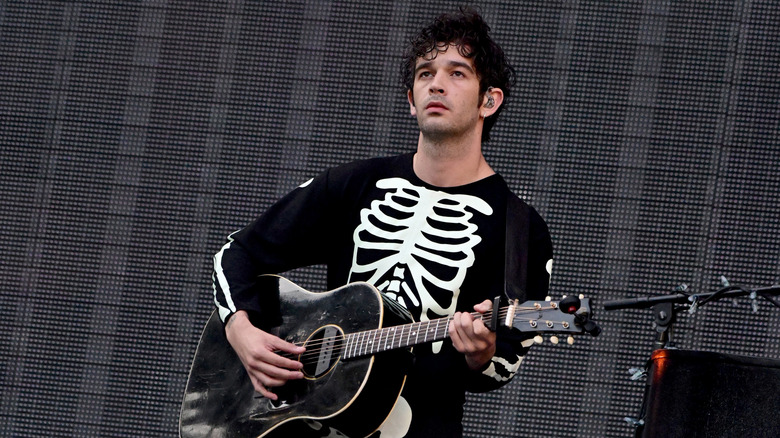 Lisa Lake/tas23/Getty Images
Some of Taylor Swift's fans aren't too happy about her new rumored relationship with Matty Healy. Several have made Twitter threads detailing Healy's problematic behavior over the years, and the lists are long. Healy has made antisemitic remarks and even performed the Nazi salute on stage. In a highly offensive podcast interview, Healy laughed along as the host called rapper Ice Spice, "a chubby Chinese lady," and performed a racist impression of Japanese people working at a Holocaust camp, as requested by Healy.
During a The 1975 show, Healy addressed the outrage by saying that the joke was "misconstrued." He has also made Islamaphobic and sexist remarks and admitted to watching porn that humiliates black women. And in a 2016 NME interview, he said that dating Swift would be "emasculating." Obviously, fans weren't overjoyed when he took the "Eras Tour" stage to perform alongside opening act Phoebe Bridges.
Many have cited scenes from Swift's 2020 documentary, "Miss Americana," where she talks about how she is ready to be on the right side of history and stand up for what she believes in. And her associations with Healy seem to be the opposite of these values. Some fans have even started the #SpeakUpNow movement to encourage Swift to speak up about the situation, but others have called the campaigning excessive.