The One Celebrity Tina Turner Had A Big Crush On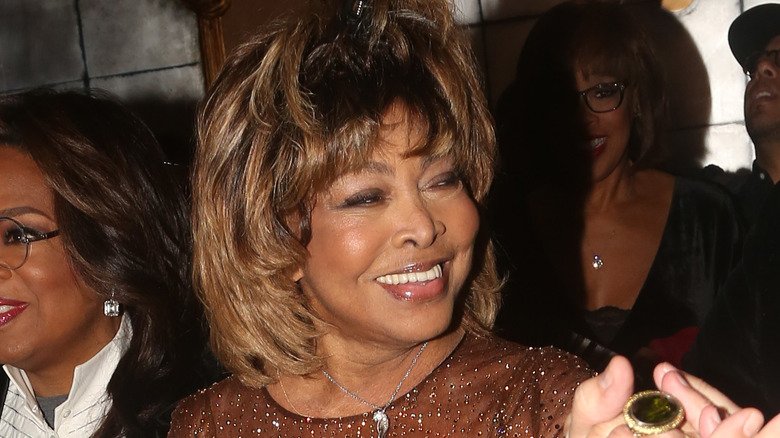 Bruce Glikas/Getty Images
We may receive a commission on purchases made from links.
Queen of Rock 'n Roll and singer of "What's Love Got To Do with It" fame, Tina Turner was just like most of us when it came to celebrity crushes, it would seem.
The Tennessee-born musician who rose to fame with her husband Ike in the 1960s with hits like "Proud Mary" and "A Fool in Love," but later left the abusive relationship to make a name for herself on her own, told The Guardian, "I always had a crush on Mick Jagger. I loved when we toured with the Rolling Stones." She was referring to the time when she and Jagger were the opening acts for the Rolling Stones' 1966 British Tour. 
Turner, died aged 83, after a long and arduous battle with ill health, the final years of which saw her lead a very reclusive life. The Rock & Roll Hall of Fame star who described herself as, "honest, feisty, fun," in the interview, is famously known as the woman who taught Mick Jagger to dance. Jagger and Turner are also well-known for their performance at Live Aid Festival, which involved the English singer ripping off Turner's skirt on stage. 
Tina Turner was always professional with Mick Jagger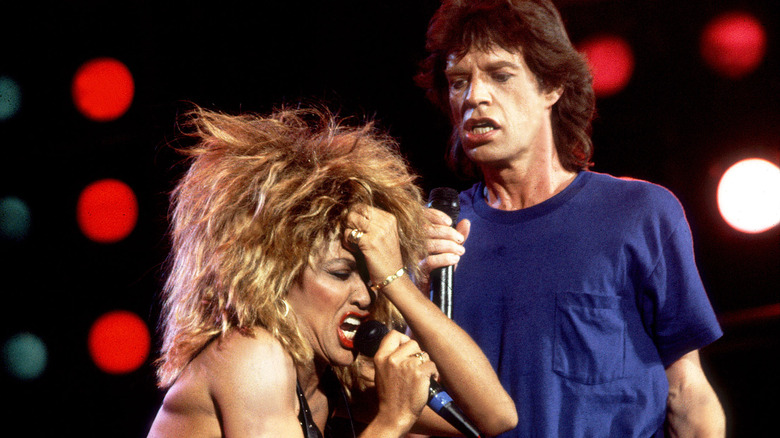 Paul Natkin/Getty Images
Despite how the collaborations may have looked like on stage, Tuner told Daily Mail that she was nothing but professional with Mick Jagger and David Bowie, the two musicians she worked with, calling them "the brothers that I never had." 
"We never slept together; and they never came on to me, because I think they saw me as a role model in some kind of way," she continued. "Mick wanted to dance — and I was a dancer — but he never gave me the credit! He said his mother taught him how to dance. But we worked with him in the dressing room, me and the girls, and we taught him how to Pony," she shared. 
With Bowie, her collaboration was more to do with singing. On the famous onstage skirt incident with Jagger, Turner noted in her memoir, "My Love Story," "Mick and I could never just stand there and sing — that wasn't us. We had to do something. He looked me over. I was wearing a tight-fitting black leather top and skirt and I could see a naughty idea forming." After slyly asking her if the skirt would come off, the English musician had simply told her, "I'm going to take your skirt off." She added in the book, "It wasn't as if some random guy pulled off my skirt. It was like a boy I knew did it. A very old boy."
Mick Jagger: I will never forget her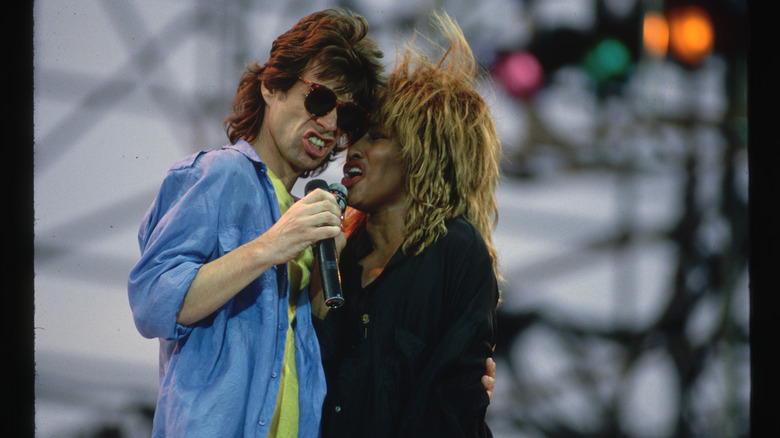 Lynn Goldsmith/Getty Images
Mick Jagger (79) was one of many musicians who took to social media to mourn the passing of the legendary Turner. 
"I'm so saddened by the passing of my wonderful friend Tina Turner. She was truly an enormously talented performer and singer. She was inspiring, warm, funny, and generous. She helped me so much when I was young and I will never forget her," he wrote on Twitter. Musician Brian Wilson (80) also shared a touching tribute, "I loved Tina and her voice and energy — she was one of the greats. 'River Deep, Mountain High' will always be one of my favorite songs. And nothing beats her version of 'Proud Mary.' I loved her musical too. Love & Mercy."
Jagger and Turner's first meeting was also a memorable one for Turner. She talked about it in an interview with Larry King once on CNN. "My first experience [with him] was when Mick Jagger walked in the dressing room without knocking, and he says, 'I love how you girls dance,'" Turned reminisced. "Often he would come into the dressing room but we were always prepared because we never knew when he was coming in, but that's how Mick is."