The Meaning Behind The June Pearl Birthstone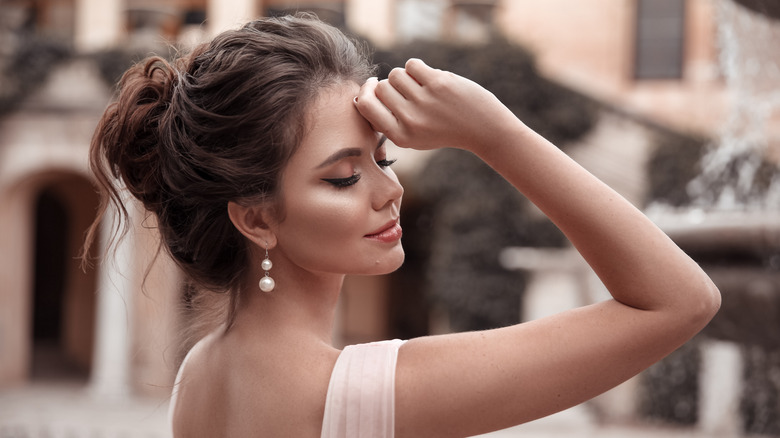 Look Studio/Shutterstock
Every year June rolls around, bringing about the season of summer, Geminis, and Cancers. It's an exciting time as temperatures rise, the sun stays high in the sky, and people begin to regularly participate in outdoor activities. For those born in the month marking summer's official beginning, showing off your birthstone is a unique way to stake your claim of the month.
June's birthstone is a little bit of a contrast to the prior and following months. It's nestled between May's emerald and July's ruby. Rather than offering a burst of color, it possesses a more refined look with its simplicity. You can show off your June pride by adorning yourself in a necklace, earrings, or even bracelets made with the silky stone. For those whose birthdays aren't in June, the look is too elegant to pass up. The stone adds a look of grace, no matter who's wearing it. It's perfect whether you're looking for a gift for a friend whose birthday falls in the month — or looking to add something to your personal wardrobe.
Meaning and symbolism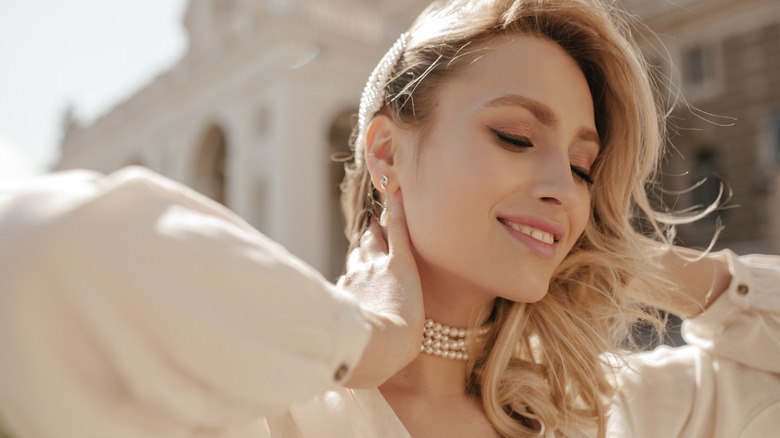 VAndreas/Shutterstock
June's birthstone is the pearl. The milky, timeless fashion statement has played a role in beauty for centuries. In Ancient Greece, pearls were thought to be the tears of the goddess of love, Aphrodite. In Ancient China, people believed pearls came from a dragon's brain. Throughout cultures around the world, pearls symbolize purity and humility. In the modern day, some wear pearls according to their astrological sign. Aries, along with the three water signs, Cancer, Scorpio, and Pisces, are said to benefit the most from wearing pearls. While it's not necessarily backed by scientific evidence, it is a popular belief in the astrology world.
Some also say that wearing pearls can help with anxiety and restlessness because of their soothing nature. While there is no science to back the claims about pearl jewelry, a study published in the Journal of Functional Foods found that the nacre extract from pearl oyster shells is effective in helping with anxiety and depression. Pearl powder is a common ingredient in traditional Chinese medicine.
Finding the right pearls for your look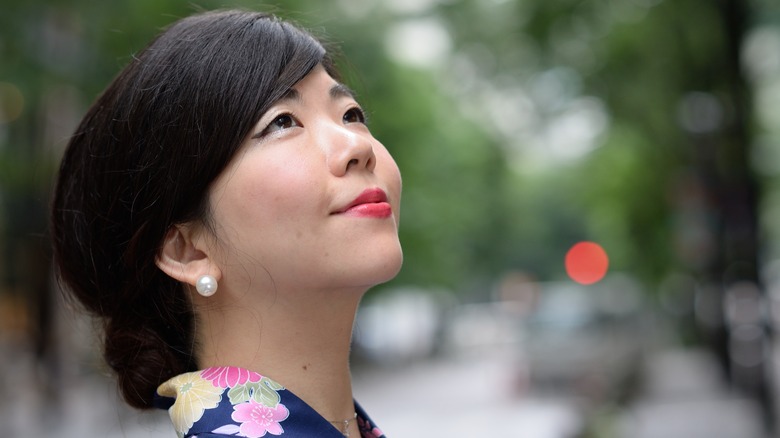 Electravk/Getty Images
In general, June's birthstone adds an air of elegance and grace and can be the perfect, cool touch to your summer look. For those with a minimalistic fashion sense, pearls are an adornment that can add a subtle pop. You can add small, simple pearl earrings to dress up whatever outfit you're wearing. Because of their neutral tone and classic look, pearls are a perfect fit with almost anything. For those who are more  maximalist when it comes to fashion, wearing vibrant colors can make the pearls stand out. You can also experiment with pearl jewelry in different sizes.
Finding pearls is an adventure in and of itself. Knowing a little about the different kinds of pearls can help you choose according to the look you want and your price point. While you're unlikely to find a pearl from the wild — and if you do, these pearls will be expensive and small — there are other great options. Different types of mollusks produce different pearls. Those bred in saltwater tend to produce round, cream or white colored pearls. Freshwater pearls can also be round, but they come in other shapes as well and can be various pastel colors. Finally, there's the imitation pearl, which is essentially a glass bead painted to look like a pearl. It can be hard to tell if the pearls are fake or not — which is good news if you're going with imitation pearls.