Why You Won't See Chrissy Teigen On Real Housewives Anytime Soon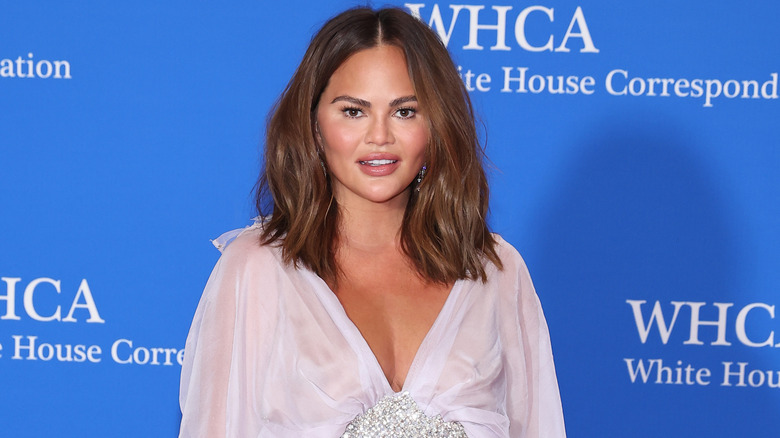 Paul Morigi/Getty Images
Whether you love her or can't stand her, you've probably heard of the polarizing Chrissy Teigen. The Sports Illustrated model turned cookbook author regularly updates fans about her life on social media. We've been witness to lifetime highs, like her marriage to John Legend, but also the lows, such as a heartbreaking pregnancy loss — which Teigen has been very open about.
Throughout it all, Teigen has remained brutally honest. She isn't one to mask her trials and tribulations behind the façade of Instagram. Even if it means facing being canceled when reports of past cyberbullying surfaced. Teigen has since seemed to regain some of her fans and reputation. She is back to regularly appearing as a guest on television shows and attending events between spending time with her kids.
However, there's one show you probably won't see Teigen on anytime soon. While it's clear that the mother of three loves keeping it real, Bravo's "Real Housewives" likely won't have Teigen on its roster in the future.
A fan, and a fan only
Chrissy Teigen had admitted she's a fan of Bravo's "The Real Housewives of Beverly Hills," telling Andy Cohen, "I mean I love everything about it, obviously I love watching the show." But that doesn't mean she's eager to appear on it.
As a fan, Teigen has some reservations about how she would come across, recalling that she knows too much and may appear "too fan-girly," she explained to Cohen. But there's also the fact that she doesn't like the bickering and drama that has become synonymous with the reality TV series. "I don't like fighting, I really don't. I would cry a lot!" Teigen confessed on "Watch What Happens Live with Andy Cohen." When the host suggested she could skip the fighting and be the fun girl, Teigen cited that fans don't like the "fun girl," and she would know because she's one of them. 
Cohen isn't the only one disappointed that he'll never see the celeb on Bravo's programming. Kyle Richards, an original show cast member, picked Teigen as a replacement for cast mate Lisa Rinna after her departure, reported TMZ. Similarly, Erika Giradi, co-star to Richards, echoed the sentiment, telling TMZ, "It would be amazing. She's cool, I like Chrissy." But Teigen reaffirmed to Cohen that she'll just stick to watching the show for now.
What's Chrissy cooking up, then?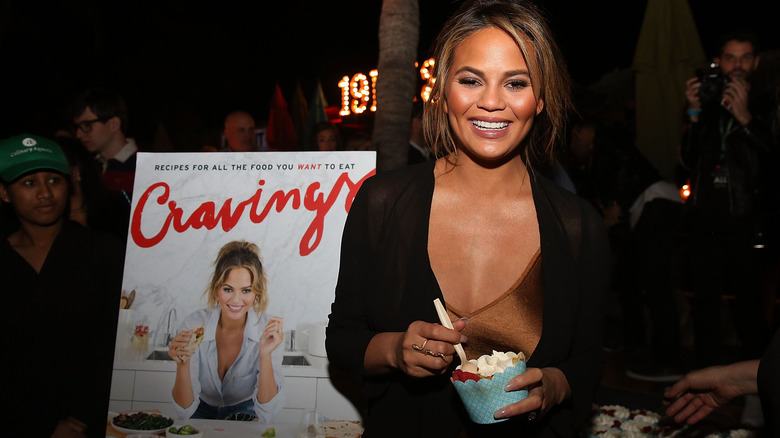 Aaron Davidson/Getty Images
Even without Bravo's "Real Housewives of Beverly Hills," Chrissy Teigen — who has undergone a stunning transformation — has her plate full. Her and John Legend's third child, Esti, was born in January 2023, and the former supermodel is in the throes of motherhood. It's apparent from her many social media snaps of herself nursing her baby, or watching her older kids play basketball and do yoga, that she genuinely loves being a mom.
When she's not keeping up with the kids, she is busy keeping up with her brand Cravings By Chrissy Teigen, which features recipes, cookware, baking mixes, and even luxurious robes. Of course, the busy mom also tries out many of her mouthwatering recipes at home, which we can only imagine takes up a fair amount of time. She also is kept busy with her numerous appearances and guest roles coupled with the shows she executive produces, like "Chrissy's Court."It's pretty apparent that there's little room in her schedule for anything more than simply catching an episode of "Real Housewives."
Those who chose her as their "dream celebrity" to join the cast will just have to settle for following her on social media to get a peek into her real life.