Jake Gyllenhaal Is Totally Embarrassed By His First Meeting With Brad Pitt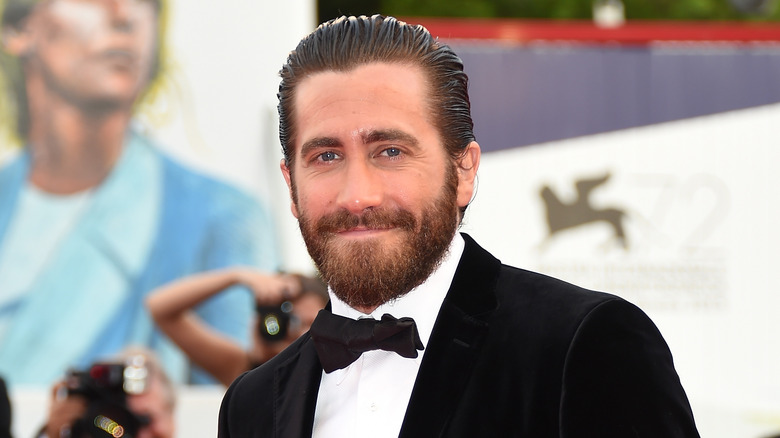 Daniele Venturelli/Getty Images
Behind the glitz and glamor of Hollywood, actors have to endure the distress of embarrassing themselves. They often find themselves the task of filming scenes inherently awkward or uncomfortable. This includes having to film racy scenes that can bring out numerous types of emotions for both the actors and the audience.
There is just a sense of balance between professionalism and personal boundaries when it comes to filming these scenes. As long as there's this understanding between actors filming them, there's really nothing to worry about. However, that's not the case if the partner or spouse of your scene partner suddenly makes an appearance. That's exactly what happened to Jake Gyllenhaal while he was filming an intimate scene with Jennifer Aniston.
While Gyllenhaal and Aniston were filming for "The Good Girl," Aniston's then-husband Brad Pitt decided to visit their set one day. To Gyllenhaal's horror, this was the first time he met Pitt . . . awkward.
A sweet yet awkward encounter with Brad Pitt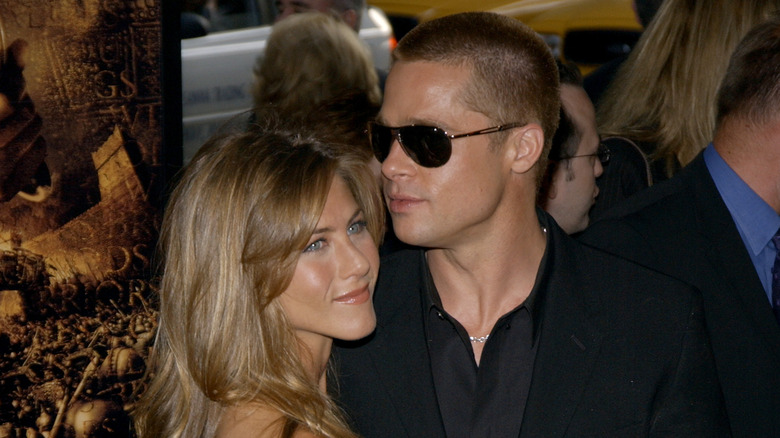 Everett Collection/Shutterstock
Two decades down the line, Jake Gyllenhaal still remembers how his first meeting with Brad Pitt went in 2002. During Gyllenhaal's interview with W Magazine, he recalls meeting Pitt. The actor was asked if there was a time he was starstruck, and he said, "Oh yeah, absolutely. I was starstruck with Mandy Patinkin when he came to see 'Sunday in the Park With George,' a show I did. He originated the [title] role and basically created the role."
He continued, "And I was definitely starstruck when I first met Brad Pitt on the set of 'The Good Girl.' I was working with Jennifer Aniston, who was his wife at the time, and there were a lot of very racy scenes."
In the actor's mind, their first meeting didn't really go well, but Pitt was just so nice to him. He added, "I remember putting my hand out to shake his, and accidentally hitting the door. He said, so confidently and kindly, 'Well, you have another one. It's all right.' He was very, very, very sweet to me, and it was actually a really lovely exchange. But, yeah — I was starstruck."
For Gyllenhaal, filming an intimate scene is a form of torture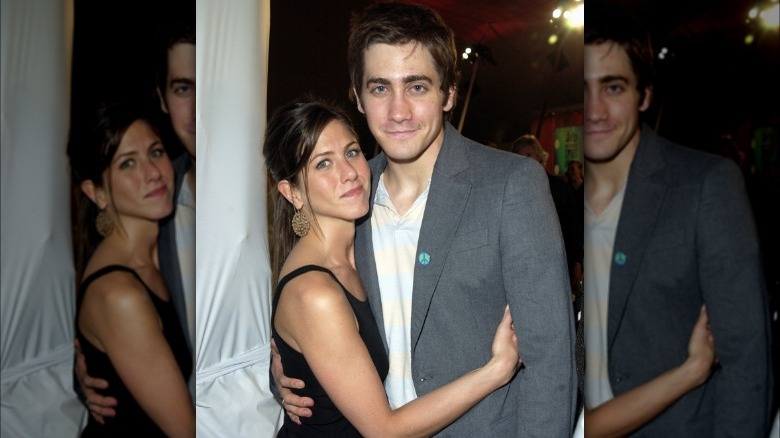 J. Vespa/Getty Images
Although he admitted to having a crush on Jennifer Aniston for a long time, Jake Gyllenhaal's experience working with her had been excruciating. As Hollywood's sweetheart, several actors do wish to work with Aniston. Gyllenhaal was lucky enough to be paired with her in the 2002 film "The Good Girl." Gyllenhaal details why filming a love scene with Aniston was torture. 
During an appearance on The Howard Stern Show, Howard Stern asked Gyllenhall if it was torture to film an intimate scene with Aniston since he's had a crush on her. He answered, "It was torture, yes it was, but it was also not torture. I mean, come on. It was like a mix of both." The actor further explained, "Weirdly, love scenes are awkward because there are maybe 30, 50 people watching it. That doesn't turn me on, so most of the time it's oddly mechanical. And also it's a dance, you're choreographing for a camera."
Thankfully, Aniston had a trick to help them do the scene in a more comfortable manner. Gyllenhaal added, "I do remember a pillow . . . the pillow technique was used. That was just preemptive and used generally always when actually in a horizontal place in that movie." Stern then asked the actor who's taught him the technique and he said, "I think that was actually Jennifer's suggestion. I think she was actually very kind to suggest it before we begin."