Jennifer Lawrence's Fashion Faux Pas At The 2023 Cannes Film Festival Is All Too Relatable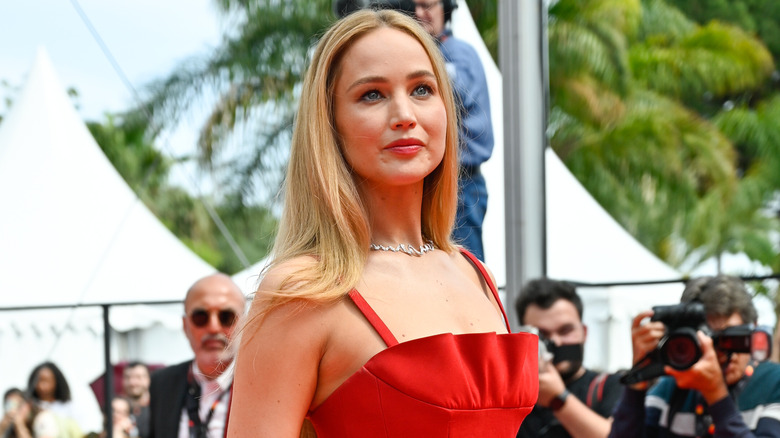 Stephane Cardinale - Corbis/Getty Images
For those of us who love the look of high heels but crave the comfort of flats, we're all too familiar with the inevitable struggle of choosing footwear for a fancy outfit. Whether you decide to forgo the heels altogether or stash away a pair of sandals as a saving grace, it turns out that this predicament is more relatable than you might think.
At a 2023 Cannes Film Festival premiere, Jennifer Lawrence — who had a stunning transformation in a gorgeous red gown — showed that, even after years of stilettoed red carpets, not even celebs are immune to the footwear troubles of the common people. If you're unfamiliar, the Cannes Film Festival is one of the biggest film events in Europe. Held annually in Cannes, France, international films from all genres are showcased at the festival and awards are granted to a select few.
Overall, it's a prestigious 12-day event that brings together producers, directors, and actors from all over the world. This year, Lawrence wowed in a stunning red gown at one of the event's premieres, but her shoe of choice took fans by surprise. Turns out, we aren't the only ones who occasionally need to trade out our heels for a comfy pair of sandals.
Jennifer Lawrence chose comfort over dress code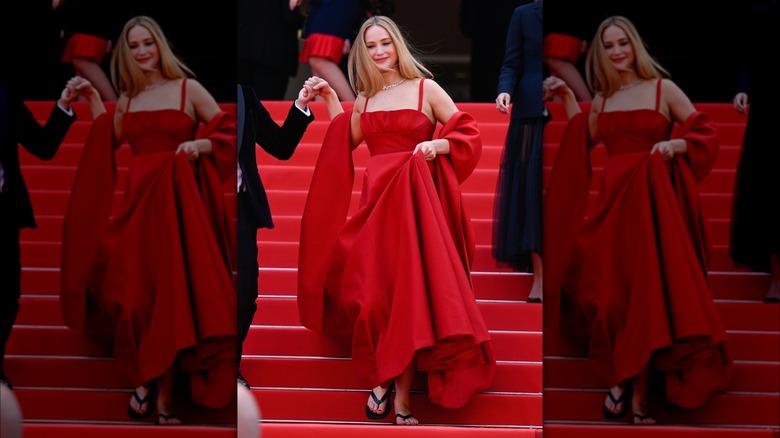 Stephane Cardinale - Corbis/Getty Images
If you keep up with fashion, you'll know that celebrities really bring the glam to the red carpets throughout the Cannes Film Festival. Jennifer Lawrence was no exception during her appearance at the premiere of the French film "Anatomie D'une Chute" (Anatomy Of A Fall). The "X-Men" star wore a stunning Dior couture gown of red silk, complete with a matching stole and a gorgeous white gold and diamond encrusted Dior necklace.
While Lawrence met the festival's infamous dress code in these regards, she seemed to buck tradition with her footwear. Though she reportedly began the night in a pair of matching heels, she was photographed in a commonplace pair of black flip-flops by the end of the night. Revealed as she was descending a set of stairs, the iconic shoes go against the dress code of the prestigious event, which made headlines in 2015.
As originally reported by Screen Daily, a group of older women was denied entry into the Cannes Film Festival because they were wearing rhinestone flats instead of high heels. While the festival refrained from commenting on the alleged instance, they did confirm that all women were expected to wear heels to red-carpet screenings. Either Lawrence never received this memo or she simply didn't care.
Lawrence isn't the first star to trump the footwear rules
Jennifer Lawrence isn't the only actress to break the Cannes Film Festival's gendered footwear rule, as many other stars have chosen to purposefully reject the dress code in the years following the 2015 incident. This year, Cate Blanchett seemed to reference the standard when presenting Iranian-French star Zahra Amir Ebrahimi with the Breakthrough Artist Award.
At a Cannes Film Festival party hosted by Variety and the Golden Globes Awards, Blanchett praised Ebrahimi for "[using] her platform to give voice to women who do not have a voice." Then, the "Tár" actress removed her shoes, saying, "So, I am going to take my heels off in honor of the women of Iran and the extraordinary Zahra Amir Ebrahimi."
Back in 2016, Julia Roberts removed her shoes during the premiere of "Money Monster," while Kristen Stewart famously made a similar move while walking the carpet in 2018. Both Emily Blunt and Natalie Portman have spoken out against the rule, with Blunt noting that she thinks "everyone should wear flats, to be honest," while Portman expressed that "The different ways that we as women are expected to behave . . . compared to men. How we're supposed to look, how we're supposed to carry ourselves," was of interest to her. Lawrence seems to agree with both sentiments.