Kate Middleton Outfits That Made Her Look Older Than She Really Is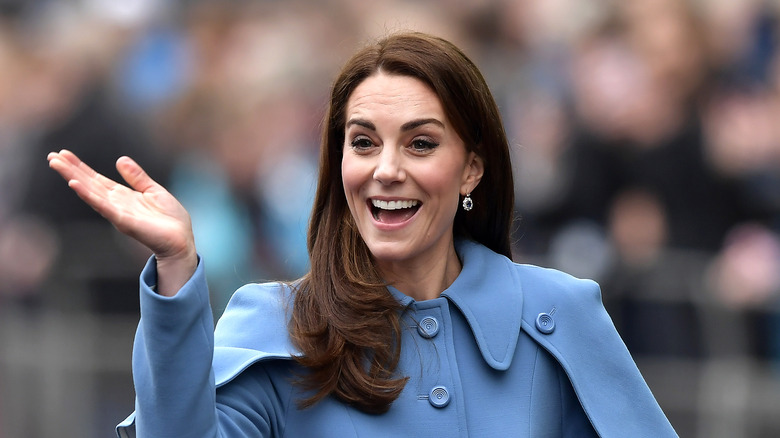 Charles Mcquillan/Getty Images
More often than not, Catherine, Princess of Wales, hits a home run with her style. We've seen her selling power, aptly named "The Kate Effect," which means that when she wears a look, it's out of stock in a matter of hours. One outfit can get coverage for weeks, and more often than not, seem to overshadow riwhatever cause she's championing at an event. There's just so much focus on her clothing. 
While Catherine certainly has styling power, she's had a few missteps along the way. One of the biggest complaints about Catherine's wardrobe is that she occasionally wears outfits that more or less feel too old for her. While she always looks poised, royal watchers have found some of Catherine's ensembles to be boring and dated. What's more, there was even a hilarious interview with a professional "Kate Middleton look-alike" named Jodie Bredo from 2015 where she zeroed in on some of the more conservative outfits. "Kate's just too frumpy for her age," she said in the Mirror, adding that she wished the royal would show off her figure more and be more current with fashion trends. Bredo's grievances aren't lost in a sea of praise. 
Sure, the Princess of Wales has worn a lot of looks that have been absolute hits. And yes, Catherine has taken some fashion risks that've paid off. But every now and again, she'll don something that doesn't feel quite right for her age. 
The polarizing ​​Erdem dress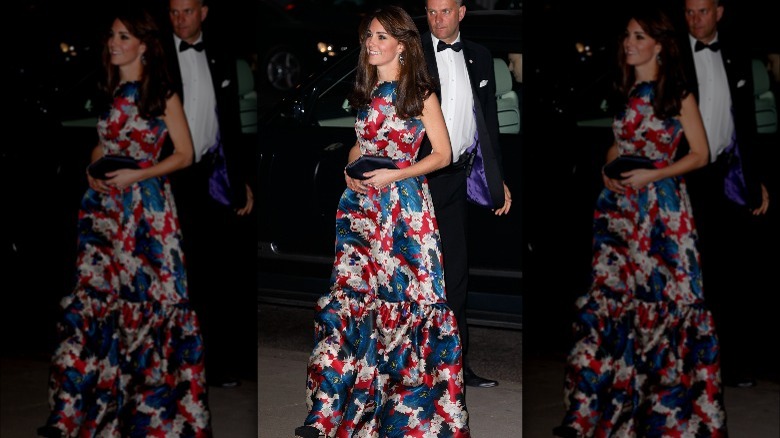 Max Mumby/indigo
Catherine, Princess of Wales, wore a floor-length gown by British designer Erdem when she attended the 100 Women in Hedge Funds Gala Dinner at the Victoria and Albert Museum in London in 2015. It was head-to-toe floral print with a wider bell-shaped hem that brought the dress out even farther. The neckline was also extremely high, so there was no break in the fabric to show some skin. She also was rocking side bangs at the time and something about the combination of her fringe, her long hair, and the long dress looked too heavy.
The Mirror pointed out that Catherine received criticism from both sides. People found her grey and pale blue dresses too plain and conservative, while simultaneously disliking the intensity of her Erdem choice. In a since-deleted tweet, one Twitter user wrote, "Kate is dazzling ok? Dazzling. But that print is something I'm certain my mother chose for curtains back in 1984. Don't hate. Love Kate." Another tweeted, "Love the print & top of Kate's Erdem dress but hate the weird dolly drop skirt." A separate Twitter user noted, "If the skirt had a more ballgown shape, I would have liked it." Clearly, the Erdem dress was too much in all the wrong ways. 
Catherine's wardrobe for her 2016 trip to India didn't land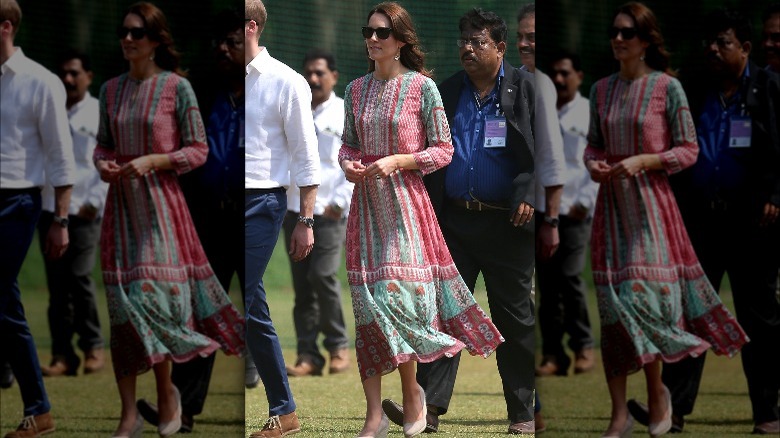 Danny Martindale/Getty Images
In 2016, Catherine, Princess of Wales, and Prince William visited India and Bhutan, and while the trip went smoothly enough, the former caught some flak for her extremely conservative clothing choices. The novelist and columnist Shobhaa Rajadhyaksha panned Catherine's outfits in a piece for NDTV, asserting that Catherine chose outfits that were 20 years too old for her. Rajadhyaksha's complaints had nothing to do with Catherine herself. She said that the princess was "statuesque" and "would look gorgeous in a sack," so the issue was clearly with Catherine's stylists. 
On the trip, Catherine wore a blue beaded gown by Jenny Packham that some spectators called too conservative and dated. Rajadhyaksha wrote, "Honey, the Duchess was in Mumbai, not Abu Dhabi." The columnist felt that Catherine could lean into some more youthful, sexy looks. Catherine also wore the Gulrukh Tunic Dress by Anita Dongre, which was actually specifically altered for Catherine's trip. Catherine and her stylist, Natasha Archer, had the dress's scarf made into a belt and they hemmed the dress considerably. The original design was floor-length. Yet all that work wasn't enough to impress Rajadhyaksha. "Not Anita Dongre's most inspired look," she wrote. Rajadhyaksha wrote that she was grateful no one talked Catherine into wearing a saree while on the trip, so at least there was that win. 
Her navy Saloni dress didn't pack enough punch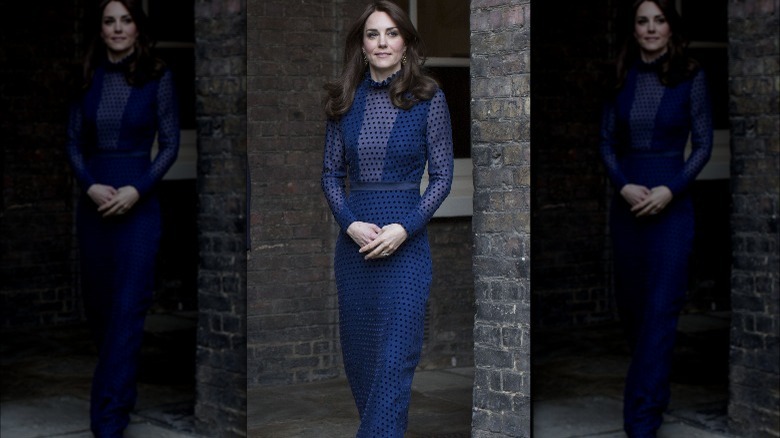 Wpa Pool/Getty Images
In April 2016, Catherine, Princess of Wales, and Prince William held a reception at Kensington Palace, where Catherine wore a blue gown by the Indian designer Saloni. The gown was floor-length and featured a high neckline and full-length sleeves with dot detailing throughout. Catherine wore heels by Rupert Sanderson. The dress got mixed reviews. On Twitter, royals reporter Victoria Murphy shared some photos from the night and wrote, "Kate looking stunning in floor length Saloni dress at Kensington Palace this evening." 
However, shortly after the event, the Daily Mail came out with a scathing piece about her wardrobe, including this exact Saloni gown. They called her the "Duchess of Drab" and asked how a beautiful young woman managed to make designer clothes look dated and "frumpy." Part of the issue with this particular look was how covered the outfit was. There wasn't an inch of skin showing, and as the Daily Mail argued, the dress lacked sex appeal. To be fair, as a royal woman, this probably isn't the primary energy that Catherine wants to exhibit, but the length of the dress with her long hair seemed too heavy. Her hands clasped in front of her gave a stand-off vibe that made the look even more conservative.
She was too 'dowdy' at Charlotte's christening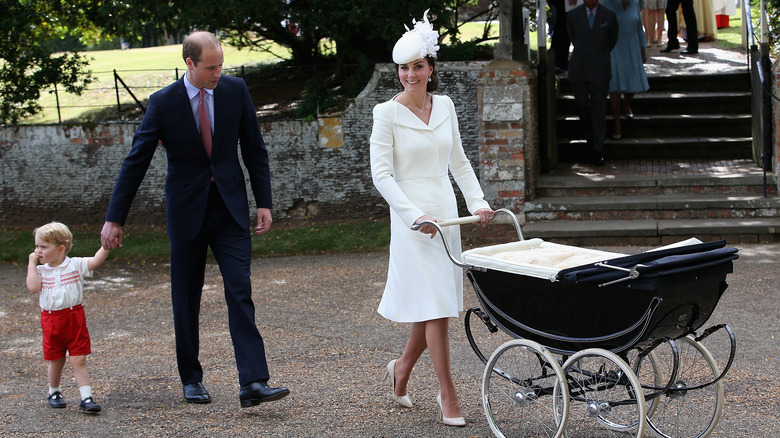 Chris Jackson/Getty Images
For Princess Charlotte's christening in 2015, Catherine, Princess of Wales, opted for a white Alexander McQueen coat dress. She paired the look with neutral heels and a hat by Jane Taylor. Catherine has worn similar looks to all of her children's christenings, though white outfits are by no means protocol for royal women. Catherine's look didn't impress everyone. Shortly after, Tom Sykes wrote a Daily Beast piece titled, "Why Does Kate Middleton Dress Like She's 50?" In the article, the royal correspondent complained that Catherine and Prince William arrived looking like they belonged in another era, dressing like out-of-touch aristocrats, "rich but dowdy, expensive but clunky." An anonymous London stylist described their problem with the outfit: "The neckline—that pinned down collar and the V-neck it created—are very ageing." 
Fashion writer Maureen Callahan told the Daily Beast that it was strange that Catherine often chose Alexander McQueen clothing, a design house famous for its edgy, groundbreaking looks. "Clearly, the young royals are trying to honor tradition while gently pushing modernity," Callahan said. "But it's hard to imagine Alexander McQueen letting such a young, photogenic royal—the future queen, no less—look this deathly boring." The look wasn't risky or inspiring enough. To be fair, Catherine had just given birth, so maybe she needed more time to ease into taking more fashion swings.
Enough with the coat dresses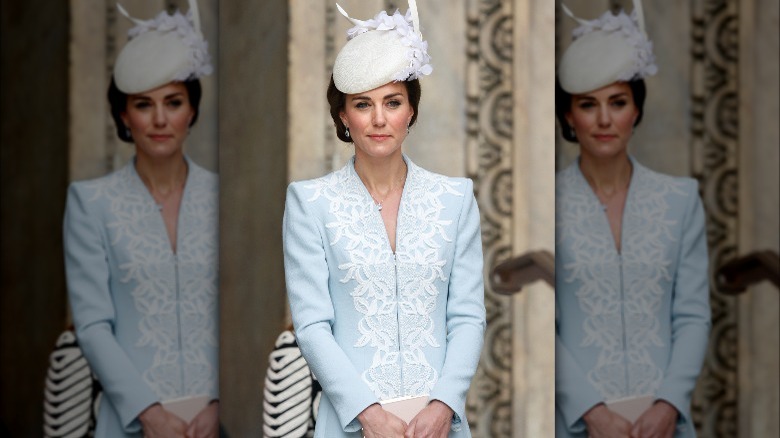 Max Mumby/indigo
Without question, Princess Catherine can't live without coat dresses; we'd love to know how many are in her closet. We've seen this particular garment in the Princess of Wales' repertoire often enough that it's pretty much a staple for her royal look. However, as a number critics have argued, the coat dresses, which she typically wears with sheer pantyhose and pumps, can be rather ageing. Catherine often chooses coat dresses by Catherine Walker, who was a favorite designer of Princess Diana's. While this nostalgic touch is nice, the coat dresses can veer into oldish territory.
TikTok personality matta_of_fact ranked 30 of Catherine's coat dresses from least stylish to most stunning. The comments said it all. "[T]hey all make her look old and matronly. [W]hy do they do this" one TikToker asked. "Catherine Walker seems to toe the line between being on point or really aging Kate," another noted, touching on the point that some of Catherine's coat dresses do genuinely look good. "No offence to Kate but I feel coat dresses are for much older folks. Nothing special, sorry," anther wrote. Another person wrote in the comments that her coat dresses made her look "matronly" and many expressed a wish to see Catherine in fresher, more contemporary looks that pushed the envelope a bit.
Her ultra-conservative dresses aren't so youthful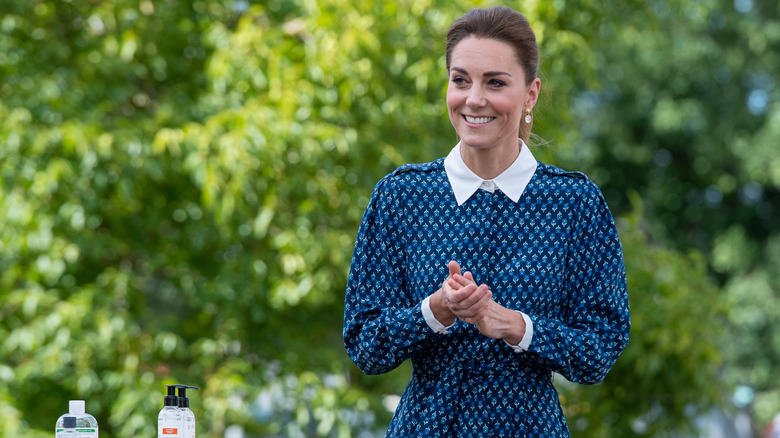 Wpa Pool/Getty Images
In September 2021, Catherine, Princess of Wales, and Prince William visited the Queen Elizabeth Hospital in King's Lynn, Norfolk, to honor the 72nd birthday of Britain's National Health Service. Catherine wore a blue dress by Beulah London. The dress was made of printed silk and featured a white collar and white cuffs with a waist tie. She wore gold drop earrings by Patrick Mavros and navy heels by Rupert Sanderson Malory. While the dress was appropriate enough, it didn't click with everyone. In a TikTok video of the event, someone wrote, "School marm dress." 
Catherine's conservative choices caught the attention of Canadian novelist Margaret Atwood, who told the Daily Mail that she was disappointed with Catherine's general style. "I think she dresses quite uneventfully," Atwood said. "I think she's watching her back, I think she probably has people who pretty much tell her what is appropriate for her to wear." Atwood compared Catherine's style to Princess Diana's and said it didn't measure up. "I don't think she's become the fashion plate that Diana was, and I think she's probably doing that advisably, wouldn't you say?" 
Some were bored by what she wore on Easter Sunday in Australia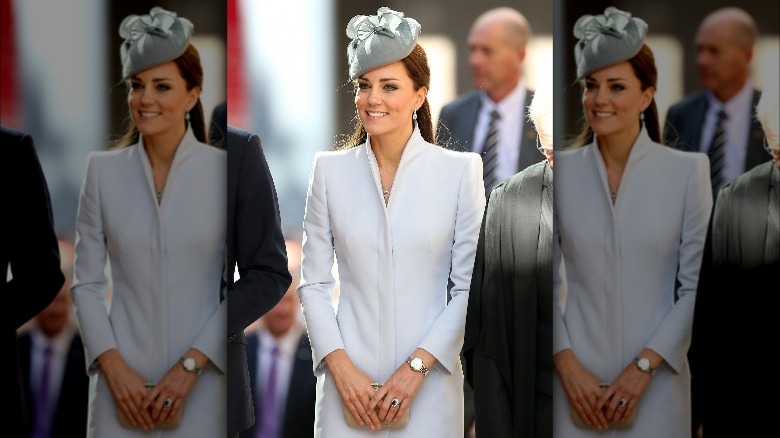 Danny Martindale/Getty Images
While on tour in Australia in 2014, Catherine, Princess of Wales, chose a light blue coat dress by Alexander McQueen and a hat by Jane Taylor Millinery for the Easter service. Alas, some royal watchers were let down by the outfits she wore during her visit to Australia and New Zealand, including the Easter outfit. In an article for the New York Post entitled "Hey, Kate Middleton... try a tiara and quit boring us," royal commentator Anahita Moussavian roasted Catherine's "snoozy suiting." Moussavian continued, "Where is the sparkle, Kate? The flair? The fashion!?"
The fact that Catherine's Easter dress was by Alexander McQueen is an interesting wrinkle. Fashion writer Maureen Callahan spoke to the Daily Beast about Catherine's loyalty to McQueen, a designer who seems like such an unlikely choice considering the princess' penchant for more muted styles. "That Kate picks McQueen so often, and then either commissions or selects such safe, classic tailoring, is puzzling," Callahan said. "There are any number of mature British designers—Stella McCartney and Victoria Beckham come instantly to mind—who could provide Kate with such stately, just-below-the knee pieces." Yet for some reason, Catherine continues to seek out conservative looks by McQueen.
Catherine's St. Patrick's Day parade look left fans wanting more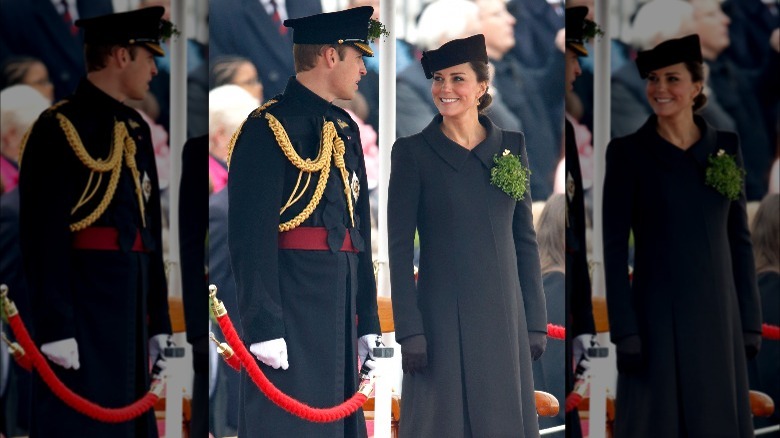 Max Mumby/indigo
In 2015, when Catherine, Princess of Wales, was pregnant with Princess Charlotte, she attended a St. Patrick's Day event and wore a brown coat dress by Catherine Walker. She also donned a brown hat by Lock & Co., shoes by Emmy London, and brown gloves; aside from the green shamrock sprig pinned to the front of her coat, there was no vibrancy to be found. The muted brown look earned worst place in the TikTok rankings of Catherine's coat dresses. When TikTok personality @matta_of_fact showed this understated brown ensemble by Catherine Walker, she didn't even give an explanation why this was the last choice. "Need I say more?" was all she said in explanation. "She needs to dress more Chic and Stylish," one person commented. "These clothes make her look much older. I guess she's dressing so as Not To Cause DRAMA."
Catherine, of course, wears many stunning garments, but from the moment she became a royal, there's been debate about whether or not all of her wardrobe choices are right for her age. As HuffPost style editor Simone Kitchens noted the year after Catherine married Prince William, the princess has long had a knack for playing it too safe with some of her outfits. "A style that looks more designed by committee than by personal preference," she wrote.
Catherine's aesthetic has been called 'dutiful'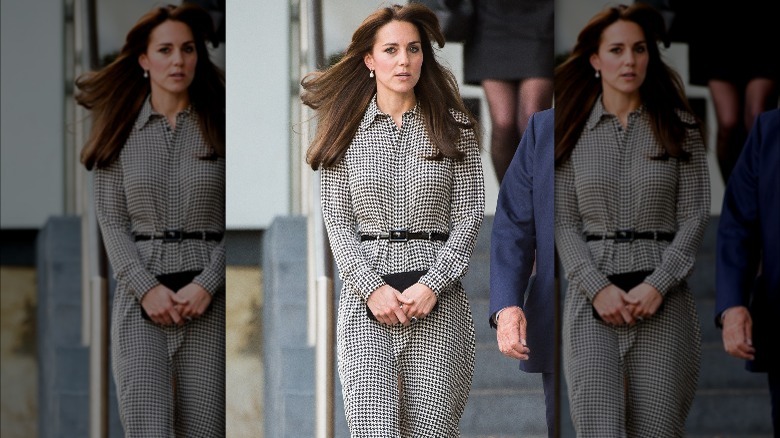 Samir Hussein/Getty Images
Catherine, Princess of Wales, paid a visit to the Anna Freud Centre in London, a place that focuses on children's mental health, in September 2015. Catherine wore a houndstooth dress by Ralph Lauren along with Stuart Weitzman heels in black. After her maternity leave, Catherine was also sporting fringe bangs, so the look seemed somehow more dated. The belted shirtdress retailed at the time for $1,595. While the outfit was called "dazzling" by Hola! and "classic" by Glamour, it was also a bit sleepy and not exactly the most youthful. It is worth noting that she'd just welcomed Princess Charlotte and was easing back into royal appearances. 
That same year, fashion writer Maureen Callahan spoke about Catherine's fashion choices with the Daily Beast, noting that she hoped the royal would one day embrace less stuffy threads. "Kate's never really had style," Callahan began. "Maybe she'll grow into it once she develops more of a sense of the kind of royal she wants to be, not the one she's expected to be. Her clothes feel rather dutiful." With more time and a growing sense of security as to her place in the firm, Catherine will hopefully choose more daring choices. 
Catherine's basketball game look was too prim and proper for the event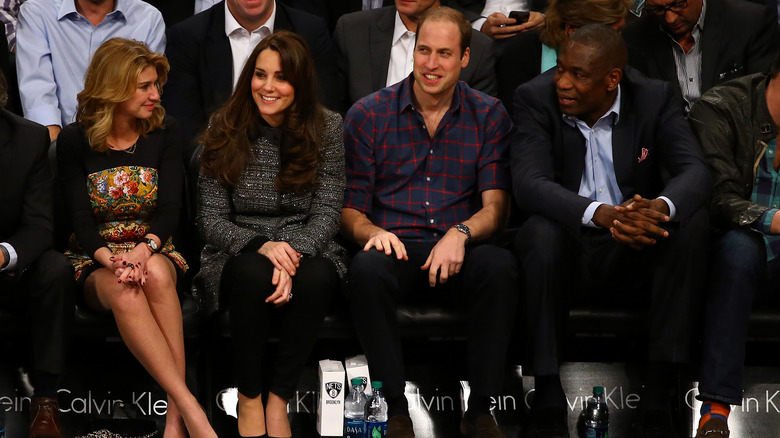 Al Bello/Getty Images
Catherine, Princess of Wales, and Prince William, visited New York City in December 2014 while Catherine was pregnant with Princess Charlotte. During the course of the evening, the couple first joined Hillary and Chelsea Clinton at an event at the British Consul General's residence, and later sat courtside at an NBA game between the Brooklyn Nets and the Cleveland Cavaliers at Barclays Center. 
Prince William had a chance to change out of the suit and tie he wore to the aforementioned reception, but apparently, Catherine took a different route. For the game, Wills went with a casual button-down and informal slacks, whereas the princess stuck with the grey tweed Tory Burch coat, black pants, and pair of heels she donned for their meeting with the Clintons. In the photos taken at the game, Catherine's outfit seemed too formal. Part of the problem was that she had her coat zipped up to her neck, which felt a bit too prim for such a fun event. 
Catherine's Norway wardrobe was called 'dull'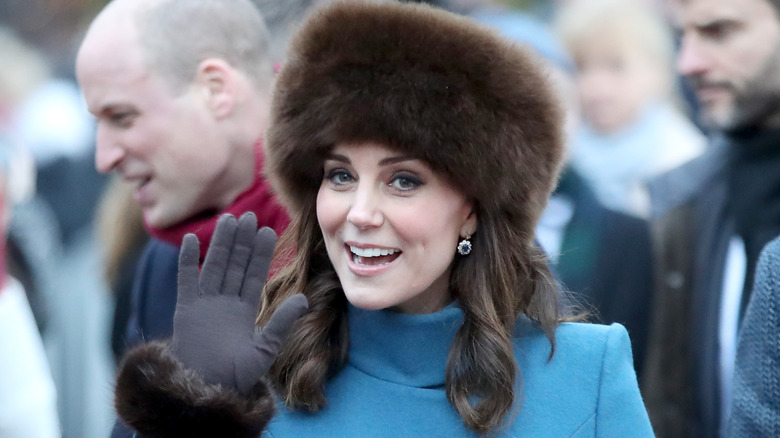 Chris Jackson/Getty Images
On a trip to Norway, Catherine, Princess of Wales, showcased some winter wear that caught people by surprise. She and Prince William toured Scandinavia in February 2018 and on one outing, she wore a blue coat by Catherine Walker along with a brown fur hat and brown gloves. She wore brown suede boots with the coat. 
Their Scandinavian trip prompted more conversation around Catherine's wardrobe choices. Royal correspondent Jan Moir wrote a piece for the Daily Mail after receiving a letter from an 88-year-old reader named Connie Wilson who said that Catherine's outfits were more appropriate for someone her age. "Are these clothes provided by a stylist? Surely someone as shapely and beautiful as Kate could make better choices herself," Wilson asked. Moir wholeheartedly agreed, calling Catherine and William the "Duke and Duchess of Frump." She asked readers, "Why are they so old before their time, so darned middle-aged and dull?" Moir compared Catherine's clothing choices to those favored by Camilla, Queen Consort, and lamented the fact that Catherine didn't represent England in a more youthful, stylish way.
What's next for the Princess of Wales' wardrobe vibe?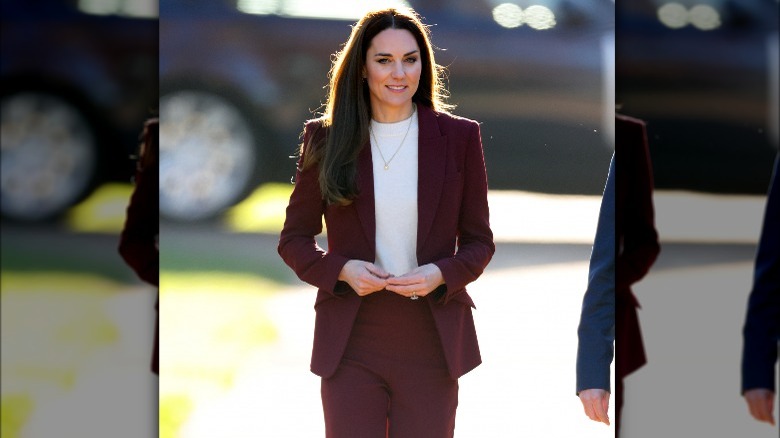 Max Mumby/indigo
Royal watchers had high hopes that Catherine, Princess of Wales, would step up her wardrobe game after her husband became the heir apparent. Alas, some fans still find the Princess of Wales' aesthetic to be too conservative and mature for so young a woman. TikTok personality @themirandaholder explained that while Catherine's style may not be for everyone, others appreciate her timeless pantsuits and professional vibe. The TikToker acknowledged that Catherine's wardrobe can be "serious and possibly unexciting," but noted that this may be because the royal doesn't want her fashion to be the focus. It's certainly a reasonable point. 
Many of Catherine's looks since becoming the Princess of Wales have largely been workwear, with lots of beige blazers and color palettes of cream, black, and grey. As royal fashion expert Miranda Holder said in Newsweek, "The fun, feminine, flirty Kate who we all fell in love with in her polka-dot tea dresses seems to have been replaced by a new, more heavyweight incarnation." Holder also told the outlet that the royal's style now has a "business-like mood."