What To Know About Ron DeSantis' Parents, Karen And Ron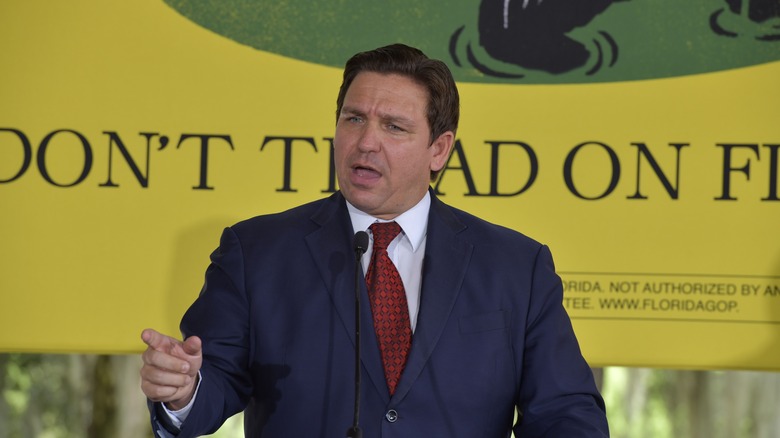 Wirestock Creators/Shutterstock
Florida Governor Ron DeSantis has officially announced his bid for the presidential seat. The Republican candidate has been a controversial figure in his state for his conservative views, including the notorious "Don't Say Gay" bill, which limits the instruction of sexual orientation and gender identity in public schools. He recently enacted a six-week abortion law, sparking further division in the state. Despite all of this, DeSantis is ready to take his views to the White House, and people are eager to know more about the possible first family that he'll be bringing along with him.
While some are familiar with his wife, Casey, for her previous career in journalism and media, his parents — Karen Rogers and Ronald Daniel DeSantis — have remained a bit of a mystery. Even during his political career, they did not always join him during various events and appearances. His father passed away several years ago. However, with DeSantis' sights set on leading the country, the lives of his parents may soon be put on full display.
Karen Rogers enjoys life away from the spotlight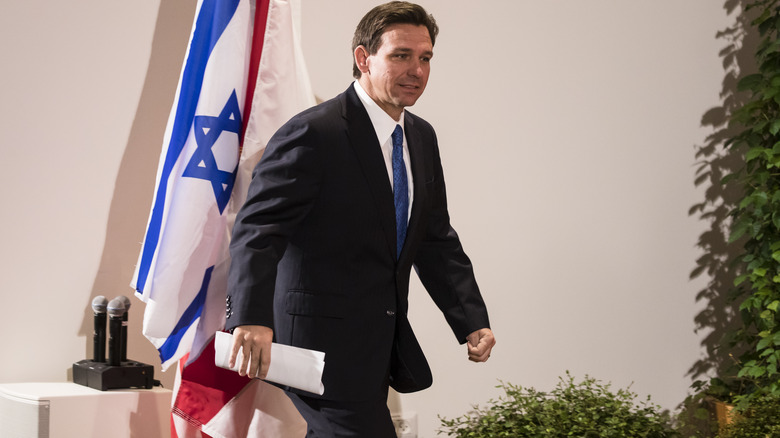 Amir Levy/Getty Images
The mother of Florida Governor Ron DeSantis has done a great job of staying out of the public eye, though she was present when her son was sworn into the U.S. House in 2013. Her life had an interesting start. She grew up in Poland but came to the United States with her family when she was younger. Rogers attended Youngstown State University in Ohio, where she met her husband, Ronald Daniel DeSantis. They eventually relocated to Jacksonville, Florida in the late '70s before welcoming their son Ron in 1978. The couple welcomed daughter Christina in 1985 while living in Orlando before eventually relocating to Dunedin, Florida.
Sadly, the couple's daughter passed away in 2015 while in London. Rogers took action to remember Christina by launching a GoFundMe to raise money for a scholarship at Florida State University, where Christina studied before moving abroad. These days, Rogers helps look after her son's three children Madison, Mason, and Mamie. As a retired critical-care nurse, she is used to looking after others — a quality that will come in handy as her family prepares to be inundated with media during a busy campaign run.
Ronald Daniel DeSantis passed away in 2015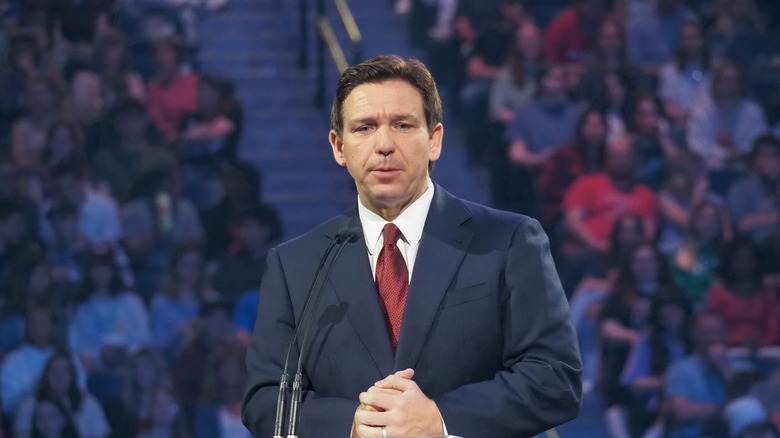 The Old Major/Shutterstock
Ronald Daniel DeSantis was also a private figure prior to his cancer death in 2015. Before he passed away, the elder DeSantis was a worked as a volunteer on his son's governor campaign. However, he built a career for himself earlier in life by joining the armed services after attending Youngstown State University. Originally from Western Pennsylvania, DeSantis Sr. spent time in the United States Navy, climbing to petty officer rank. Afterward, he embarked on a career as a Nielsen-ratings box installer. His governor son followed in his military footsteps, earning a commission in the U.S. Navy while attending Harvard.
With the Sr. DeSantis no longer alive, it's unclear if Ron DeSantis' mother will be more involved with her son's campaign the same way her husband was. Judging by the quiet life she maintains away from politics, it's likely that she may continue a peaceful existence in the shadows.