What Happened To Josh And Jackie From Love Is Blind Season 4?
Josh Demas and Jackie Bonds were at the center of the drama on Season 4 of "Love Is Blind." Viewers initially rooted for Jackie after she accepted Marshall Glaze's proposal following a connection built in the ponds. But between Jackie's cold-hearted response to their tumultuous breakup, her quick rebound with Josh, and several leaked text messages where she admitted to making "tasteless" comments about Marshall (via ET), viewers labeled her a Season 4 villain, alongside Irina Solomonova, of course. 
Josh and Marshall butted heads early on during the pod portion of the marriage experiment. The two both had eyes for Jackie, who struggled with making a decision on which guy she would move forward with. Jackie ultimately decided on Marshall, who proposed and called their first kiss "the best moment" of his life (via Life & Style). Josh was disappointed to not be chosen by Jackie but made sure to come back with a vengeance around the same time Jackie and Marshall started to disconnect. By the time Josh rejoined his cast mates for a social gathering and had a one-on-one with Marshall, he made his intention to get Jackie back very clear. As awkward as Josh and Marshall's confrontation was, it was the first real sign of how serious Josh was about Jackie.
Jackie and Josh are still going strong
Despite all the controversy Jackie Bonds and Josh Demas started by embarking on a relationship, the two managed to find love on a show that's known for its messy breakups and divorces. They opted out of attending the "Love Is Blind" Season 4 reunion due to the alleged death threats they were receiving (via Insider). But they did sit down for a pre-taped interview with Vanessa Lachey where they updated viewers on their romance and revealed they were living together. Jackie also took to Instagram to clear up speculation surrounding the timeline of when she broke up with Marshall and started dating Josh. According to the dental hygienist, she and Marshall had already called it quits when cameras showed her seemingly skipping the wedding dress fitting for a coffee shop date with Josh.
Since wrapping the show, Jackie and Josh are still going strong. The Netflix stars enjoy filming TikToks that tease their life at home. Jackie even finds ways to promote brands and her relationship at the same time. One Instagram photo slide shows her modeling a set she wore for "date night." It came days after she tagged Josh in a repost of one of their comical TikToks showing Jackie playfully hitting Josh for the times "when girls be in his dms telling him he is so fine." Jackie's posts highlight the instant attraction she had for Josh once she finally met him in person.
Jackie's 'soul-binding' connection with Josh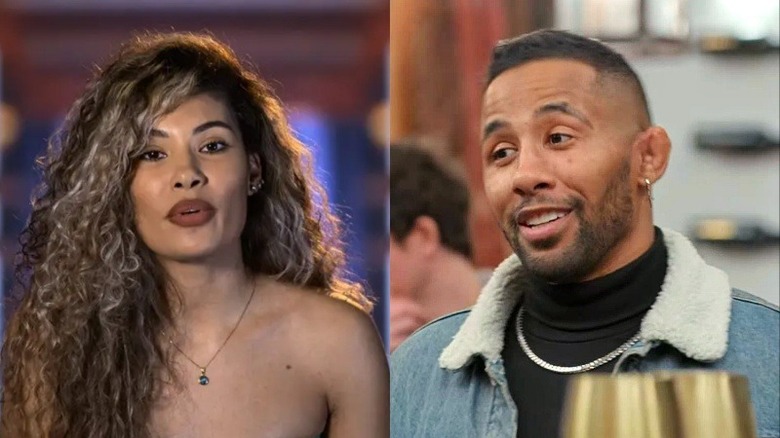 Netflix
Jackie Bonds has started to open up more about how smitten she was with Josh Demas when she finally saw him outside the pods. It was at Chelsea Griffin's party when Josh rejoined the cast and met Jackie in person for the first time. Jackie likens their first physical encounter to a "'That's So Raven' moment" where she suddenly froze and took in how "good-looking" Josh was, she told Today. Viewers watched Jackie skip out on attending the wedding dress fitting and instead went on a first date with Josh where she admitted to feeling like she "chose wrong" when she accepted Marshall's proposal in the pods. Jackie felt a "strong" connection with Josh that she couldn't ignore. "It was actually very intimate, very soul-binding, I would say, because it's almost kind of like, we are very strong," she said of their instant connection.
With "Love Is Blind" Season 4 over and done with, Jackie and Josh could have gone their separate ways if they were only dating for the cameras. But from the looks of their recent social media activity, they're among the elite few "Love Is Blind" couples who are still together. Meanwhile, Marshall might've also found a new leading lady (via Life & Style). Jackie and Marshall didn't find love together, but at least one of them found love on the show.