Sasha And Malia Obama's Journey From DC Kids To Bonafide California Girls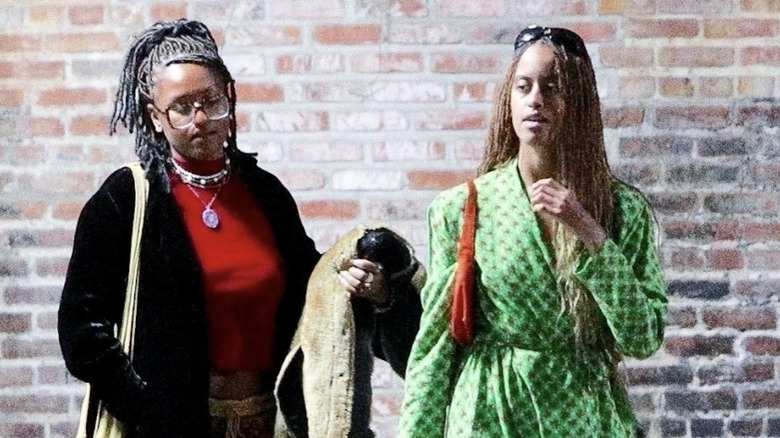 Backgrid
Sasha and Malia Obama have kept a low profile in recent years despite being well-known by the American public. The two girls, three years apart in age, grew up in the White House, spending a total of eight years there during their father's presidency. They attended both elementary school and high school in DC as well. You might think they'd be DC girls, but after recent moves, Sasha and Malia have taken on a head-turning transformation into California girls.
While the two have rarely given interviews (the most in-depth one was featured in the documentary about their mom, "Becoming"), their photos have flooded the media over the years, documenting their journey from childhood to adulthood. Back in 2022, a picture of the two walking in athleisure fits sparked conversation about their growth on the internet and in the headlines. Flash forward to now, and the two, Malia aged 24 and Sasha aged 22, are roommates navigating California together.
Stepping up to the California look
Fashion has been a huge part of the lives of the Obama sisters since moving to California. Both girls have been spotted in stylish fits ranging from low-cut jeans paired with crop tops to boots and colorful jeans. Their whole vibe fits the Golden State's fashion perfectly — especially in LA. It's a big jump from their former looks, where they were often spotted wearing a preppier style.
In addition to finding their style in California, they've also found boyfriends. Sasha met her current boyfriend, Clifton Powell Jr., during her time at USC. He's the son of actor Clifton Powell, a former basketball player, and is currently working in the world of TV commercials. Malia is rumored to be with record producer Dawit Eklund.
The two are navigating adulthood together and making their parents proud. "They had to learn how to be compassionate, independent, responsible people so that they entered the world as responsible, compassionate, capable people. And I think they are amazing young women because of that," Michelle Obama said on the "Ellen Degeneres Show."
Education and beyond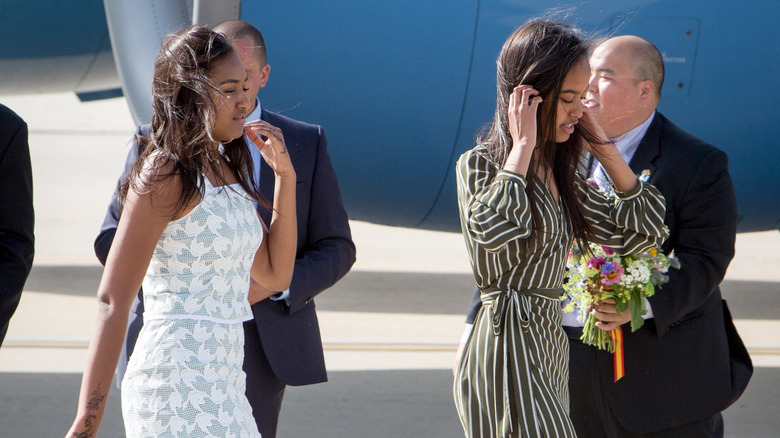 Pablo Cuadra/Getty Images
Sasha Obama graduated college in May, 2023. She studied sociology and received her bachelor's degree from the University of Southern California. Sasha started off at the University of Michigan, but transferred in 2022.
Sasha's move brought her closer to her older sister Malia, leading the two to become roommates. "The thing that I love the most is that those two girls are each other's best friends," former first lady and author Michelle Obama told Today. "There was a period of time when they couldn't stand each other, and I said, 'You wait, you are going to wake up one day and you're going to look over at that other person, and you're going to know that you two share something very unique,' especially given what they've been through."
Malia Obama graduated from Harvard back in 2021. She then made the move to LA, where she's been working under Donald Glover, including writing for his Amazon Prime show "Swarm." She's currently working as a director with him on a film. "The first thing we did was talk about the fact that she will only get to do this once," Glover told GQ. "You're Obama's daughter. So if you make a bad film, it will follow you around." She's received encouraging reviews from her coworkers about her writing skills and pitch ideas.