Ellie Goulding Still Denies Her Connection To Ed Sheeran's Biggest Breakup Anthem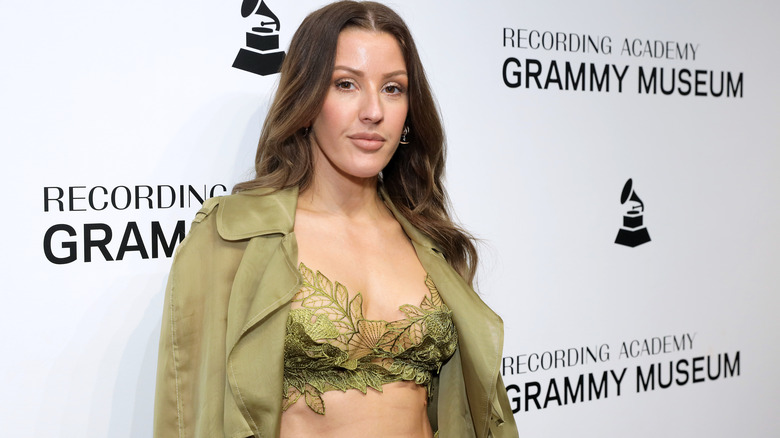 Rebecca Sapp/Getty Images
Even though Ed Sheeran released his hit single "Don't" back in 2014, people are still interested in juicy rumors about it that involve Ellie Goulding and Niall Horan. Per E! News, it all started when Sheeran and the "Love Me Like You Do" singer were spotted holding hands at the MTV VMAs in 2013 — around the same time she was reportedly seeing Horan. At the time, Goulding sarcastically shut down the Sheeran speculation on Twitter: "I love that holding hands with my friends means we're an item," she wrote.
Nevertheless, fans ran with that context and were quick to apply it to the "Don't" lyrics. In the song, Sheeran details a romance with a singer that ends when she cheats on him with another musician who's staying in the same hotel as them. He sings, "And I never saw him as a threat / Until you disappeared with him to have sex, of course / It's not like we were both on tour / We were staying on the same f**king hotel floor." Although it's easy to see how people made the connection between the headlines and the lyrics, Goulding has adamantly denied that she cheated on Sheeran with Horan and clarified that she and Sheeran never even dated. 
Ellie is adamant about the rumors being false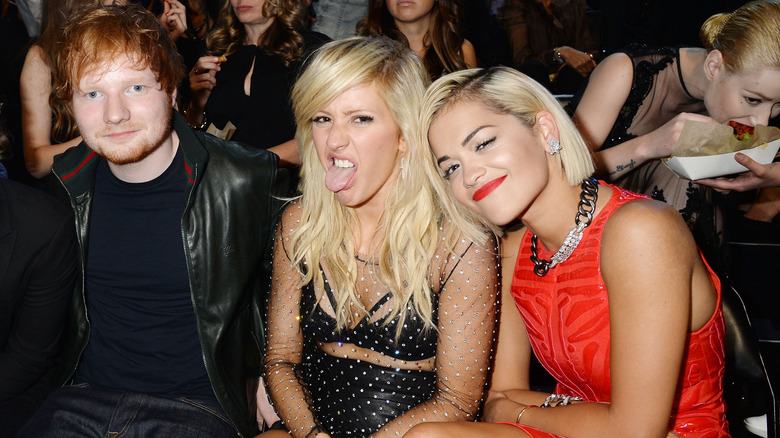 Jeff Kravitz/Getty Images
Ellie Goulding has tried to set the record straight about the "Don't"-related rumors multiple times over the years. In 2015, the pop star explained to Elle UK that the cheating allegations were false and that she and Ed Sheeran weren't ever together in the first place. "I did go on a few dates with Niall [Horan]," she revealed, "but I was never in a relationship with Ed." Goulding added, "I have absolutely no idea where that came from and why it was turned into such a big thing."
Despite the singer telling her side of the story, fans have continued to believe and perpetuate the scandalous theory; Goulding had to defend herself in the comments section of her December 31, 2022 TikTok dance video when a user wrote, "Can't believe you cheated on Ed with Niall, but slay." She replied, "False!!!! But also slay."
It's all taken a toll on Goulding's mental health. During a February 2023 interview with The Daily Mail, she shared, "You know, completely honestly, it caused me a huge amount of... stress is not the word. It caused me a lot of trauma, actually." The singer explained that people made her feel like a "terrible person" and that was really hard. She also admitted that she was drunk when she responded to the TikTok comment. 
Ed wishes people would focus on the song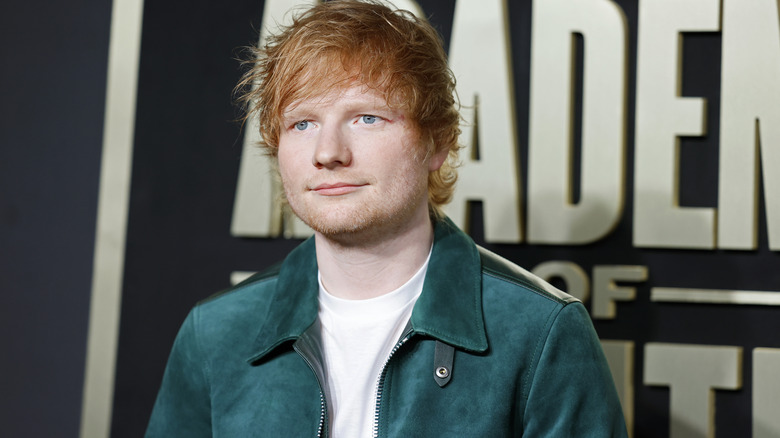 Jason Kempin/Getty Images
Ed Sheeran is also not a fan of the Ellie Goulding rumors surrounding his song, "Don't" — he wishes people would just enjoy the music and the lyrics instead of the gossip. In 2014, he explained to GQ, "I knew it would get the reaction. The one thing that's upset me and I should have known it was coming, I feel like it's one of the best songs I've written musically and all the focus is on the story." He emphasized, "I like the song. I don't want it to be remembered because there was a news story about it. I want it to be remembered because it's a good tune."
The same year, the singer-songwriter revealed to The Telegraph that he did warn the subject of "Don't" before the song came out, and they weren't too surprised. He noted that the song is "100 percent true" and that it was his way of getting even with the person after the upsetting situation. "The fact that it will stay anonymous is good for me," he said.