Madonna's Like A Virgin Is A Hit, But The Queen Of Pop Isn't Too Fond Of It Anymore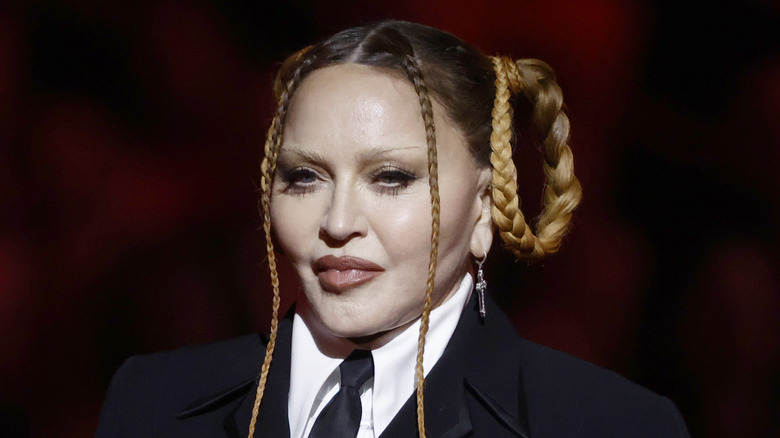 Frazer Harrison/Getty Images
From fashion trends popularized by Madonna to her award-worthy music, the Hollywood star has done it all. She's earned the title of The Queen of Pop and is now evicting "Like a Virgin" from her castle. Madonna's hit song was featured on her album of the same name and it was a risky single that paid off. The song was loved internationally, topping the charts in Australia, and Canada, while gracing the Top 10 charts of France, Germany, Switzerland, and the U.K.
Madonna and her song made more headlines when she performed at the very first VMAs in 1984. Coming out of a giant wedding cake, the pop star kicked her shoes off and rolled around in a wedding dress, putting on a provocative show that would make history. The singer wasn't well known at the start of the "Like a Virgin" performance, but the same can't be said afterward. As it turns out, the iconic VMA appearance didn't go as planned.
She lost her stiletto, and that's what kicked everything into gear. During an appearance on "The Tonight Show," Madonna told Jay Leno, "I thought, 'Well, I'll pretend I meant to do this,' and I dove on the floor and I rolled around. And, as I reached for the shoe, the dress went up. And the underpants were showing. I didn't mean to." The song may be tied to fond memories of the Hollywood star, but Madonna would happily never play "Like a Virgin" again.
Madonna has heard Like a Virgin too many times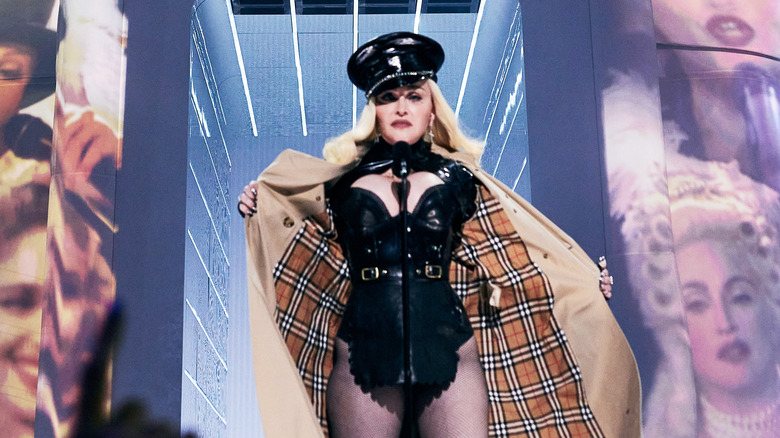 John Shearer/mtv Vmas 2021/Getty Images
You would imagine artists have a great appreciation for the songs that catapulted their careers. But with almost 50 years in the music industry, Madonna's love for her hit "Like a Virgin" has waned. According to the BBC, during a 2009 interview the Queen of Pop once shared, "For some reason, people think that when you go to a restaurant or you are going shopping that you want to hear one of your own songs. It's usually 'Like a Virgin' — and that is the one I don't want to hear." So if you meet the legendary Madonna, refrain from sharing your rendition of her greatest records.
She doesn't want to hear the song, much less perform it. During a 2008 interview with New York's Z100 FM radio (via BBC), the seven-time Grammy award winner added, "I'm not sure I can sing 'Holiday' or 'Like a Virgin' ever again. I just can't — unless somebody paid me like $30 million or something." It's a big bill but worth it to hear the 1984 pop song brought to life by the queen herself. While "Holiday" and "Like a Virgin" may be on Madonna's no-sing list, her favorite tunes are different tracks from her discography.
Madonna's most loved and hated records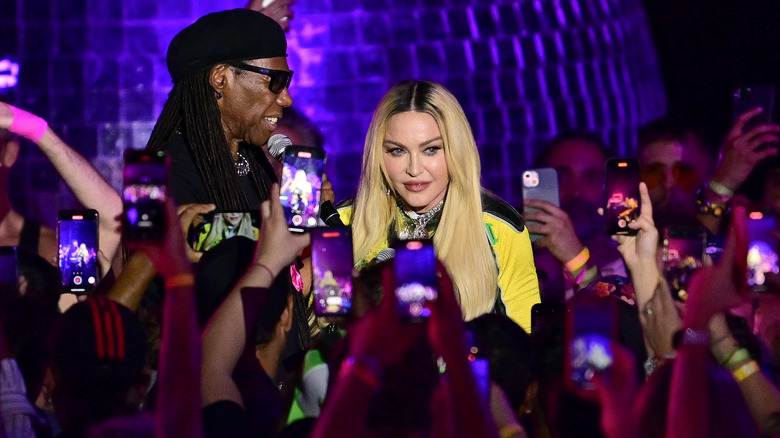 James Devaney/Getty Images
One song that hasn't had enough decades to be played out holds the number one spot in Madonna's heart. Talking with E! News, she revealed, "My all-time favorite Madonna song is 'B***h, I'm Madonna' — naturally." The track was a single on the superstar's 13th studio album, "Rebel Heart." Rapper Nicki Minaj was featured on the party song, which landed on the Billboard Hot 100 chart in 2015.
On the opposite end of the spectrum is another '80s hit. "My least favorite is 'Material Girl.' I never, ever want to hear it again," Madonna confessed. However, once upon a time, the singer and songwriter enjoyed the records "Material Girl" and "Like a Virgin." Sitting down with Rolling Stone, Madonna shared, "I liked them both because they were ironic and provocative at the same time but also unlike me. I am not a materialistic person, and I certainly wasn't a virgin." Those hits might not be on Madonna's playlist, but they're still very much on ours, along with "Vogue" and "Like a Prayer."