How Ivanka Trump Lives The Life Of Leisure In Florida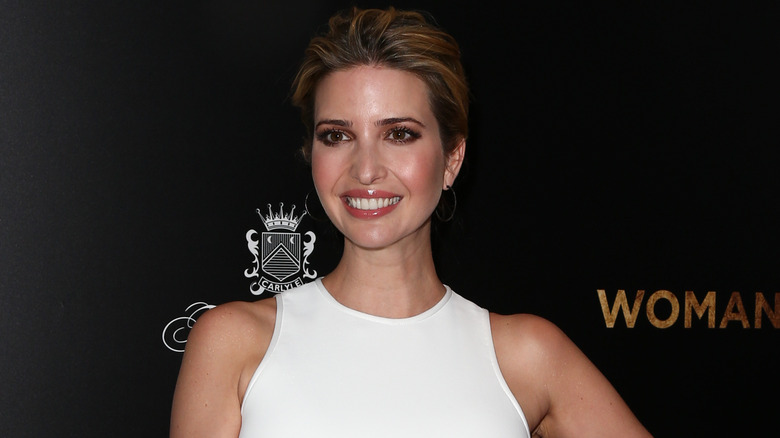 Debby Wong/Shutterstock
After her father, former President Donald Trump, left the White House, Ivanka Trump and her husband, Jared Kushner, gave up politics and moved to Miami, Florida with their three children. Following Donald's official announcement of his bid for reelection, Ivanka released a statement about her future involvement in politics telling Fox News that "This time around, I am choosing to prioritize my young children and the private life we are creating as a family,"  adding that she will not get entangled in the political world again.
The announcement came after the heartbreaking death of Ivana Trump, Ivanka's mother; an event that brought a new perspective into her life. A close friend of Ivanka's told The New York Post that her mother's death led Ivanka to have a change in her perspective on life: "I think losing a parent definitely leads to a real awakening . . . For Ivanka, it underscored how fleeting time is." The friend shared that Ivana lived life to the fullest and prioritized fun in her life, which has inspired Ivanka to do the same. Now, Ivanka is embracing her luxurious lifestyle while building a new life with her family in Miami.
Ivanka is focusing on spending time with her husband and children
It's no secret that Ivanka Trump and Jared Kushner live an insanely lavish life, with multiple luxurious multi-million dollar properties including a $24 million waterfront mansion on Indian Creek Island in Miami, Florida (via Daily Mail). After a long break from the social media platform, ITrump now posts more frequently on Instagram, sharing snippets of her new carefree lifestyle in the Sunshine State. 
The former White House advisor has been prioritizing her family and has been posting plenty of photos showing their latest memories together. She shared a few snaps of her and her family celebrating Valentine's Day together on the beach, as well as photos of her and one of her sons sitting courtside enjoying an NBA playoffs game. Travel has also become a priority for the socialite, who indulges in regular vacations abroad with her family.
Ivanka took a trip to Qatar with her family and even managed a quick trip to Paris in December 2022 with her daughter, Arabella, for a meaningful mother-daughter getaway to celebrate Hanukkah.
She continues to stay active and enjoy the outdoors
Since leaving politics for good, Ivanka Trump has been enjoying finding ways to stay active and has taken her workout routine to the next level. The former first daughter has been spotted regularly visiting the gym with her personal trainer and has even started to take wakeboard lessons in her downtime (via Daily Mail). Trump works to prioritize her health, as she was known to be an avid runner during her time in politics, and she continues to take runs in her free time. She's also been spotted indulging in outdoor activities like golfing, horseback riding, fishing, and partaking in polo matches with friends. 
After their stint in politics, Trump and Jared Kushner were reportedly shunned by the elite friends they made while in New York. According to Vanity Fair, the couple has finally found a new group of friends that they socialize with and visit high-end spots together in Miami, Florida. The source tells Vanity Fair: "No one cares anymore. They're all rich and spending a lot of money . . . That's the equalizer, and it's stronger than anything else they'd agree or disagree on."