Why Kelly Ripa And Mark Consuelos Finally Hosting Live Together Made Perfect Sense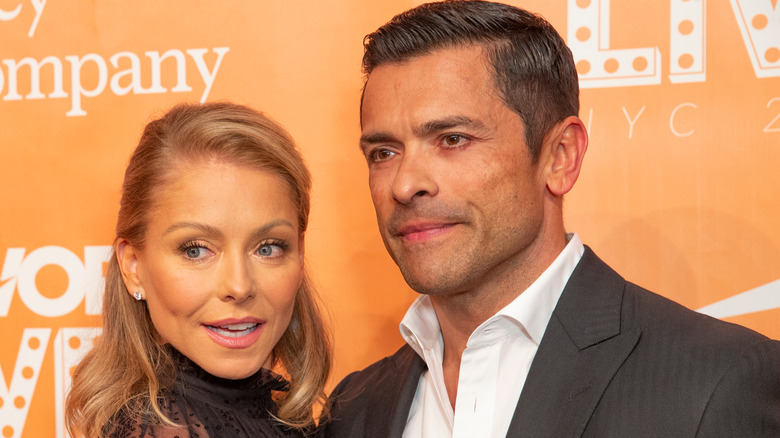 lev radin/ Shutterstock
Since 1988, "Live" has been the talk show to start the day for viewers all across North America. Over the past nearly four decades, the show has had a variety of stars in entertainment co-host. In 2001, Kelly Ripa took a seat as the beautiful, young co-host alongside Regis Philbin. This was when Ripa went from soap opera darling to talk show royalty. Since then, Ripa has had a couple of different hosts sit by her side. From 2017 to 2023, Ryan Seacrest served as Kelly Ripa's right-hand man. The two's effortless banter was broadcasted five days a week for six years on "Live with Kelly and Ryan." However, on April 14, 2023, Seacrest made a heartfelt goodbye to the show.
In Seacrest's announcement to leave "Live with Kelly and Ryan," he explained that he would be heading back to the west coast to focus on his work with "American Idol" in Hollywood. Seacrest made it clear how sad he was to say goodbye to the show and his longtime friend Ripa. However, he was more than happy to say hello to the man who would take his place — Ripa's husband, Mark Consuelos.
What made Mark Consuelos and Kelly Ripa decide to become co-hosts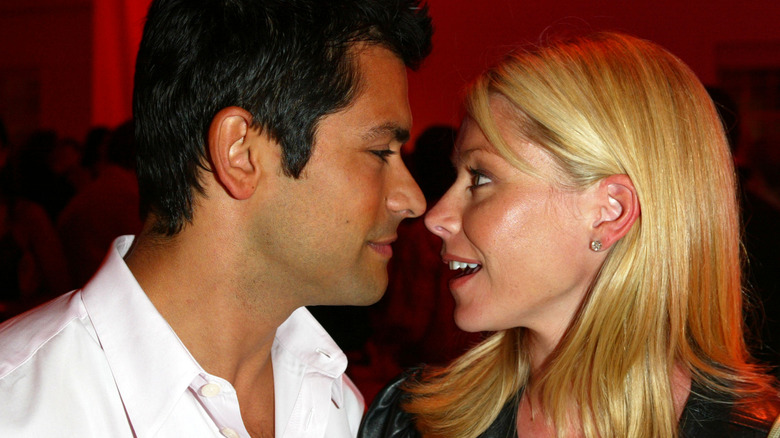 Matthew Peyton/ Getty Images
The announcement was an absolute surprise to the "Live" audience, but when you look at the married couple's history, their new positions make a whole lot of sense. In fact, this won't be the first time the two have worked in television together. Kelly Ripa and Mark Consuelos' relationship began when the two starred on the hit soap opera "All My Children"  in the '90s. By 1996, the two were married. After raising three children and sharing almost three decades of marriage, the two are clearly a strong pair.
According to Ripa, the two have been considering this decision for a while now. Consuelos has had a number of unofficial test runs on the show, filling in as a guest co-host when needed. Ripa told People, "He's always been a natural fit for us. He's always been extraordinary when he's filled in." Beyond that, the married couple is taking it as an opportunity to start a new phase in their lives together. In their interview with People, Ripa added that, more recently, they've been discovering new interests together. She explained, "Now, with our kids being gone, we have this whole other world of outside activities."
What to expect from 'Live with Kelly and Mark'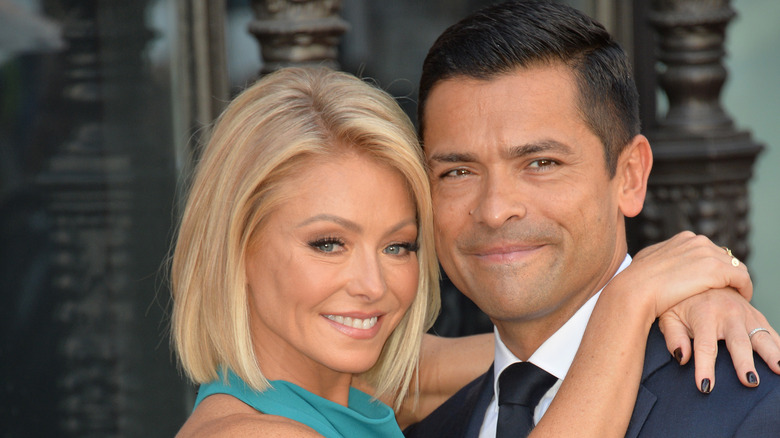 Jaguar PS/ Shutterstock
The pair have been more than capable of forming a healthy partnership in marriage, and the two expect they will be just as successful in their partnership on the talk show. In their interview with People, the two laughed together as Kelly Ripa exclaimed, "[It's] going to be off the rails!" Because the show is known for its improvised, authentic nature, and there's a good chance that "off the rails" will be the perfect fit for the "Live" audience. In addition, Ripa mentioned that a large part of their audience comprises long-term married couples, who she predicts will relate to the two co-hosts dynamic.
While talking with Entertainment Weekly, Mark Consuelos shared how he plans to appear on the show. He remarked that he will remind himself to "be present, have a lot of fun, be awake." On April 14, 2023, the same day Ryan Seacrest officially left the show, Consuelos and Ripa appeared together on air. This beginning marked (pun intended) a new, exciting adventure both for the "Live" show and the married couple.