How Taylor Swift's Makeup Reportedly Survives Her Rain-Soaked Concerts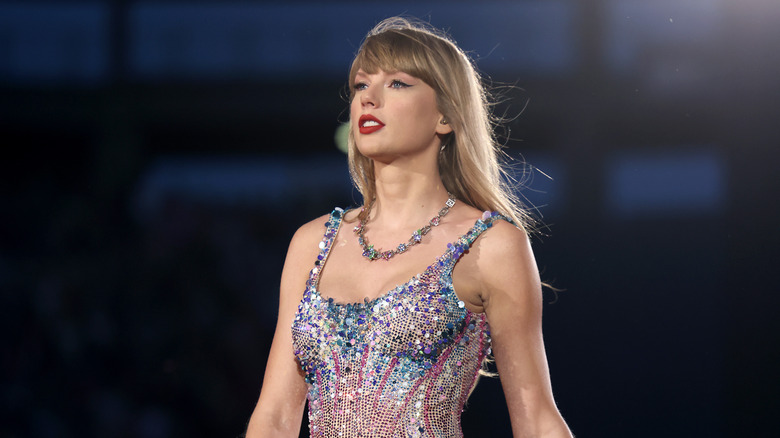 Scott Eisen/tas23/Getty Images
If you have seen the rain-soaked performances Taylor Swift has been putting on during her Eras Tour, you've probably also noticed how flawless she still looks even after performing in torrential downpours. How is it possible for her makeup to look so good after performing in such terrible weather for three hours? The simple answer is, of course, because she's Taylor Swift. The proper answer is, thankfully, much more achievable than that.
An anonymous source wrote into celeb gossip forum DeuxMoi that they think Swift is using a lot of Pat McGrath makeup during her tour. This source probably isn't too far off even if it isn't the complete truth. Pat McGrath provided all of the makeup for Swift's "Bejeweled" makeup video from her "Midnights" album, and even collaborated with the singer on a "Taylor-Made" Kit that included all of the specific products Swift has worn in music videos or elsewhere.
If you want to look as good as Swift even when you get drenched on your morning commute, there are some specific Pat McGrath products she is apparently using to keep her makeup perfect even in the face of inclement weather.
These products will help your makeup stay put in severe weather conditions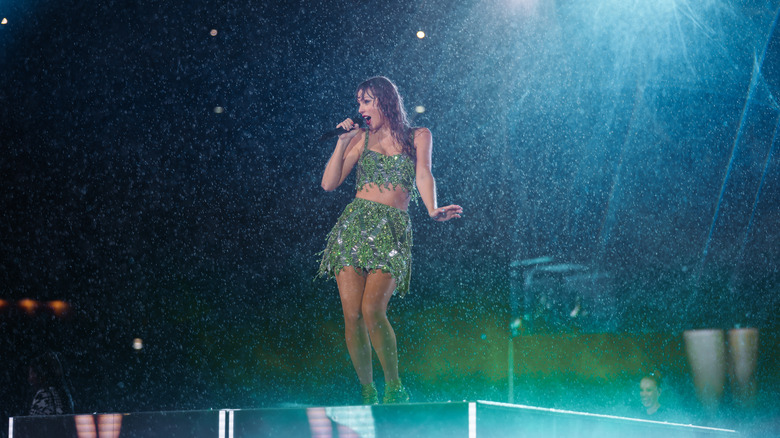 Tas Rights Management/Getty Images
The singer has a lot of love for Pat McGrath products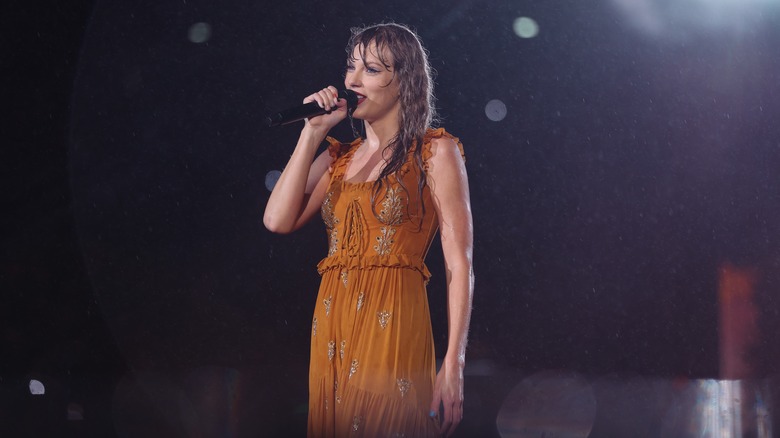 Tas Rights Management/Getty Images
It's not just the Eras Tour that Pat McGrath is providing the looks for. As previously mentioned, Swift has also worn a handful of other Pat McGrath products for other projects, including for the "Bejeweled" music video. Her gorgeously glimmering makeup looks were definitely eye-catching, and if you're looking to recreate them, McGrath herself revealed the exact items used to create Swift's magical makeup. "The moment I heard the title, I had visions of scintillating, shimmering, and sparkling," she shared with Allure.
The base products used in the music video (foundation and setting powder) are the same as those Swift is currently using on the Eras Tour, with the addition of the Divine Skin Rose 001: The Essence. As for Swift's eye look, which McGrath described as "Dreamy Decadence," the Mothership X: Moonlit Seduction Palette was used alongside the Mothership IV: Decadence Palette (no longer available to purchase). Swift's eyes were lined with the PermaGel Ultra Glide Eye Pencil, whereas the iconic red lipstick she is seen wearing is the same shade she is currently wearing on tour.
Now you know which products to look for, you too can slay a rainstorm just like Taylor Swift.