Selena Gomez Recreated A Taylor Swift Look At The Eras Tour (And Her Tribute Was Bestie Goals)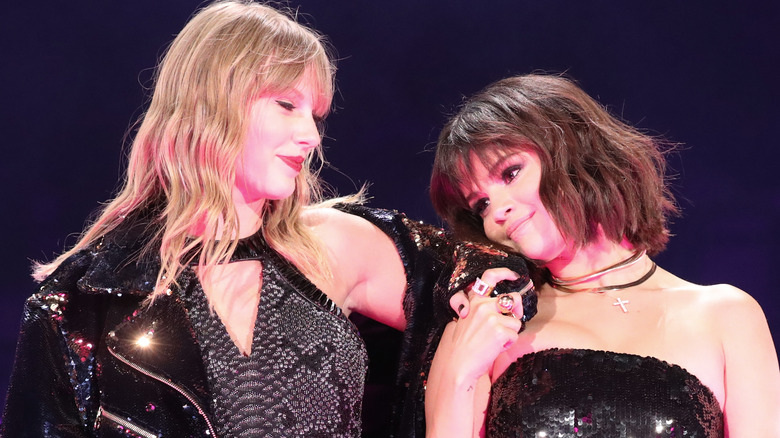 Christopher Polk/tas18/Getty Images
Taylor Swift's "The Eras Tour" is easily one of the most talked about events in recent times. Even before it was announced, fans were already weary of how difficult getting tickets was going to be. But nobody was truly prepared for the absolute chaos that Ticketmaster's system created. Tons of fans waited countless hours in the virtual queue and watched as they slowly moved one step closer to purchasing tickets, only to find the entire show sold out. Those who managed to get to the purchase station, meanwhile, were abruptly kicked out just as they were about to snag tickets.
Likewise, the so-called lucky ones who bagged tickets after all these struggles weren't too happy to pay for Ticketmaster's service fee due to the constant crashes. To make matters worse, re-selling sites had the tickets up for thousands of dollars just days after the pre-sale. The incident was so prominent that it sparked a Department of Justice investigation into Ticketmaster's merger with Live Nation. Swift even took to her Instagram Stories to express her anger and disappointment in Ticketmaster's measures to handle the demand.
Despite all this, the tour has received rave reviews. Swift honors nine different eras in an incredible three-hour-long show. Of course, even stars couldn't resist the allure of seeing Swift at her best. Every weekend, her VIP tents are filled with celebrities like Nicole Kidman and Keith Urban, Gigi Hadid, Ellen Pompeo, Laura Dern, Jennifer Lawrence, Blake Lively, Reese Witherspoon, and Swift's BFF, Selena Gomez.
Selena Gomez was all dressed up for The Eras Tour
When it comes to "Eras Tour" outfits, fans always bring their A-game. As soon as you walk into the stadium, you'll see people with bejeweled jackets and boots, cowboy hats, exact replicas of Taylor Swift's most iconic looks, and even some stranger ones too. You might find people dressed as mirrorballs, a fence with five holes, a willow tree, or simply crumpled-up pieces of paper. And while many celebrities arrive at the shows in standard apparel, Selena Gomez took it up a notch and joined the fans in celebrating Swift's work.
Gomez wore the same outfit her BFF wore in the music video for "cardigan," the lead single from her eighth studio album, "Folklore." Gomez's outfit featured a simple white dress paired with Swift's cable-knit cardigan from the video and a pair of white sneakers. For her hair and makeup, she called in Max Rintoul and Kristen Farrah. Rintoul styled Gomez's hair into low buns, curled her bangs into waves, and left a couple of strands loose to bring some Folklorian coziness to the look.
Farrah nailed "Folklore's" old-school vibes with a neutral-shaded blush and lipstick combo and a "cat eye sharp enough to kill a man," naturally. Gomez's younger sister, Gracie, and stepfather, Brian James Teefey, attended the show as well, and their outfits were equally adorable. Gracie wore a purple dress, referencing Swift's third album, "Speak Now," while Teefey donned a black shirt that read "Proud Swiftie Dad."
Selena Gomez supported Taylor Swift throughout the show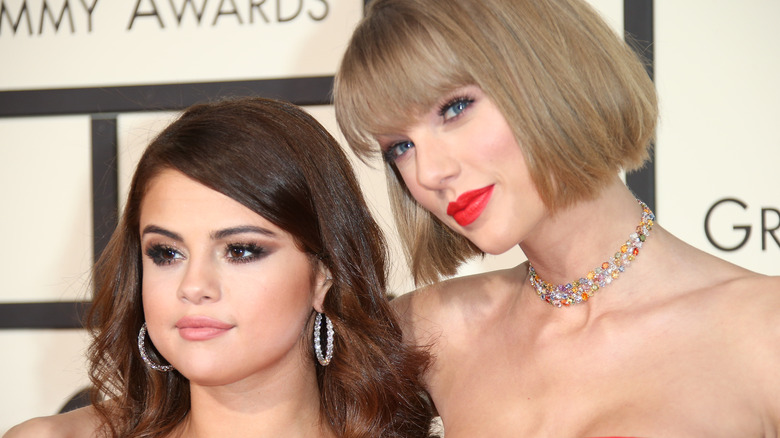 Dan Macmedan/Getty Images
Selena Gomez was clearly overjoyed to be at "The Eras Tour." Fans captured her singing and dancing along to Taylor Swift's "Cruel Summer," "Fearless," and "We Are Never Ever Getting Back Together." During each concert, one lucky fan gets to go right up to the stage and receive the hat Swift wears for her "22" performance, and none other than Gomez's little sister, Gracie, was chosen. In exchange for the hat, Gracie gave Swift an adorable friendship bracelet.
After the show, Gomez shared a picture of her sister making a hand heart at Swift's image on the stadium screens, along with a video of herself swaying and singing "Delicate." She captioned the Instagram post: "Thank you bestie for having me and my sissy transport into your mystical, euphoric, and special world. Proud to know you! love you forever and always." Throughout their long and strong friendship, Gomez has been vocal about her love for Swift.
In 2016, when the world seemed to have turned against her amidst the Kanye West feud, Gomez was still publicly on Swift's side. When she released her re-recording of "Fearless," Gomez supported her bestie through an Instagram Story saying, "So proud of you, as always, Tay ... LISTEN to THIS album," (via Elle). And, in 2023, when Gomez came across an old video of Hailey Bieber gagging at Swift's name, she memorably commented, "So sorry, my best friend is and continues to be one of the best in the game," (via Insider).