The Parenting Mistake King Charles Hopes William And Kate Do Not Make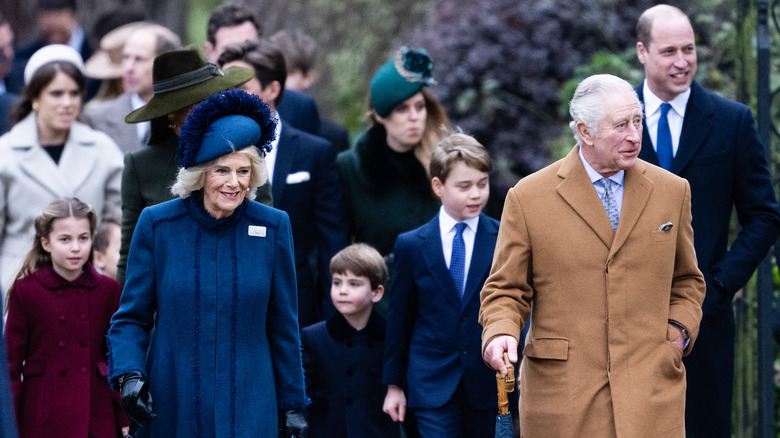 Samir Hussein/Getty Images
Royal children have a much different upbringing than most. It's no surprise that royal nannies are always at the beck and call to help with child-rearing. Queen Elizabeth II had her first child, King (then prince) Charles, when she was 22. At 25, she became queen, and one of her first royal duties was a six-month-long tour of the commonwealth, leaving Charles and Princess Anne at home. A royal biographer once claimed that during her four children's early lives, the late queen would only see them for about 20 minutes a day at tea time.
King Charles' upbringing has been described as "lonely," with his father trying to "toughen him up." This was primarily due to the immense pressure his parents felt to serve their country, a job his mother was utterly devoted to. While he may have intended things to be different for his kids, Prince William and Harry, Duke of Sussex, his feud with their mother, Princess Diana, reportedly made their early life "unhappy."
But this time around, as a grandfather, King Charles III is hopeful that things will be different.
King Charles' dream for his grandchildren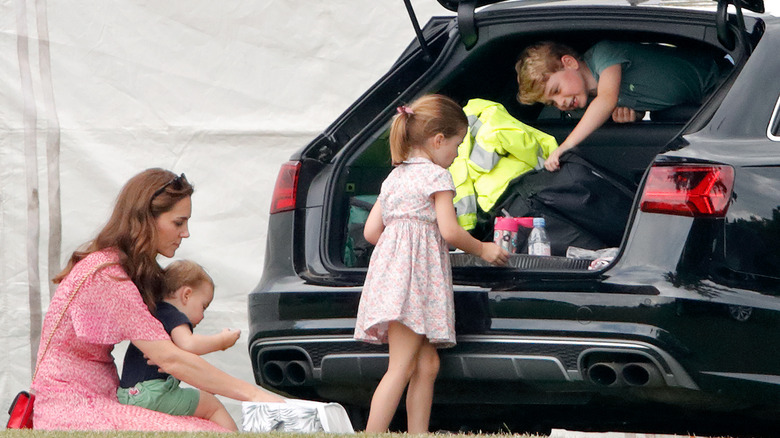 Max Mumby/indigo/Getty Images
Royal historian Professor Chandrika Kaul told viewers of Channel 5's "The Fab Five: The King's Grandchildren" documentary, "I think King Charles is very keen that his grandchildren don't make the mistakes that I think he feels he made, particularly when it came to matters of the heart." She went on to highlight a few things the king may particularly want for the youngest family members, an upbringing that is as normal as possible, no fear of their emotions, and the freedom to marry for love.
Much of the responsibility of carrying out Charles' wishes will fall to their parents, William and Kate. They seem to be heeding the elder's advice, taking a hands-on approach to parenting, and having their three children regularly appear together at royal events as a "collective." One commentator, royal expert Angela Mollard, called the Waleses brand, according to Express, noting they operate with a "We're a family, we do it all together" mentality. King Charles also plays a grandfatherly role in helping instill confidence in Charlotte and Louis, letting them know they're not just "surplus," or "spares," to older brother George. It appears that Harry and Meghan have nailed his desires in spades, raising their little ones in the United States with a fairly normal upbringing. 
But as average as King Charles III would like his grandchildren's childhood to be, some rules still can't be broken or bent.
Royal rules for King Charles' grandchildren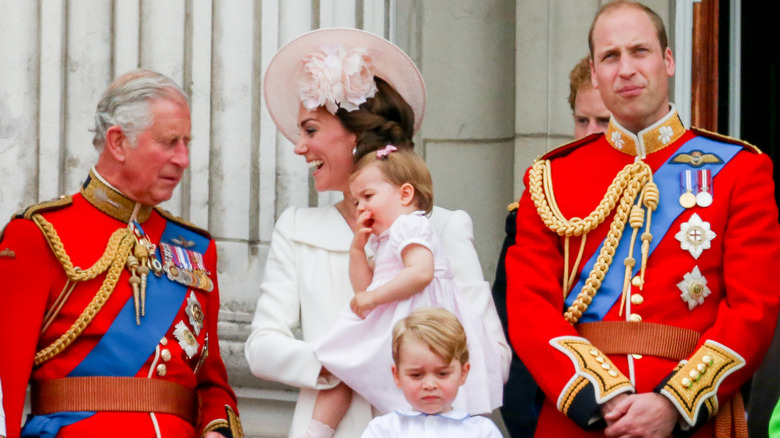 Luca Teuchmann/Getty Images
Talk about protocol, it's been said that the grandchildren could not call the late Queen Elizabeth "Grandma," but it's unclear if this rule extends to Queen Camilla's grandchildren. Still, the youngest royals used to refer to Queen Elizabeth II as "Gran-Gran." They also must curtsy to the king and queen, which is likely a part of the etiquette training children are expected to go through as soon as they can sit at a table.
Other rules royal children must follow concern what they wear, how they act in public, what they must learn, and even what they eat. Apparently, shellfish is never on the menu for the entire royal family as it can pose a high risk of causing foodborne illness. With so much pomp and circumstance, it isn't hard to see why interactions between royal family members have always seemed so tense and uneasy.
However, Princess Diana did things a different way with her sons. She flipped the script by openly showing them affection, holding their hands, or carrying them on her hip. Prince Harry followed suit with Diana's break from tradition, starting with marrying who he wanted to. As many of these things are in the same vein as King Charles's wishes for his grandchildren, the current generation of royal kids will hopefully enjoy a much more typical childhood than those who came before.