Did Meghan Markle's Friend Priyanka Chopra Throw Shade At Kate Middleton?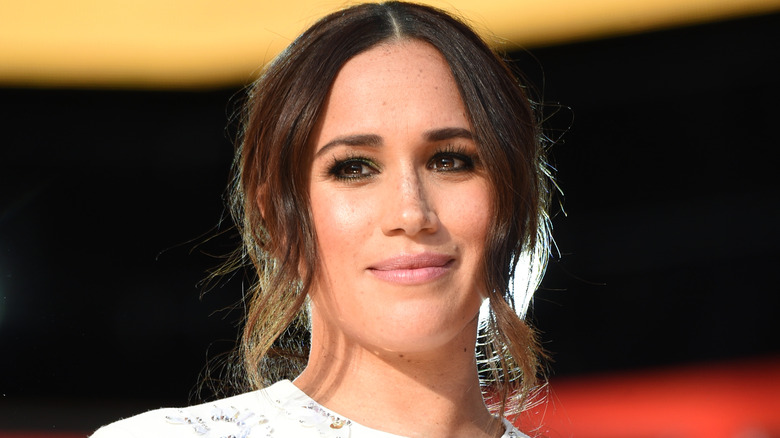 Kevin Mazur/Getty Images
The only way to survive bullies — or royal naysayers — is to have a few trustworthy friends in your corner. For Meghan Markle, one of those friends is fellow actor Priyanka Chopra. The two first crossed paths at the 2016 Elle Women in Television dinner and quickly grew close. "We just became friends, like two girls would," Chopra told People the following year. Since then, Chopra and Markle's friendship has continued to blossom. 
In 2018, the Duke and Duchess of Sussex even invited Chopra to their wedding at Windsor Castle (via Us Weekly), and in 2019, the former Miss World sang her friend's praises in an interview with Elle UK. "Megs... she was always meant for big things," Chopra remarked. "To be a change and be an important voice in doing that. It's amazing that she found that calling and has the platform to be able to do it."
Now, some fans believe that Chopra publicly insulted Kate Middleton, Princess of Wales, in honor of her friend.
Priyanka Chopra's Citadel includes an 'obscene' Kate Middleton joke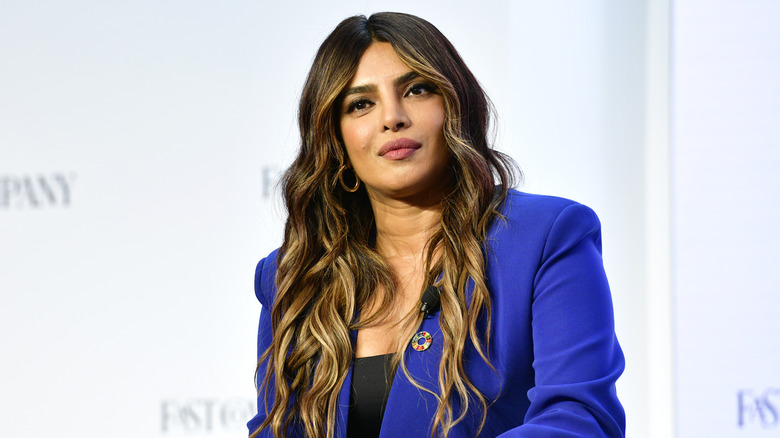 Eugene Gologursky/Getty Images
"Citadel," an Amazon Prime series starring Priyanka Chopra, may appear to have nothing to do with Meghan Markle and the royal family, but some viewers believe otherwise. In the third episode, Chopra's co-star, Sen Monro, delivers a crude line that appears to throw shade at Kate Middleton. In the now-viral scene, Monro's character quips, "The chief of armed forces? You might as well have asked me how to get between the legs of the Duchess of Cambridge!" (via the New York Post).
Though the line wasn't delivered by Chopra herself, critics were quick to point out that the actor may have signed off on the reference to the former duchess out of loyalty to Markle. "It is absolutely surreal that anybody would stoop to obscene comments. It's quite extraordinary," Richard Fitzsimmons, a royal expert, asserted to The Sun. "I think it's shocking. It stars Priyanka Chopra, who we know appears to be a backer of Meghan's. Amazon must explain what obscenities to real people, to members of the royal family, are doing in their film."
Middleton and Markle's relationship has been rocky, to say the least, according to widespread reports. The complete timeline of their feud allegedly extends back to 2017 and has been ignited by arguments over royal dress codes and tension after Markle and Prince Harry exited The Firm, among several other rumored disagreements.
This isn't the first time Chopra may have disrespected the Princess of Wales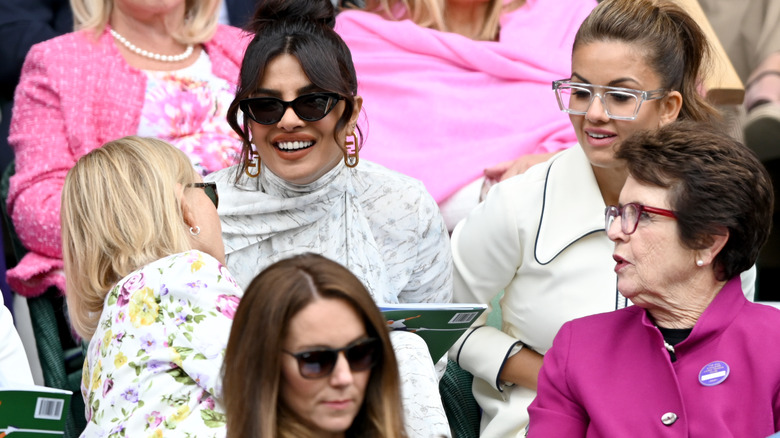 Karwai Tang/Getty Images
Though it's unclear what role Priyanka Chopra may have played in okaying the "Citadel" joke, if any, she was directly involved in another supposed Kate Middleton snub in 2021. That year, Chopra and the Prince and Princess of Wales were all photographed at Wimbledon, as the Daily Mail reported at the time. Although they didn't attend the event together, the foursome was seated near each other, with the royals located just two rows in front of the "Quantico" star.
When the Waleses arrived, the crowd applauded — except for Chopra, that is, who appeared to be too busy adjusting her scarf. In another moment on the Centre Court balcony following the match, Chopra seemed to look away from Kate and William, as if to avoid any possible interaction. The Wimbledon encounter happened just four months after the "Oprah with Meghan and Harry" special aired, in which Markle detailed the struggles she faced within the royal family.