Try Doll Lashes For A Retro, Fluttery Look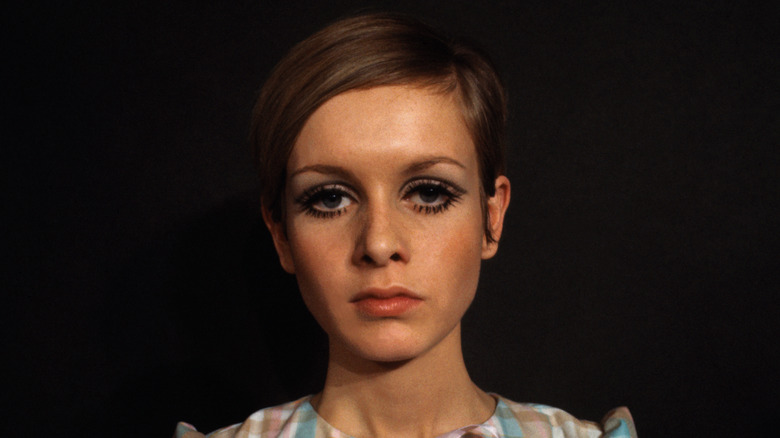 Bettmann/Getty Images
From shift dresses to the flipped bob hairstyle to all that crochet, there's nothing quite like '60s style. Celebrities like Jane Birkin, Diana Ross, and First Lady Jackie Kennedy set the tone for the decade, headlining magazine spreads and living room TV screens across the country. The hippie movement, too, had a lasting impact on the fashion world (not to mention politics). Anti-Vietnam protesters grew out their hair, burned their bras, and donned a whole lot of denim. Influenced by the fight for civil rights and the growing popularity of psychedelic drugs, music transcended genre too. 
Thanks to social media and its rapidly-evolving cycle of trends, '60s style is on the rise again. Miu Miu's polarizing micro mini drew inspiration from the short skirts that defined the decade, and Anya Taylor-Joy and Florence Pugh are bringing back go-go boots in a big way. Not to mention the makeup. "I have definitely seen more of a request for spikier doll eyelashes or the 'wet' lash look when it comes to applying lash extensions," lash artist Sara Edward Wayne told Byrdie. 
She added, "I feel like the anime trend, AI tools, and social media apps and filters have influenced bringing back this more animated look that had its moment in the '60s and '70s." This technique, often called "doll lashes" on social media, takes direct inspiration from icons of the time like Twiggy and the late Sharon Tate, not to mention Japanese manga. Here's how to go full-on Mod and perfect the look yourself.
Focus on your bottom lashes
When it comes to today's fashion It-girls, there's no one quite like Zendaya. At the 2023 Screen Actors Guild Awards, the "Dune" star hit the red carpet with doll-like divided lower lashes inspired by the swinging '60s. Although lashes are by far the most important part of this look, A-list makeup artist Charlotte Tilbury made sure to pay homage to retro glam by priming her client's eyelids, adding a neutral-toned shadow, and drawing on Twiggy's famous elevated liner, per Vogue France. 
"Twiggy used to always have this very exaggerated arch [on the socket] that went all the way down, almost like a half circle," Tilbury noted, explaining how this creates a doe-eyed effect. Pro tip: Rather than tracing your eye's crease, trace the bone that lines the socket directly above instead. Next, plump up those top lashes with a curler before adding falsies, and make sure your eyeliner is flicked downwards, not upwards. This will lengthen your eye exponentially.
Mascara is key. As Charlotte Tilbury advised, it's "almost like you're painting each individual lash." Divide your lower lashes by pinching them together with tweezers — the mascara will make them stick together. Alternatively, YouTuber and makeup artist Alexandra Anele spaces out individual falsies on her bottom lid to create that porcelain doll effect. However, you can also draw on 2-D falsies with an eyeliner pen or dark eyeshadow, something Twiggy was known for. 
Complement your eyes with doll-inspired blush
Especially in the era of Greta Gerwig's "Barbie" movie, "Dollcore" is sweeping the makeup world. On top of that retro, wide, doe-eyed look, influencers are going for rosy-cheeked glam. Makeup artist Nam Vo, who is known for her "dewy dumpling" glam, showed her Instagram followers how to mix liquid illuminator with Barbie-pink powder blush, generously applying it to the apples of the cheeks. For this look, skip the contour. Instead, play into that ultra-rounded aesthetic.  
Maximalist creator Sara Camposarcone takes it up a notch, applying Raggedy Ann-esque rounded circles to her cheeks and topping it all off with faux freckles, as seen in the photo above. With this, you'll fit right in with the cast of the "Barbie" movie — though you may also want to wear plenty of pink and rollerskates just to drive the look home even further. Alternatively, look to Chinese Douyin makeup for Dollcore inspiration. 
Spikey lashes, aka "manga lashes," are a big part of this aesthetic, but equally important is aegyo-sal, or under-eye, contouring. "The best thing to do is take a darker shade from your eyeshadow palette and start drawing from the center to the outside corners," TikToker @jonijawne suggested, adding, "The last step would be to take a shimmer or a glitter and putting it in the center of your under eyes." This doll-like look is often complemented by a diffused, pouty lip.