Matt Healy Remains Cryptic About His Rumored Love Story With Taylor Swift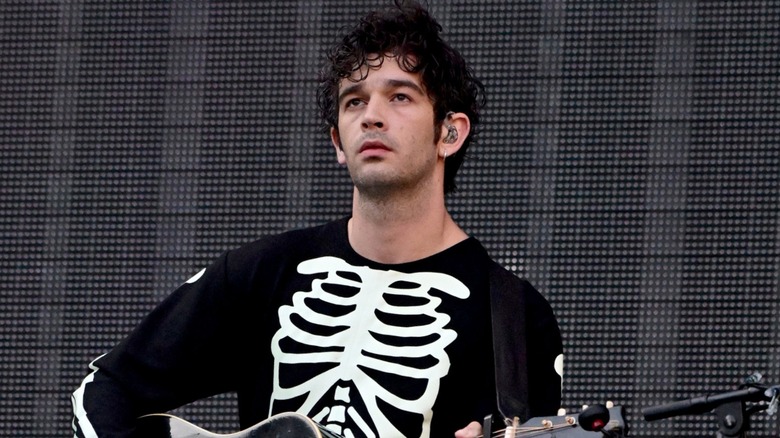 Lisa Lake/tas23
Taylor Swift and Matty Healy becoming an item was not on anyone's 2023 pop culture bingo card — and yet, sparks do seem to be flying between the two artists. On April 8, 2023, Entertainment Tonight reported that Swift and her boyfriend of six years, Joe Alwyn, had called it quits. It was less than a month later when The Sun reported that Swift and Healy are dating. Neither Swift nor Healy has directly responded to the speculation, but they've been spotted together on multiple occasions, and Healy has become a regular Eras Tour attendee and an occasional guitar player for Phoebe Bridgers, one of Swift's opening acts. 
In true Healy fashion, he's been super cryptic about the situation. The 1975 frontman seemed to respond to the buzz during his band's performance at the BBC Radio 1 Scotland show on May 27, 2023. He joked that all of the audience's questions would be "ignored" during his set. 
Matty indirectly addressed the Taylor rumors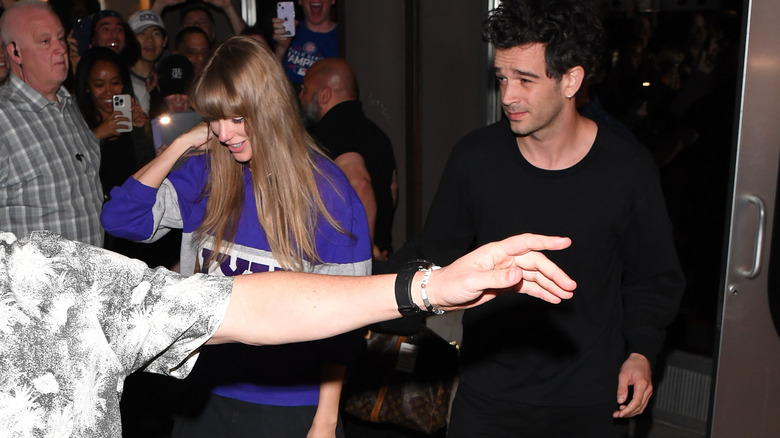 Robert Kamau/Getty Images
Matty Healy was apparently not in the mood to answer queries about Taylor Swift during his band's set at the BBC Radio 1 Big Weekend show. "Is it all a bit?" He said to the crowd. "Is it sincere? Will he ever address it? All of these questions and more will be ignored in the next hour. Ladies and gentlemen, this is The 1975." The statement seemed like a strategic way to neither confirm nor deny his rumored relationship while also bringing the audience's focus back to the show. 
A month prior, Healy also deactivated his Instagram because, "everything happens in eras," as he told a crowd in Australia during a concert, per NME. (The subtle alluding to Swift's Eras Tour is almost undeniable.) "The 1975 is a very eras band. The era of me being a f***ing a***hole is coming to an end. I've had enough." Although the lack of social media posting is another cryptic move by the musician, both the timing and his Swift-coded quote about it are very telling.
Why fans believe they're dating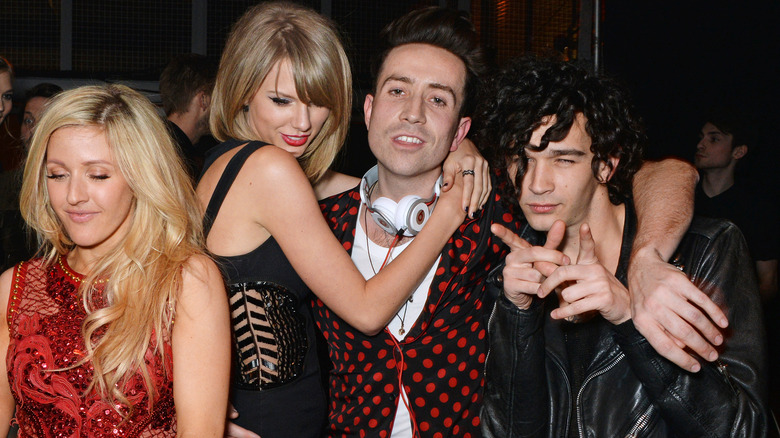 David M. Benett/Getty Images
Although Taylor Swift and Matty Healy (pictured above in 2015 with Ellie Goulding and Nick Grimshaw) have not confirmed that they're dating, fans have several good reasons to believe the rumors are true. Per Page Six, the musicians were spotted kissing and cuddling at the private members club Casa Cipriani in New York City on May 11, 2023. There are also photos of the duo holding hands during their seemingly romantic outing. A few days later, Swift and Healy were seen and snapped leaving New York City's Electric Lady Studios together. 
In addition to spending time together, they also appear to be mouthing romantic messages to each other on stage. At her May 5 Nashville show, Swift seemed to look directly at a camera and mouth, "This is about you. You know who you are. I love you" with a cheeky smile. Fans observed that just two days earlier, it looked like Healy mouthed the same exact thing at his own concert in the Philippines. Coincidence? Maybe, maybe not.