What Led To Jamie Foxx And Katie Holmes' Split?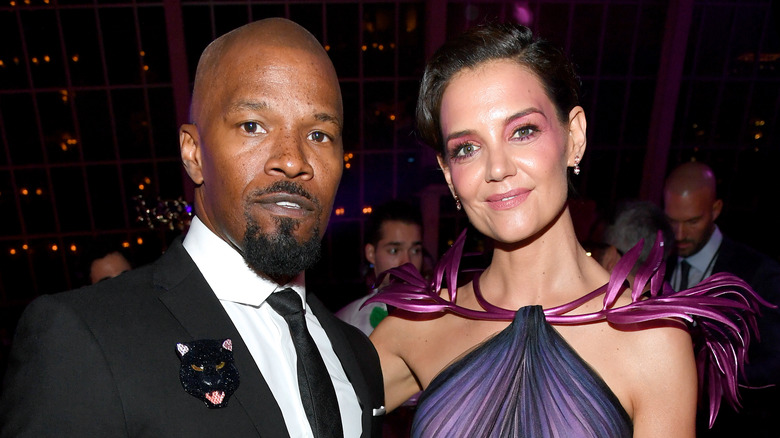 Kevin Mazur/mg19/Getty Images
Some Hollywood couples come as a surprise even to their diehard fans, and one famous romance that surprised many was Jamie Foxx and Katie Holmes. The duo doesn't seem to have much in common on paper, but the pair were compatible enough to last for six long years before breaking up in 2019 for a number of reasons. However, during their relationship, they became one of the most talked-about and intriguing celebrity couples of their time, likely because of their ability to keep the relationship out of the media. The actors first sparked dating rumors in 2013 when they were seen dancing together at a dinner party shortly after Holmes divorced her husband, Tom Cruise. They managed to keep things quiet between them until their romance was confirmed two years later in 2015.
The couple were rarely seen out in public together, but they were seen boarding a private jet together in 2017 when they took a trip to Paris. Later that year, photos of Foxx and Holmes taking a romantic walk in Malibu surfaced online (via PopSugar). They were seen holding hands and splashing in the water during their stroll. Over the next two years, they were seen together more and more until finally making their red carpet debut together at the Met Gala in 2019. Sadly, just a few months later, Foxx and Holmes' split was confirmed. So, what lead to the pair's breakup?
Jamie Foxx and Katie Holmes called it quits in 2019 after six years of dating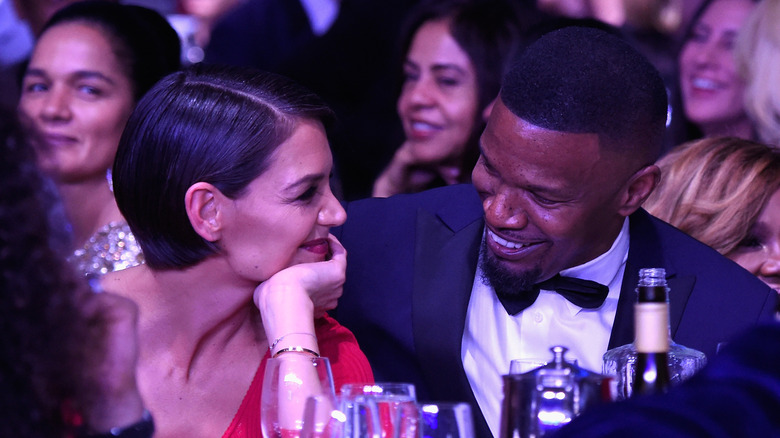 Kevin Mazur/Getty Images
According to Harper's Bazaar, there were many factors that contributed to Jamie Foxx and Katie Holmes' split. The couple, who dated for six years before officially calling it quits in 2019, were said to struggle with things such as media scrutiny, long distance, and differences in their relationship. However, sources told Us Weekly that Holmes eventually got tired of leading separate lives and him spending time with other women during the course of their relationship. "It has been many years of him stepping out with other women," an insider told the outlet. "He's disrespectful and their lives were different. His partying ways don't fit with hers as she's focused on raising her daughter and working."
A source told Entertainment Tonight that Foxx and Holmes never had a traditional relationship, and they didn't play by the standard rules that other couples abide by. "They have always been incredibly independent, and their lives didn't revolve around each other," the source stated. A different insider later told People Magazine that the entertainment industry likely drove the couple apart. "This industry is very tough on relationships. Jamie thinks Katie is an incredible human being. They had a very, very deep connection. They brought each other a lot of joy and laughter," that person revealed.
Following Holmes and Foxx's split, both parties moved on in their love lives.
Foxx and Holmes have moved on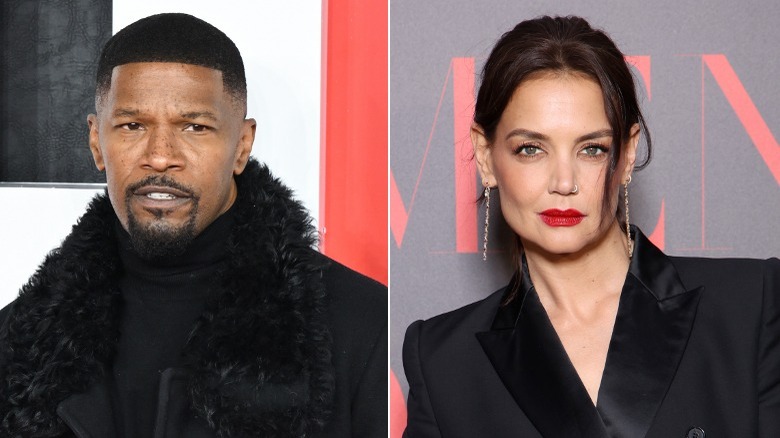 Daniele Venturelli & Karwai Tang/Getty
After Jamie Foxx's breakup with Katie Holmes, the "Django Unchained" star was romantically connected to singer Sela Vave. The two were photographed holding hands while hanging out at a nightclub in Hollywood. However, Foxx later denied have a relationship with Vave, saying that she was young enough to be his daughter. Soon after, Foxx was rumored to be dating "Project Power" star Dana Caprio after she posted a photo with him via Instagram and he liked several of her social media posts. He was also linked to actor Kate Beckinsale when they were seen at the same event. However, Beckinsale debunked those rumors on Instagram. "Standing next to someone does not mean I am dating them," she wrote (via Us Weekly).
For her part, Holmes went on add to her dating history with chef Emilio Vitolo Jr. in 2020. The two were photographed getting cozy together on several occasions but split just eight months later in May 2021. Holmes then began dating musician Bobby Wooten III. They've made no secret of their romance, as they've attended many public events together and were even seen at the Tribeca Film Festival. Wooten also reportedly met Holmes' mother in New York City.
While Foxx and Holmes have clearly moved on from their six-year romance, many details of their relationship are still a mystery to fans due to the way they protected their privacy during that time.