What We Know About Taylor Swift's Friendship With Kelsea Ballerini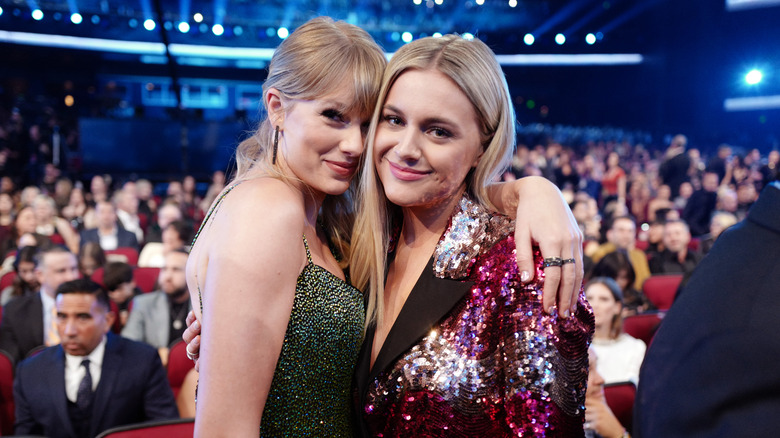 John Shearer/ama2019/Getty Images
What makes pop idol Taylor Swift one of the most beloved musicians today is how relatable she remains to be, despite all the fame and popularity she's earned. From broken hearts to party night anthems, Swift has a way of speaking to her audience's emotions in a way that has garnered her millions of fans worldwide.
While some anti-Swifties try to peg her as someone who only sings about romance and her past relationships, Swift has plenty to say about other topics, especially when the topic is friendship. She fully embraces the idea of forming a sisterhood with your closest besties. She wrote about this idea in an essay shared with Elle titled "30 Things I Learned Before Turning 30." During her toughest times, Swift wrote, "I learned that I have friends and fans in my life who don't care if I'm #canceled" and that she'll "never forget the ones who stuck around."
One of those friends has to be Kelsea Ballerini. The two powerhouse singers have become the closest of friends over the years. It's crazy to think it all began with one kind tweet from Swift.
Kelsea Ballerini is Taylor Swift's 'little sis'
It was 2015 and country singer Kelsea Ballerini was picking up steam on the music scene. What better burst of motivation than a tweet from your idol? That's just what happened for Ballerini. After Taylor Swift tweeted out praises for Ballerini's hit song "Love Me Like You Mean It," a friendship was born. Ballerini responded with a tweet, saying "... That just made my year."
In an interview with Teen Vogue, Ballerini explained that this is when her friendship with Swift began. She reached out to Swift after the tweet exchange, and the two would go on to perform "Love Me Like You Mean It" together on stage in a powerful duet.
After the performance, the two singers continued to hang out off-stage as well. "She's become someone I can confide in," Ballerini said, adding that Swift calls her "little sis" when they talk. It was a dream come true for Ballerini, who calls herself a Swift fan who has seen every one of her tours.
They support each other all the time
Everyone deserves a bestie that will support their dreams and career. That's just what Kelsea Ballerini and Taylor Swift do for one another. During an interview with Elite Daily, Ballerini credits Swift as being a "massive part" of her rise to fame. And Ballerini reciprocates that love.
At the 2022 Grammy Awards, Ballerini made time on the red carpet to give a shoutout to her BFF Taylor. People reports that the "Peter Pan" singer only had good words to say about Swift, whose album "Evermore" was up for Album of the Year. "I feel like she constantly makes people proud, whether you know her or not," Ballerini stated, placing herself firmly on Team Taylor that night.
In another viral moment, Ballerini once again showed she will always be a Swiftie at heart. A dedicated fan's TikTok captured the moment when Ballerini paused her own concert to ask her audience a pressing question about Taylor Swift's "Eras" Tour. "Is 'Cruel Summer' on the setlist?" she wondered as her fans erupted in applause and replied with a resounding "Yes!" If this isn't #friendshipgoals, we don't know what is.