David Arquette Lacked Confidence Because Of Ex-Wife Courteney Cox's Success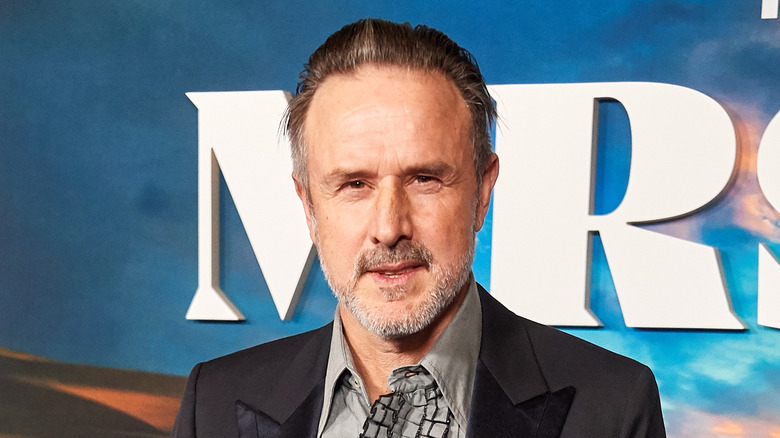 Unique Nicole/Getty Images
David Arquette and Courteney Cox were certainly one of the most interesting Hollywood couples of their time. The actors met on the set of their iconic 1996 horror movie "Scream," where their characters Gale Weathers and Dewey Riles played love interests. Cox later revealed that she and Arquette fell in love while filming the movie. In 1998 the couple announced their engagement and were married a year later. However, things weren't easy for them as they endured many ups and downs in their relationship, including Arquette's insecurities about his wife's fame.
During their marriage, the couple not only dealt with the massive fame that came along with Cox's gig on the hit TV series "Friends," but they also struggled to start a family. In 2003, Cox told People that she was able to get pregnant easily but struggled to carry a child to full term. "I feel terrible that she has to go through so much," Arquette said at the time. However, in 2004, the pair welcomed their daughter Coco Arquette.
In the years that followed, Arquette and Cox were open about their relationship struggles, even revealing that they were going to couples therapy. However, in 2010 the pair announced their separation after 11 years of marriage. The next year Arquette went to rehab for depression and alcohol abuse, and in 2012 he and Cox officially filed for divorce.
David Arquette admitted to feeling inferior to Courteney Cox during their marriage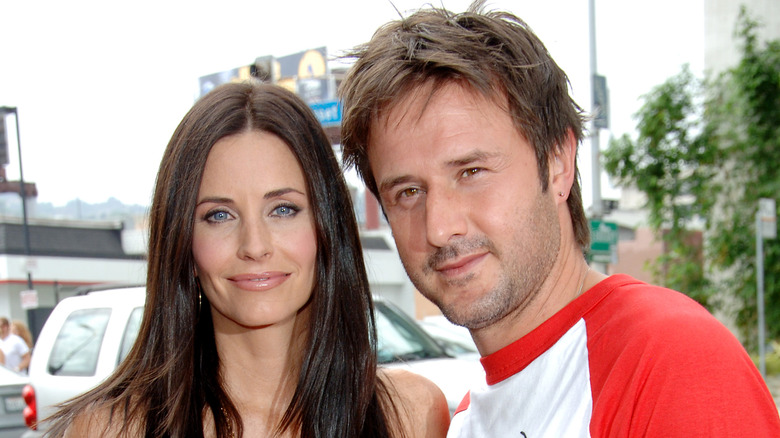 Jon Kopaloff/Getty Images
In April 2023, David Arquette opened up about his marriage to Courteney Cox during a SiriusXM interview with Andy Cohen Live. The actor admitted that he struggled with Cox's fame during their relationship, although he had his own following from films such as "Never Been Kissed," "Eight Legged Freaks," and the "Scream" franchise. However, Cox's star rose significantly during her time on "Friends," where she and her co-stars Jennifer Aniston, Lisa Kudrow, David Schwimmer, Matt LeBlanc, and Matthew Perry became household names.
"It's difficult ... I have some of the traditional male things where I want to, like, provide and pick up the check and, you know, be the breadwinner," Arquette admitted. "In the acting world, in general, you're always going on this roller coaster of popularity and not able to get a job. So it's like this weird thing. And then, when you're comparing yourself to someone who's at the top of the television iconic world, it's kind of hard to put yourself there," he added.
The actor went on to reveal that he needed to work on himself and get through the pain and trauma from his own life, which has been key in helping his confidence and exploring his personal boundaries. Meanwhile, through it all, Arquette and Cox have managed to remain close and co-parent their daughter together.
Arquette and Cox have a good relationship today
John Shearer/Getty Images
In the years since their divorce, David Arquette and Courteney Cox have proven that they still have a lot of love for each other. They've co-starred together in "Scream" films, co-parented their daughter Coco, and haven't shied away from gushing over one another in the media. "He's my best friend in the world. I love him," Cox said of Arquette in 2013. "I mean ... it's hard. I don't recommend divorce in general, but, you know, he is my best friend, and we've both grown and changed," she added.
In 2020 when the exes both signed on to appear in "Scream 5," Arquette made his feelings about his former wife very clear. "We co-parent," he told Entertainment Tonight. "So, we're in touch quite a bit. It's great. But we always love working together. She's an incredible actress, so it'll be fun to bring these characters back to life and see where they're at. ... Co-starring's the easy part," he stated.
Since their split, Arquette married Christina McLarty, with whom he shares two children, and Cox is in a long-term relationship with singer Johnny McDaid. Despite all of the ups and downs in their lives, Arquette and Cox have powered through and remained friends through it all, proving there is a kind and respectful way through a divorce between two successful actors.