Kelsea Ballerini Took A Big Step With Boyfriend Chase Stokes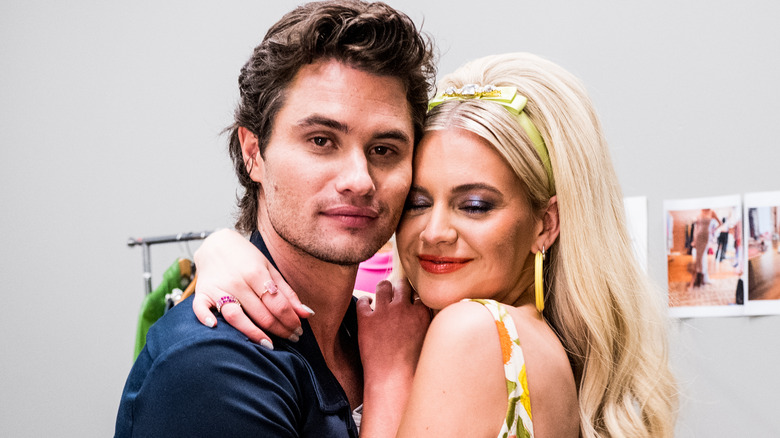 John Shearer/Getty Images
Singer-songwriter Kelsea Ballerini and actor Chase Stokes were first spotted in public together in January 2023 at a football game. Since then, it has been confirmed that they're dating. They have both given insight into their relationship on Instagram stories, and Stokes was Ballerini's date at the CMT Awards in April 2023. The duo has taken a big step in their relationship by visiting Ballerini's hometown together for a whirlwind one-day trip, with Ballerini calling it, "a heart fillin [sic] 24 hours at home" (via People).
Something you may not know about Ballerini is that her hometown is Knoxville, Tennessee. In addition to eating at a local restaurant during their mini-vacation, Ballerini and Stokes visited Ballerini's old school, Central High School, and walked around the track. People also reported that Ballerini couldn't resist captioning one selfie of the two of them with one of the most memorable (and meme-worthy) lines from "Outer Banks" Season 3: ". . . BRING IT ON HOME JOHN B."
Their relationship started with a DM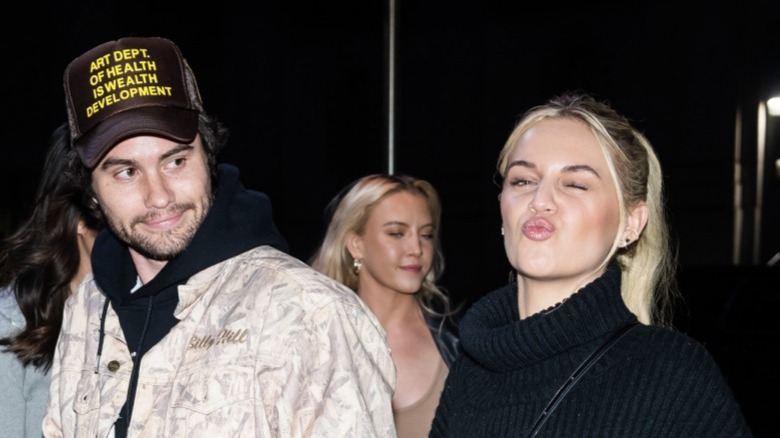 Gotham/Getty
Direct messaging seems to be a surefire way for celebrities to make love connections — a DM kick-started Sophie Turner's relationship with Joe Jonas, and one did the same for Kelsea Ballerini and Chase Stokes. After Ballerini and Stokes followed each other on Instagram, she sent him a DM to say hello. She told the "Call Her Daddy" podcast, ". . . I just swan dove right on in" (via ET).
Stokes has been a supportive boyfriend of Ballerini's career. When she took to Instagram to announce the "Rolling Up the Welcome Mat" EP in February 2023, he commented, "Oh so proud of you" with a pink heart emoji. At the "Outer Banks" Season 3 premiere, Stokes spoke highly of Ballerini and expressed excitement at her gig as a musical guest on "Saturday Night Live."
In a series of photos Stokes posted on Instagram that include glimpses of adventures and travels with Ballerini, he shared a goofy photo of the two of them outside a Buc-ee's and a photo of Ballerini sleeping on a plane — being photobombed by none other than country music legend Kenny Chesney.
Ballerini believes in the healing power of music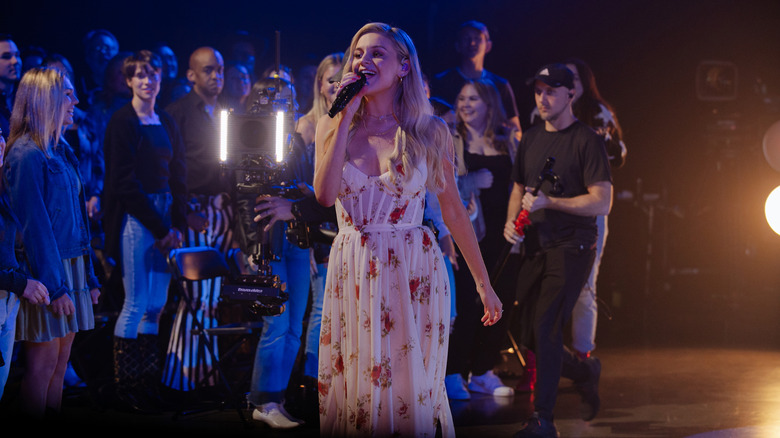 Catherine Powell/Getty Images
This sweet new love story for Kelsea Ballerini emerges after her divorce from Morgan Evans. "Rolling Up the Welcome Mat" is inspired by the deterioration of Evans and Ballerini's relationship. Although she anticipated dropping the EP and continuing to something new, Ballerini has realized that these deeply personal songs are relatable to her listeners.
"When I sing 'Penthouse,'" Ballerini told People in April 2023, "it's a guttural moment with every woman in the room relating to some heartbreak. I obviously wrote this EP about my divorce, but heartbreak is heartbreak and breakups are breakups . . . music is a way to connect. It's a really healing thing."
In that same interview, Ballerini expressed the importance of keeping yourself open to love, even after heartbreak: "A real gift you can give yourself is to stay soft because you never know when you're going to find [love] again." And by not closing herself off to love, Ballerini found it again with Stokes.