Elliot Page Is Releasing His Memoir Just In Time For Pride Month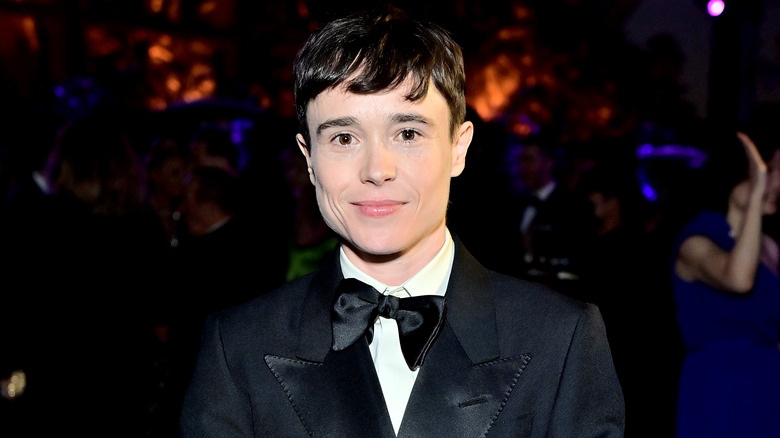 Stefanie Keenan/ Getty Images
Although it feels like just yesterday we were all writing our New Year's resolutions, June has officially arrived. With the first month of summer comes sunshine, swimming, and, of course, Pride Month. To commemorate the 1969 Stonewall riots, Pride Month honors and celebrates LGBTQ+ identities. Countries around the world dedicate 30 days to lifting up the marginalized voices of the community and pushing progress toward greater inclusion and acceptance. 
Throughout June, many celebrities will make statements, dedicate performances, and contribute donations to queer organizations. Elliot Page, who has undergone a stunning transformation in the public eye, is participating in Pride in a huge and vulnerable way this year, though. The actor most famous for his leading role in "Juno" will become a published author, releasing his highly-anticipated memoir, "Pageboy," on June 6, 2023. 
When the book debuts, Page will begin his nationwide tour across the country, starting in Barnes & Noble in New York City the same day his memoir gets released. From what it sounds like, "Pageboy" is going to be a must-read, particularly during Pride, with the actor telling People, "I think this period of not just hate, of course, but misinformation or just blatant lies about LGTBQ+ lives, about our healthcare, it felt like the right time." 
Why Elliot Page chose this moment to publish Pageboy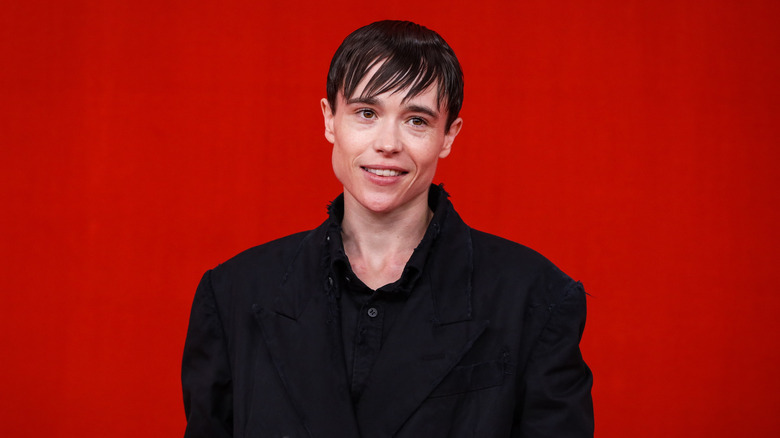 Richard Bord/ Getty Images
After years of being perceived in the spotlight, Elliot Page has decided to share his story with a deep sense of honesty and openness. However, he hasn't always felt equipped to do so. Giving the public an intimate look into your most painful memories all the while anticipating the inevitable backlash is surely no easy task. According to Page, he struggled to share his story up until now. 
"At last, I can be with myself, in this body. So, I've written a book about my story," Page admitted on Instagram. In fact, once he actually sat down to write it, the words just flowed out, as Page told People. The "Umbrella Academy" star hopes that, by telling his story, he can make others feel less alone, noting, "I think it's crucial, I think we need to feel represented and see ourselves, you know, that's not something I had like as a kid." 
Especially since, as Page acknowledged, he's in a position of privilege not shared by the vast majority of trans people. If you're looking for ways to celebrate Pride Month without going to a parade, reading this book is definitely a good shout. 
Elliot Page shared the stunning cover of his new memoir
On December 5, 2022, Elliot Page posted a photo of the cover of his completed memoir and revealed the release date. The front cover is aesthetically stunning, with red, black, and white color blocking and a portrait of Page sitting confidently in a white tank top, a simple chain necklace, and jeans. In the caption, he touched on how significant it was to create just this image alone. 
Page wrote, "At many points in my life, it felt unbearable to be in front of a camera, but making this cover with acclaimed photographer Catherine Opie (@csopie) was a joyful experience that I will never forget."As Macmillan Publishers explained, the memoir will recount Page's harrowing journey to self-acceptance. 
The book's summary notes that, as it takes a deep dive into "sex, love, trauma, and Holly­wood, 'Pageboy' is the story of a life pushed to the brink." As you can imagine, Page's fans have been on the edge of their seats since the memoir's initial announcement and now it's finally here, at the most perfect time of year.