Jennifer Aniston Addressed Rumors She And Drew Barrymore Compete Over Adam Sandler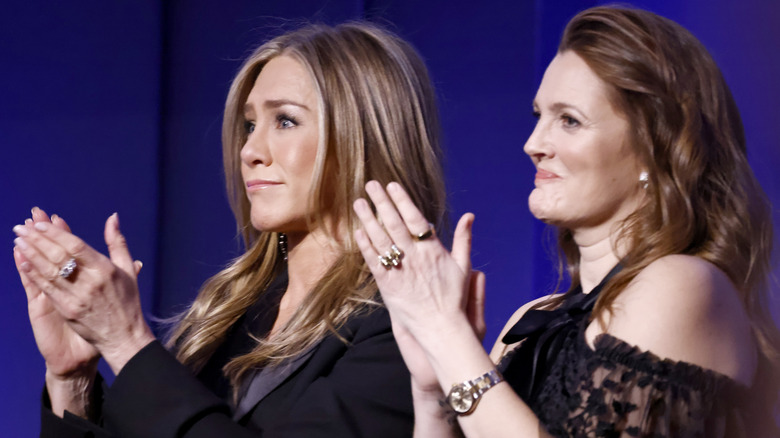 Paul Morigi/Getty Images
Adam Sandler, a versatile and beloved actor, has charmed audiences for decades with his unique brand of humor and genuine on-screen presence. Among the fellow actors who he's shared great chemistry with are Jennifer Aniston and Drew Barrymore. His collaborations with these two have resulted in memorable cinematic moments.
Barrymore was one of the first leading ladies that made an impact with Sandler on-screen. Their pairing dates back to 1998 after starring in the film "The Wedding Singer." After they showcased an undeniable chemistry on-screen, they reunited years later for "50 First Dates" in 2004 then "Blended" in 2014. Meanwhile, Aniston came at the latter part of Sandler's career when they teamed up for the film "Just Go With It" in 2011. This helped Sandler and Aniston's friendship blossom, though they'd already been friends for years. Their first project was followed by "Murder Mystery" in 2019 and their most recent film "Murder Mystery 2" just hit Netflix in March of this year.
Due to this, it's inevitable that audiences would compare these two pairings. Aniston has the perfect solution that would end the competition once and for all. In an appearance on Good Morning America (GMA) to promote "Murder Mystery 2," Aniston said, "We want to do [a movie with] all three of us together and just put an end to this competition."
Sandler says 'there's no competition' between his leading ladies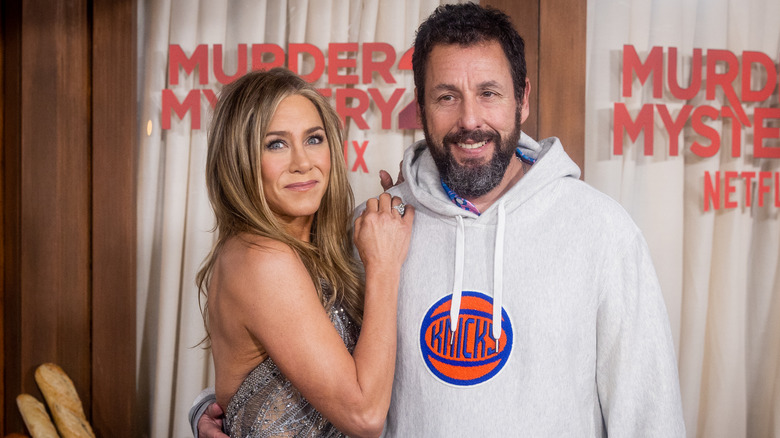 Emma Mcintyre/Getty Images
On Adam Sandler and Jennifer Aniston's appearance on GMA, host Michael Strahan brought up Drew Barrymore's statement that she's just waiting for their project: Sandler gamely said that Aniston would be the one to write the project. Aniston was also up for it as she wanted to end their supposed competition altogether. Sandler, who has developed deep friendships with his leading ladies agreed and said, "There's no competition. Just two great ladies. That would be amazing doing a movie all together."
It seems that there's really no bad blood between these two leading ladies as they even supported Sandler together when the actor received the Mark Twain Prize for American Humor at the Kennedy Center. On coming together to support their on-screen partner, Aniston said, "We thought we'd be funny, 'cause there was a Twitter thing a couple years ago and they're always sort of comparing us, who's the better movie wife or movie love, so we just thought we'd do a little bit on that."
Drew Barrymore celebrated a milestone with Aniston and Sandler
To further promote their film, Jennifer Aniston and Adam Sandler also appeared in one of the episodes of Drew Barrymore's "The Drew Barrymore Show." While they were chatting, Barrymore unexpectedly experienced hot flashes. As the Mayo Clinic describes, hot flashes are a common symptom experienced by many women prior to, during, and after menopause. It is a sudden feeling of intense heat that spreads throughout the body accompanied by flushing of the skin and sweating.
Barrymore seemed informed and took the time to prepare for menopause. The "Charlie's Angels" actor couldn't help but take off her blazer and blurt out, "I am so hot, I think I'm having my first perimenopause hot flashes. For the first time, I think I'm having my first hot flash." To support their friend, Aniston and Sandler held Barrymore's hand. "Oh, I feel so honored," Aniston quipped. Barrymore further shared that she's excited about her menopausal journey and was thankful that she got it documented.
Aside from this milestone, the trio discussed working together and Barrymore told the audience that they are thinking of remaking the 1970s sitcom "Three's Company." Sandler reacted and said, "Oh wow! That would be fun, man. That would be incredible." Referring to the popular hangout spot in the sitcom, Aniston added, "Like a Three's Company kind of bit, but we'd go down to the Regal Beagle."