Princess Diana's Most Iconic Hat Looks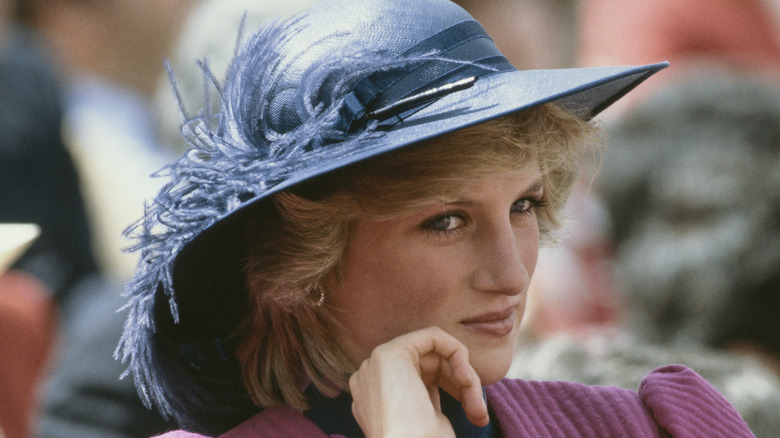 Tim Graham/Getty Images
In her 1992 biography, "Diana: Her True Story," Diana, Princess of Wales, revealed to journalist Andrew Morton (via British Vogue) that her pre-royal wardrobe consisted of only "one long dress, one silk shirt, one smart pair of shoes, and that was it." It wouldn't be long after her 1981 nuptials that the newlywed princess began taking the fashion world by storm. Throughout the '80s and '90s, she carved out a new image of what it looked like to be a royal in a contemporary context. From her bold '80s prints to her sleek '90s streetwear, the world's most photographed woman always gave spectators something to admire.
However, one aspect of Diana's wardrobe that is often overlooked is her impeccable hats. Millinery plays an integral role in royal fashion, and it is taken so seriously among the palace-dwellers that the royals' most-loved British hatmakers have been given what is called a "Royal Warrant of Appointment," which is essentially the royal seal of approval.
Always appearing elegant, Princess Diana was one such lover of hats and consistently employed millinery in her public looks. In fact, it was often her headpieces that set the princess apart from the rest of the royal bunch. Compiling the silhouettes, prints, and colors in the form of carefully-crafted fascinators and wide-brimmed derby hats, Princess Diana's hat looks can offer us unique insight into the icon's relationship to her work, motherhood, and life in the spotlight.
Early whispers of a wedding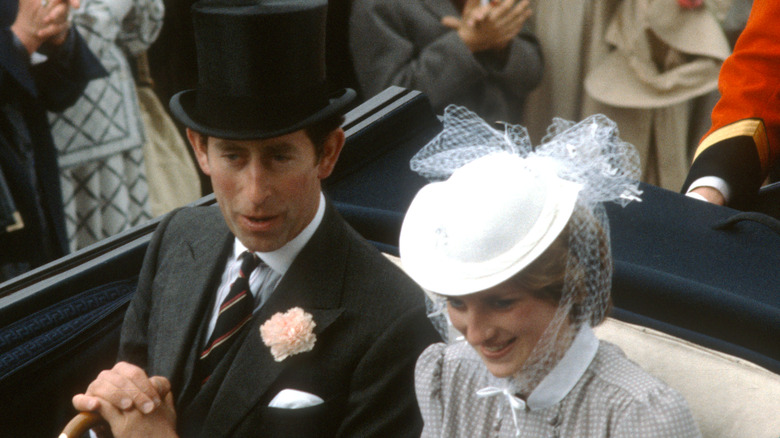 Anwar Hussein/Getty Images
Before she became Diana, Princess of Wales, "the people's princess" was known by two other names. She was born on July 1, 1961, as The Honourable Diana Frances Spencer, the daughter of the couple then known as the Viscount and Viscountess Althorp. When her father eventually inherited his earldom and ascended the ranks of the nobility, the youngest Spender daughter became known as Lady Diana Spencer. 
As Lady Diana Spencer, the future princess began making her name as a fashion icon. After it was announced that she would marry Charles, Prince of Wales, the little-known noble from Norfolk was catapulted into the international spotlight. In June 1981, Diana gave the world a preview of her astute sense of style when she visited the Royal Ascot, a yearly horse race featuring the nation's elites promenading in their latest fashions. 
The future Princess of Wales was no exception, as she chose the Royal Ascot to debut one of her first iconic hats — an all-white, boater-style hat paired with a birdcage veil fit for a soon-to-be bride. It was perfect timing, as Lady Diana was just a month shy of marrying Prince Charles in their unforgettable July 29, 1981 ceremony. Not only did this simple, innocent look give onlookers a sneak peek at Diana's bridal fashion, but the veiled hat also matched the accent colors in her grey and white polka-dotted dress.
A bereted beauty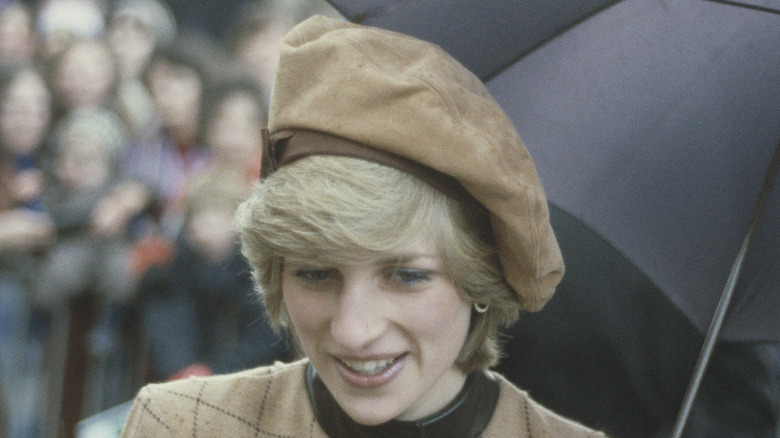 Princess Diana Archive/Getty Images
In November 1982, the Princess of Wales visited the seaside of Barmouth in Wales in an eye-catching brown beret. The headpiece surprised fans with its unconventional structure, achieving an avant-garde, slouched look that was far different from the usual prim fascinators and veiled hats that the public had come to expect from the young royal. With this hat, the Princess of Wales proved to onlookers that she wasn't afraid to take a fashion risk. 
Although the beret style represented a departure from her usual fashion fare, Diana kept things classic with a chestnut brown bow attached to the rim of her hat and a light brown tattersall coat dress lined with shiny black buttons and a leather collar. Not only did Diana's ensemble protect her from the cold of Northern Wales, but it also perfectly matched the vibe of her unconventional headgear. 
This departure from the fashion norm also marked a turning point in the Princess of Wales' career and personal life, as it followed the birth of Prince William. Dressed to the nines and carrying an umbrella to shield herself from the rain, no one would have suspected that Diana might have been struggling behind the scenes with the duties of new motherhood. Nevertheless, the adored royal put on a friendly face during the trip, meeting with locals and celebrating the launch of the new sailboat, the Barmouth R.N.L.B.
Ruffled feathers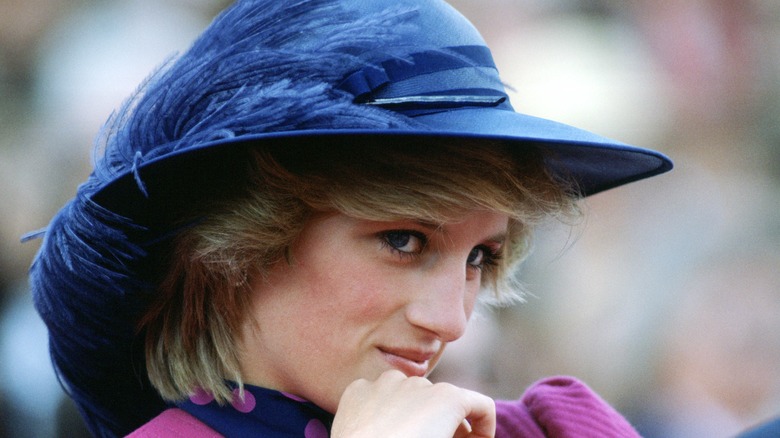 Tim Graham/Getty Images
A year later, in 1983, Princess Diana made her full return to the international spotlight. Having settled into her roles as wife, mother, and Princess of Wales, the ambitious royal also got to work earning herself a new label: fashion It Girl. While many women of the 1980s weren't sporting intricate headpieces, Princess Diana's royal fashion choices embodied a level of class and glamor that most young girls and women could only ever dream of. 
One striking example of her aspirational image was a blue, heavily plumed hat that the princess wore to the opening ceremony for the University Games at Commonwealth Stadium in Edmonton, Canada. The date — July 1, 1983 — also marked the Princess of Wales' 22nd birthday. While we can only speculate what the princess's inner thoughts might have been when she chose this royal headpiece, it wouldn't be too far-fetched to imagine the feisty, young princess choosing this feathered hat as a special statement piece for her birthday celebration.
Earlier in their trip, Prince Charles had cheekily remarked that it was his wife's first-ever Canadian expedition. Giving a speech at the Edmonton Government House, the Prince of Wales reportedly said, (via CBC News), "I have a feeling, of course, if my wife hadn't married me, she wouldn't have met nearly so many Canadians." And meet Canadians she did — CBC News' Frank Dolphin remarked that Princess Diana's fashion choices eclipsed all other royal goings-on during her time in Edmonton.
One hat went topsy-turvy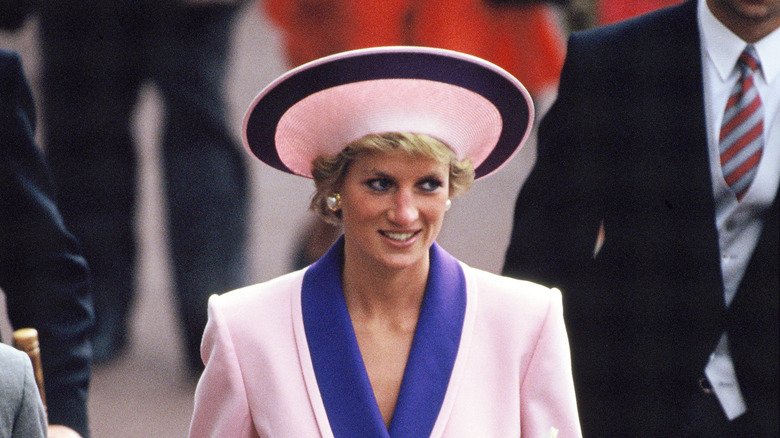 Georges De Keerle/Getty Images
Staying true to royal tradition, Princess Diana took the opportunity to test out some of her more whimsical hats at the annual Royal Ascot horse races. In 1990, she debuted one of her most iconic Ascot looks — an upside-down brim hat in a bold pink and purple color-blocked combination. The magenta and rose-themed outfit created a dazzling facade compared to the black suits and top hats worn by the other blue bloods around her. If the Princess of Wales wasn't already the guest of honor, she surely would have been by the end of the day's festivities. 
The 1990s saw Diana enter a new era of her fashion career. Long gone were the days of "shy Di," the name the press had given the young princess upon her entrance into the royal spotlight. Now a mother of two, the mature royal could be seen taking more risks than ever with her fashion choices. Just as her charitable efforts and genuine love for the public garnered the Princess of Wales a massive fan following, so too did her rejection of old-fashioned aesthetics. 
No hat better encapsulates Diana's love for progressive fashion than this topsy-turvy headpiece. The icon also paired her showstopping hat with a matching color-blocked suit jacket and skirt. With her oversized pearl earrings and oh-so-retro shoulder pads, the Princess of Wales ushered the Royal Ascot into the '90s.
A lilac look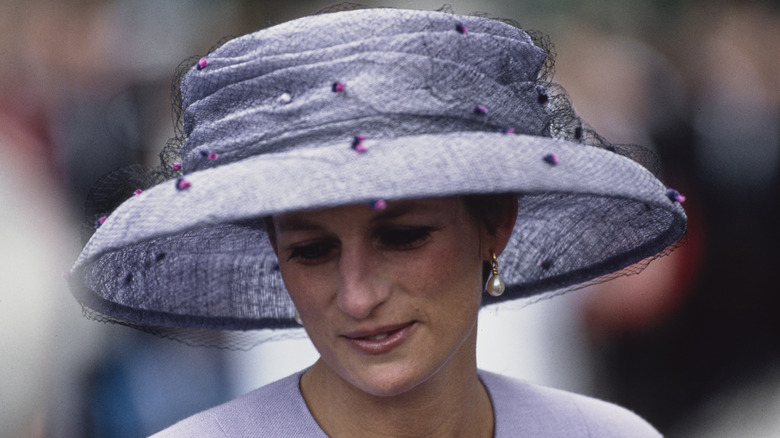 Princess Diana Archive/Getty Images
It was an early summer's day when Princess Diana decided to surprise royal onlookers with this lilac, lampshade-style Philip Somerville hat. Though she was always a sharp dresser, this uniquely shaped headpiece was still unlike anything fans had seen from the princess before. On this day, Diana paired her look with a monochromatic purple suit dress and skirt, tied together with demure pearl accents. In addition to a pair of gold drop pearl earrings, Diana's short-sleeved suit shirt also included bright pearl buttons down the center. 
Not only did the Princess of Wales' look embody the lightness of a summer's day, but it also matched the somber tone of her royal engagement. Climbing into the blacked-out windows of her royal caravan on June 3, 1994, the princess was driven directly to Green Park in London, accompanied by several key members of the royal family, including the Queen and Prince Philip, the Queen Mother, Princess Margaret, and Prince Andrew. The firm had gathered these royal heavy hitters together to witness the unveiling of the Canadian Armed Forces Memorial.
The new granite and bronze monument — standing not too far from Buckingham Palace itself — was engineered to memorialize the 114,000 members of the Canadian Armed Forces who perished in the World Wars. For such a significant and mournful occasion, Princess Diana added dainty black netting around her Philip Somerville hat, assuring that the lilac look was perfectly appropriate for the seriousness of a war memorial unveiling.
One look set sail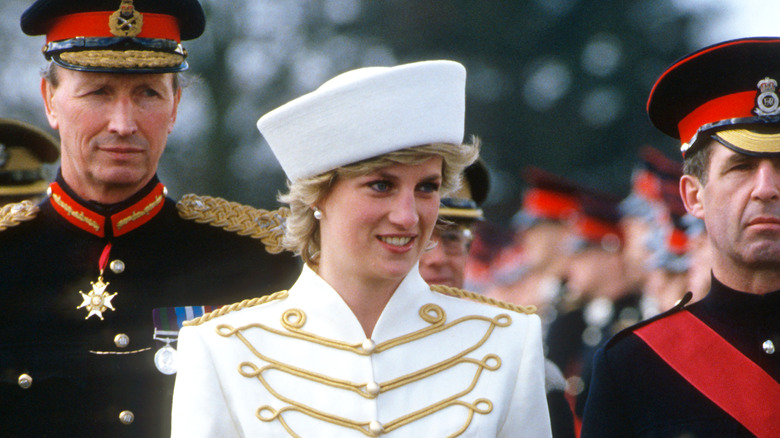 Anwar Hussein/Getty Images
Diana, Princess of Wales, was only 20 years old when she married into the royal family and first stepped into the international spotlight. Given her age, it's no surprise that the princess frequently took more risks with her looks than the other women in the family. In addition to the wide-brimmed and intricate headpieces that Diana was known for wearing, the hat that best reflects the princess' youthful energy is this classic Graham Smith hat. 
The piece made its debut while Diana was attending a ceremony known as a "passing out parade." Celebrating the completion of an army recruit's brutal training, a passing out parade sees the newest members of the British Army participate in a drill demonstration and a carefully choreographed march along with a military band. In April 1987, the then-26-year-old Princess Diana showed her support for the nation's brave men and women by attending a passing out parade dressed in a take on a female soldier's ensemble, appearing battleground-ready from head to toe. 
In addition to her Catherine Walker suit, which featured military-style embellishments, the princess wore a crisp white, nautical-inspired hat. This tall, brimless piece is a fresh take on the classic pillbox hat that had been a staple of first ladies and diplomatic women decades before Diana's era. Putting her own twist on the classic pillbox, this elegant sailor's hat encapsulates Diana's motto for millinery fashion: Respect tradition, but don't be afraid to give it your spin.
A masculine moment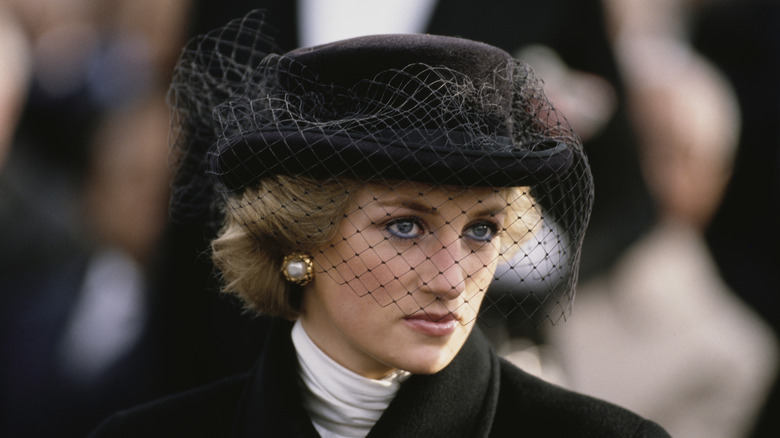 Princess Diana Archive/Getty Images
Fully-realized gentry was the vibe when Diana took Paris in 1988. Donning a Viv Knowland design in a top hat style, paired with a netted black veil, the Princess of Wales encapsulated the image of the British countryside as she greeted crowds on the metropolitan French streets. Harkening back to her roots as a Spencer, this equestrian-style hat reminded the crowd that she had a deep connection to the British aristocracy long before she ever met Prince Charles.
In a nod to British sportsmanship, Diana's small top hat gave her the appearance of someone ready to ride off on the fox hunt, along with the aura of wealth, gentility, and pride that comes with that tradition. While this look vibrated with masculine energy, the Princess of Wales' femininity shone through, as she greeted Parisian fans wearing her iconic blue eyeliner and pearl earrings. 
 Viv Knowland herself has become an image of English riding culture. And as masculine styles started to gain universal appeal, it was Knowland's designs that were often spotted on the most fashionable young women of the 1970s and 1980s.
Tartan and teal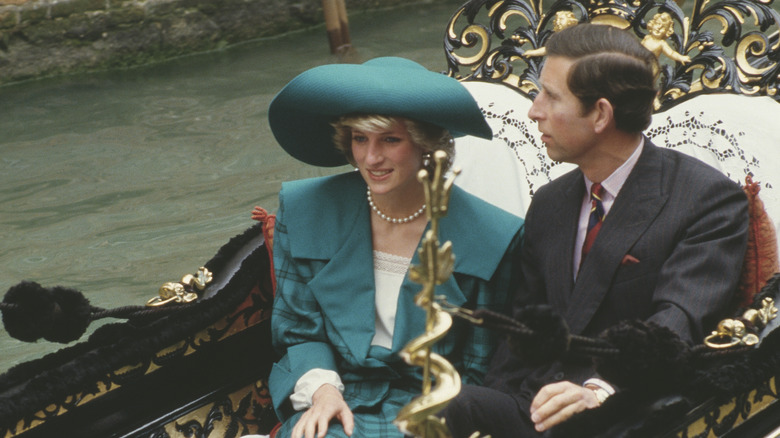 Princess Diana Archive/Getty Images
Any history nerd could identify this Princess Diana hat as a cavalier hat, made famous by "The Three Musketeers," 17th-century swashbucklers written into history by French author Alexandre Dumas in the 1800s. The original cavalier hats were worn by men starting in the 17th century, and they were typically made of felt and featured a plumage of ostrich feathers. However, Princess Diana's feminine take on the look keeps things sleek and simple. 
Riding in a Venetian gondola with Prince Charles by her side in April 1985, the Princess of Wales wisely chose this wide-brimmed turquoise showstopper. Not only does the monochromatic headpiece match the turquoise tartan pattern of her skirt, but the wide brim style of the cavalier hat is the perfect choice to keep the Italian sun rays at bay and the princess' coiffed hair in place. 
Interestingly, this hat was also designed by David and Elizabeth Emanuel — the same designers who crafted Diana's iconic wedding gown in 1981. The married duo was deeply in tune with the princess' style goals, as this Musketeers-inspired piece reflects Diana's desire to be a princess of the people. Lacking any bells or whistles, this simple sun blocker signals to onlookers that Diana is just a young wife exploring the continent with her husband. Diana's unadorned headpiece is particularly noticeable on this occasion, considering that her gilded gondola appears as if it, too, had glided right out of the 19th century.
Cerulean blues in Canada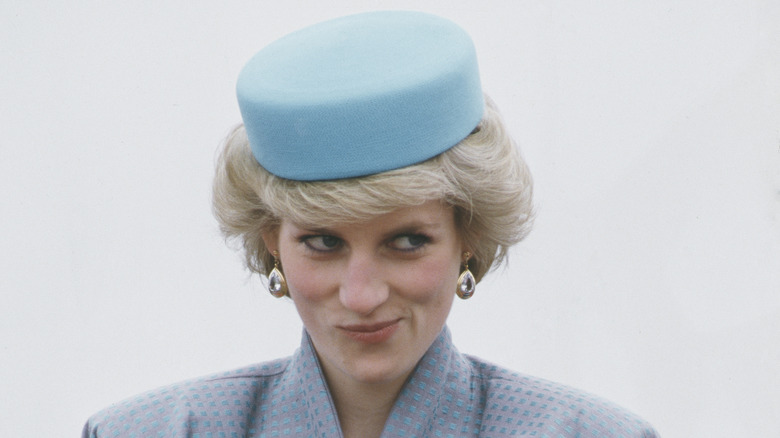 Princess Diana Archive/Getty Images
In this unforgettable fashion moment, the Princess of Wales chose to rock a classic hat during an engagement in Canada in 1986. While in previous years the Princess of Wales had used her headpieces as a way of experimenting with fashion traditions, the blond beauty's trip to Victoria in British Columbia saw her falling back on traditional silhouettes and greeting the foreign nation with old-school royal charm.
On this occasion, that charm came in the form of a petite, Robin egg blue, pillbox hat. The bright pastel color of Diana's John Boyd hat matched the dainty square prints of her silky cerulean coat dress. It also revealed that the Princess of Wales and her designers perhaps planned outfits according to season. Although it was meant to be a beautiful spring morning the day Diana stepped into Victoria, the princess' arresting sapphire figure contrasted with the cloudy Canadian sky.  
The iconic brimless hat that we now call the pillbox hat was first invented in the 1930s, but it didn't become popular among the blue blood sect until the post-World War II era. First Lady Jacqueline Kennedy revolutionized how we thought of the pillbox hat when she made them a part of her signature look in the 1960s. So, by opting for this iconic hat, Princess Diana was knowingly placing herself within a long line of women known for their elegance and political impact. 
Bold looks in Dubai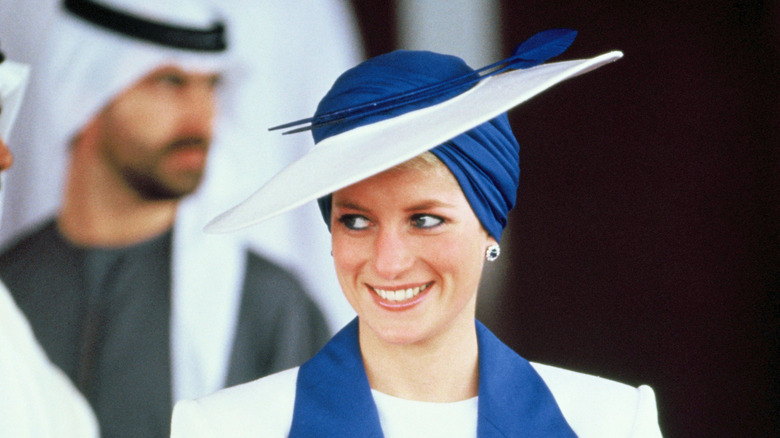 Georges De Keerle/Getty Images
Diana, Princess of Wales was all smiles when she stepped out wearing this bold Philip Somerville turban hat in March 1989. The cobalt blue headpiece was cut into a flying saucer style to shield the princess' eyes from the Dubai sun, which she visited with her husband Prince Charles on an international engagement. The turban style kept Diana's iconic blond bob hidden from public view, showing the royal's respect for the United Arab Emirates' cultural practices regarding clothing.
Despite choosing to appeal to the average Dubai woman with a look that covered her hair, Diana's hat still signaled her royal status with intricate feather details. The deep sapphire design resembles a crown, which the crowd might have expected the Princess of Wales to wear, considering they watched her walk down the aisle wearing the Spencer Tiara just eight years prior. 
From the moment Diana made her grand entrance on the royal stage, the public began associating her with sapphire. Not only was it the color of the Ceylon sapphire stone chosen by Diana herself for her engagement ring, but blue was also the color of the princess' famously soulful eyes. Often peering back into the camera lens from under a wide-brimmed hat, blue quickly became the princess' signature color. 
Italian wine-inspired topper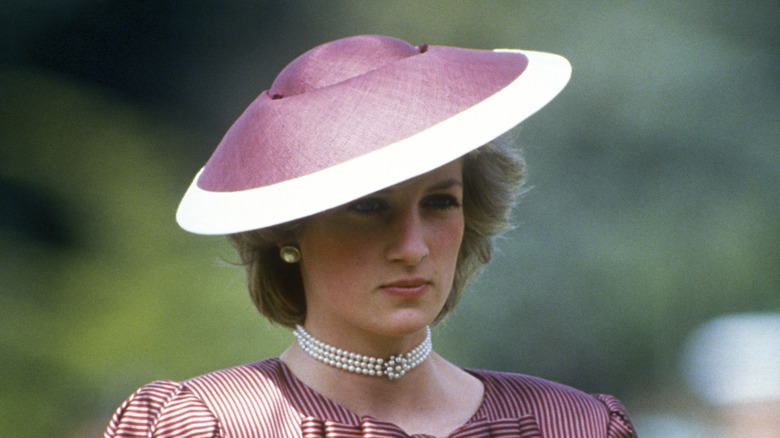 John Shelley Collection/avalon/Getty Images
The Princess of Wales had some help shielding her skin from the Mediterranean sun on this day in Anzio, Italy. In addition to the expensive sun cream her ladies-in-waiting surely carried in their luxury luggage, Diana also protected herself using this uber-elegant Frederick Fox hat. The flying saucer-style hat came in a deep plum color, the hue of Italian wine, and featured a simple white trim around the brim. 
The globe-trotting princess stayed true to her Sangria-inspired aesthetic in dress and jewelry. While visiting Italian sites, Diana donned a plum and white striped silk dress and a thick choker necklace featuring a string of pearls. If you look closely, you can also spot her chunky pearl earrings and the slight shoulder padding in her gown as well. It's no surprise that Diana's ensemble bore a distinctly '80s silhouette, as the princess' trip abroad took place in 1985, in the thick of a decade defined by Cyndi Lauper and corporate chic, "yuppie" fashion.
While these details stayed loyal to '80s trends, it was Diana's elegant headpiece that revealed her true royal status. Frederick Fox not only designed classic headpieces for the Princess of Wales, but he was also commissioned to create hat designs for the Queen Mother multiple times. While other royal family members — such as Princess Anne and Princess Alexandra of Kent — followed suit, it was Princess Diana for whom Fox reserved his iconic flying saucer-style hats. 
Pink for St. Paul's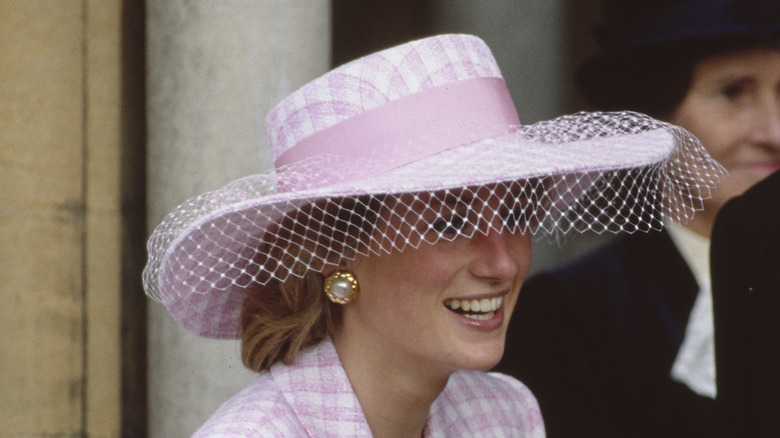 Tim Graham/Getty Images
Nothing says "girl power" like an all-pink look, and no celebrity of the 1990s encapsulated girl power quite like Princess Diana. Showing women around the world that they don't have to be defined by their title — rather it is "mother," "wife," or "princess" — the feminine icon always looked right at home in pink. Diana kicked off the decade with one of her most fiercely feminine looks as she departed from London's St. Paul's Cathedral on October 2, 1990. 
Along with her signature bulky pearl earrings (ringed in gold this time), the Princess of Wales also wore a gingham print suit dress and gingham hat in baby pink. One of Diana's go-to milliners, Philip Somerville, once again added light veiling and a silk pink ribbon to this wide-brimmed headpiece. Having attended a church service in support of The Children's Society, Diana wisely chose a color that might remind onlookers of nursery walls, along with a pattern reminiscent of innocent days and summer picnics.
While the Princess of Wales was known for her fresh and playful fashion choices, it was details like her flat crowned hat that show just how in-tune she was not only to runway trends but also to the nature of her non-profit work as a royal. Watching the pastel-clad Princess Di bounce down the cathedral steps in her veiled hat, there was no mistaking that the royal knew how to dress for the occasion.
Bored in butterscotch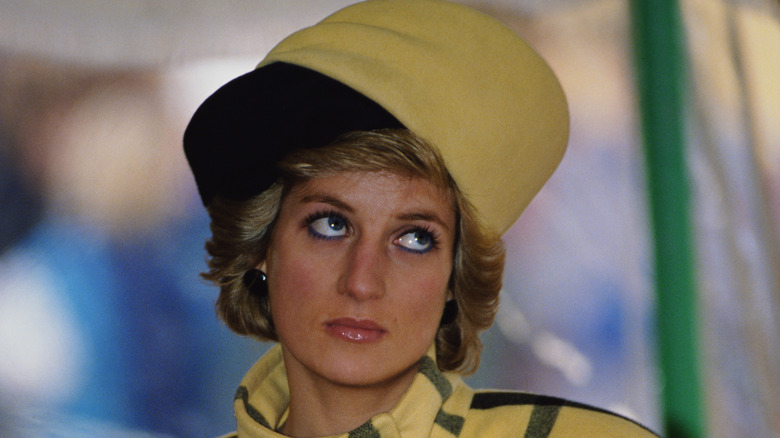 Princess Diana Archive/Getty Images
Diana, Princess of Wales, decided to forgo the flyer saucers and fascinators during this royal engagement in December 1989. Instead, the princess opted for a more experimental Philip Somerville design in yellow and black. Not only did the color combination match Diana's yellow and black plaid coat, but both pieces were also made of a soft, felt-like material, perhaps chosen to keep the Princess of Wales warm while visiting the Isle of Wight. 
This modernist construction gave the appearance of one hat stacked upon another. Although Philip Somerville was the man behind some of Diana's most unorthodox hat looks — like her purple lampshade hat and the blue turban look she wore in Dubai — this double cap design is one of the most avant-garde collaborations between the model and her designer. Though Diana first donned the design in 1989, the irreverent vibe of the piece foreshadowed '90s street style to come.
While celebrities are sometimes overshadowed by their ambitious fashion choices, Diana made the New York-chic design all her own, pairing it with her iconic blue eyeliner and big earrings. The two-toned slouch hat could also be said to represent a deeper element of Diana's life during this era, in which she, too, was forced to wear multiple "hats" as both a busy public servant and a mother of two. If fashion is more than just cloth and buttons, then this hat is more than just iconic — it's emotionally significant.
Egyptian blues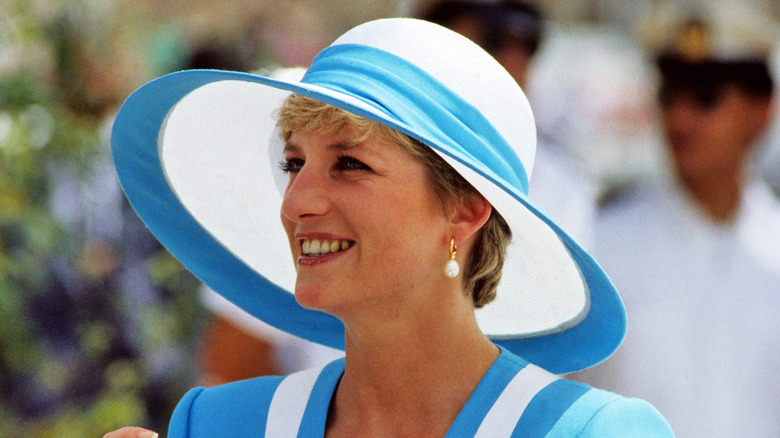 Anwar Hussein/Getty Images
Far from the black veils and miniature pillbox hats of years past, this bright and summery hat represents a new era in Princess Diana's life. Worn while visiting Egypt in May 1992, this wide-brimmed aqua number featured an extensive brim to shield her from the African heat. Paired with a matching dress, this striped hat was made of thin, all-white material with blue cloth ribbons around its crown and rim.
1992 was a landmark year for the princess. In addition to traveling across Egypt, she and Prince Charles also embarked on a royal tour of South Korea in November, where all eyes were on the state of the couple's marriage. Only one month later, Prime Minister John Major broke the news to the House of Commons that the royal couple was separating.
Before the beginning of the end, however, Princess Diana had her say in the court of public opinion. In the same month she wore this optimistic hat look, Andrew Morton published "Diana: Her True Story," a revealing tell-all chronicling the royals' doomed relationship. Diana is said to have sat for secret interviews with Morton, making sure the world finally heard her truth. Just as Princess Diana's iconic "revenge dress" demonstrates the royal reclaiming her sexuality, this carefree and colorful headpiece represents Diana's reclamation of her public image. In Egypt, she was not a jilted wife but a breezy, beautiful princess of the people.
Coastal and crimson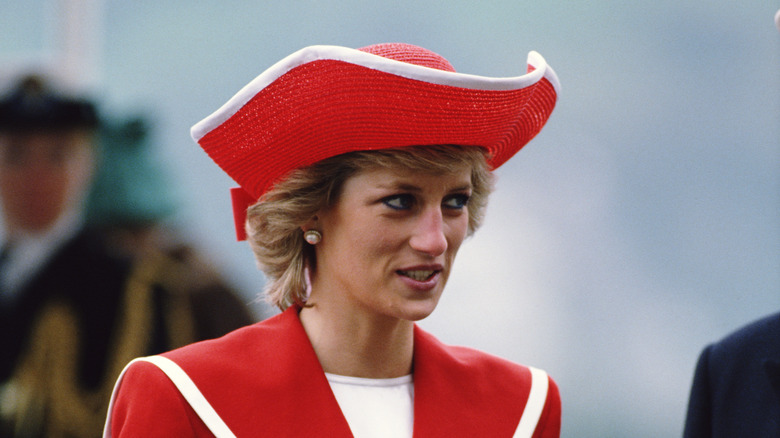 Princess Diana Archive/Getty Images
This playful, naval-ready headpiece made its debut in April 1989. While visiting the Royal Naval College in Dartmouth, the Princess of Wales opted for an unexpected tricorn-style hat in crimson. Again, Diana was called upon to witness the "passing out" parade for the college's graduating class. Dressing to the theme, the Princess of Wales paired her hat with a sailing-inspired coat dress that featured a naval-style collar in a red and white striped pattern.
The hat aficionado stood out against seas of black and gold as she inspected the rows of new military graduates. While the princess greeted the men with her famous smile, the well-trained officers remained at attention with their swords held high. Donning a hat made of straw, an incredibly durable material, the princess wasn't afraid to get her hands dirty either. Grabbing a shovel, Diana helped to plant a tree on the college grounds, commemorating her visit. Later, the hands-on princess was seen cuddling a coffee-colored puppy who happened to be the regiment's newest mascot.
Altogether, this berry-red headpiece represents Princess Diana at the top of her civil servant game. Not only was the royal fully plugged into her patronage duties while rocking this bold tricorn piece, but, by this time in her fashion career, Diana had carefully crafted close relationships with several of her favorite designers. On display here were two of her favorites — Catherine Walker for the military-inspired coat dress and Philip Somerville, again, for the headpiece.
Silk down under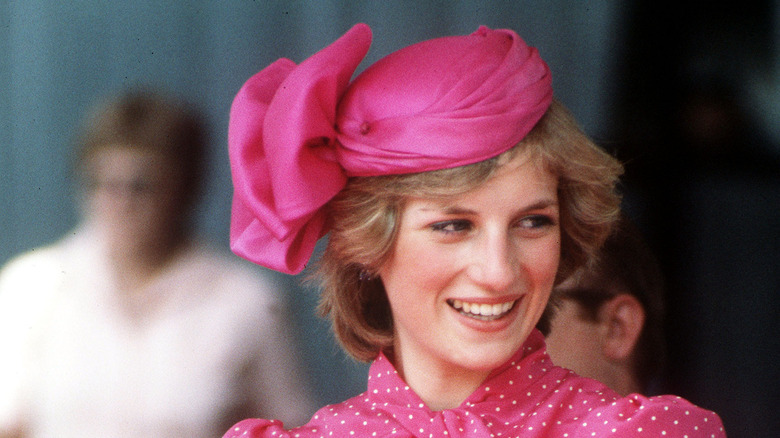 Princess Diana Archive/Getty Images
Fans of "The Crown" will remember Princess Diana and Prince Charles' sensational royal tour of Australia, which took place in Season 4 of the hit Netflix show and spring 1983 in real life. Although loyal binge-watchers might recall many scenes of marital spats between the Prince and Princess of Wales, which are said to have taken place during the tour, the creatives behind "The Crown" failed to portray this iconic Diana fashion moment.
Wearing a column-style dress in a pink polka-dotted pattern designed by Donald Campbell, the Princess of Wales accessorized her youthful look with a pink fascinator in a matching bubblegum hue. New to both Australia and to the royal scene — having just married Prince Charles two years before — thinking outside of the box with her physical appearance helped Princess Diana win over crowds across Australia, from Sydney to Perth. 
As "The Crown" showed, this international tour demonstrated to the world at large that Princess Diana wouldn't enter into royal life without making a fuss; she was here to change the game. Not only did the charismatic princess exceed her husband in popularity following the Australia tour, but she also earned a reputation for being a sharp dresser. With the help of delicate and daydreamy headpieces like this John Boyd design, Diana showed the world that she was here to revolutionize what it meant to be a Windsor woman.
A polka dot princess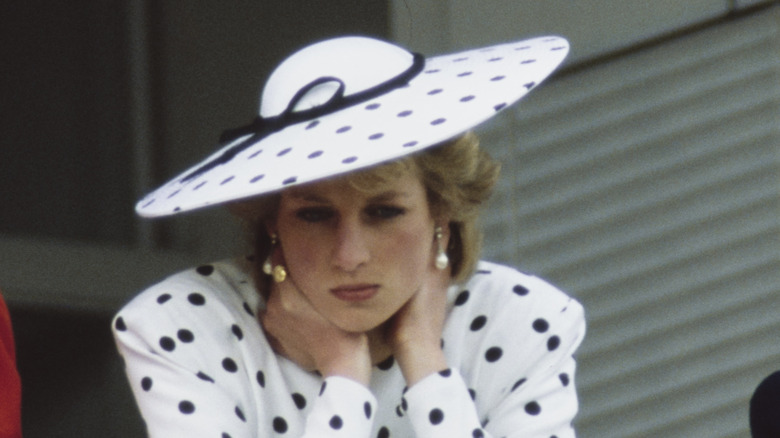 Tim Graham/Getty Images
Top hats, canes, and trophies, oh my! Next to the Royal Ascot and The Grand National at Aintree, the Surrey-based horse racing event known as The Epsom Derby is one of the most fashionable events on the royal calendar. According to royal insiders, The Derby was the favorite annual event of none other than Queen Elizabeth II herself, who almost always entered one of her horses from the Buckingham stables into the race. Known as England's "richest flat race," this posh outing sees every tea-drinking and scone-munching noble on the island show up in their finest frocks.
Princess Diana, for all her claims of being an outsider, was no exception. While attending The Derby in 1986 alongside other working members of the royal family, the mother of two was spotted wearing this iconic black and white polka dot topper. Perhaps the fashionista was in her element at the runway-esque event, as the princess was seen laughing heartily with Princess Anne and sharing binoculars with the Queen Mother throughout the race.
From her figure-hugging dress to the flying-saucer style hat, the princess' ensemble was very much giving "Queen of Hearts" vibes. With champagne flowing and unseemly amounts of money being traded between gamblers' hands, the statuesque Diana seemed to be the mistress of ceremonies, dressed in this eye-catching, yet severe, headpiece. With its rounded crown and sleek, miniature black bow, the finer details of Diana's hat added a feminine softness as well.
Off-duty princess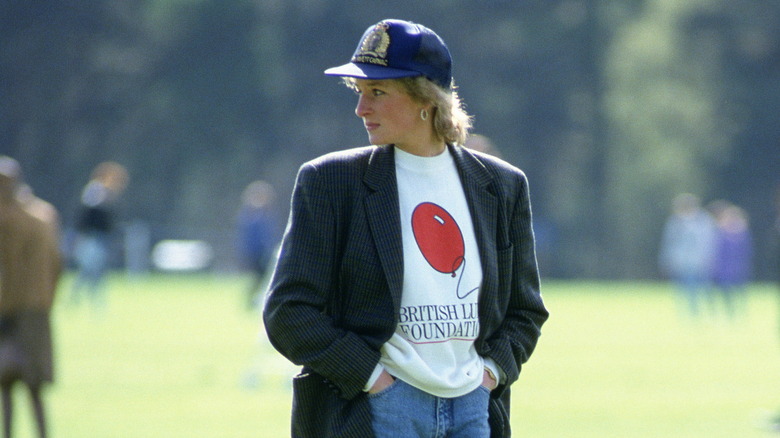 Tim Graham/Getty Images
Is there anything more thrilling than seeing a real-life royal dressed like a commoner? From the shocked headlines that crop up around Kate Middleton's best casual looks like blue jeans and wedges to the mass amount of attention that Mike Tindall received for his bathing suit, it seems the world can't get enough of dressed-down nobles. Princess Diana had her own moment as an icon of casual wear when she wore this baseball cap to Guards Polo Club in 1988.
The OG Princess of Wales looked eternally cool as she paired her cap with a British Lung Foundation sweatshirt, jeans, and a dark patterned blazer. While the shoulder pads in her blazer sang out the tune of the 1980s, it was the navy baseball cap that foreshadowed the decade to come. It gave fans a hint of Princess Diana's casual style that would soon be taking the tabloids by storm. Forget the Pussybow blouses and neck scarves — the '90s were going to be all about athleisure and Chuck Taylors.
"Looseness" would be the perfect word to describe Diana's post-1990 style. It's even become a modern-day trend to replicate Diana's oversized sweatshirt and athletic shorts combo. However, the cherry on top of the cake of Diana's androgynous '90s silhouettes is undoubtedly the baseball cap, and your Diana-inspired fit will never be complete without this lowkey topper.
Trailblazing in Tokyo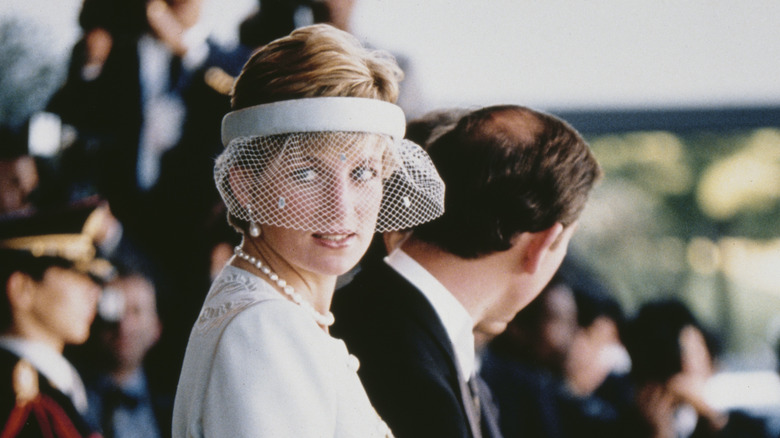 Princess Diana Archive/Getty Images
One of Princess Diana's more experimental hat moments took place on November 12, 1990, while visiting Tokyo, Japan. Though she was far from her lavish London dinners or countryside garden parties, the Princess of Wales still managed to wow the upper-crust crowd with her non-traditional hat choice. While her dress created an understated figure in stone blue, it was the princess' one-of-a-kind fascinator that stole the show.
Traveling to Japan with Prince Charles at her side, the royal was expected to make an appearance at Emperor Akihito's enthronement, sip some tea, shake hands, and generally fly under the radar at the high-profile event. However, ever the hat lover, the princess couldn't resist turning up in a bob-bearing visor that had all eyes on her. 
Resembling more of a headband, this piece included a thick, powder blue band and a short, netted veil that draped gracefully over Diana's blue eyes. Dotted across the veil were monochromatic square patterns, drawing the observer's eye even closer. Could this hat be called a topless visor since it's crownless? Or perhaps it would be more fitting to label it a low-sitting fascinator? No matter the label, this unique headpiece shows just how cutting-edge Princess Diana, and her fashion choices, remain nearly 30 years after her tragic death. Ultimately, choosing to don this look while surrounded by foreign dignitaries instead of her usual adoring crowds proves once again that the princess wasn't afraid to take risks.
Matching with mummy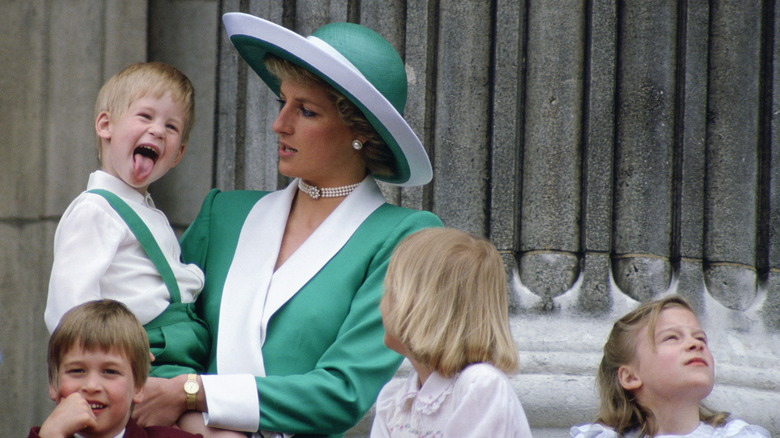 Tim Graham/Getty Images
Just as Catherine, Princess of Wales, made headlines for her adorable attempts at keeping the cheeky Prince Louis out of trouble, her predecessor was also seen going full mom mode several times throughout her royal career. At the 1988 Trooping the Colour event, for example, an iconic Diana fashion moment coincided with a playful Prince Harry moment. While the little prince stuck his tongue out at photographers, he was also dressed in Kelly green suspenders and shorts that matched his mother's ensemble.
Now a father himself, Prince Harry's deep love for his dearly-departed "mum" is a well-known fact. Although Diana is no longer here to reciprocate her son's affection, photos from the past show just how passionate the royal was about her boys. It's not surprising, then, that Diana used the language she knew best — the art of fashion — to communicate to the public just how connected she felt to Prince William and Prince Harry. 
Sporting a double-breasted suit dress in a striped pattern of Shamrock green and white, the real showstopper of Diana's 1988 balcony look was her wide-brimmed hat. With an all-green rounded crown, this large Breton-style topper saw the princess try out a color rarely seen in her closet.