Madonna's Household Rules Show A Softer Side To The Singer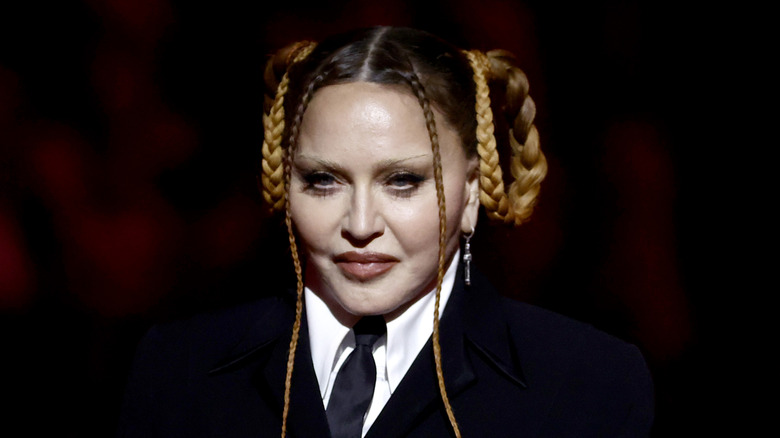 Frazer Harrison/Getty Images
Madonna is the queen of pop and a legendary music icon. However, the "Ray of Light" singer is also the mother of six children. Madonna gave birth to her first child, Lourdes Leon, with ex-boyfriend Carlos Leon, in October 1996. She had her second child, Rocco Richie, in August 2000 with her ex-husband, famed film director Guy Ritchie. What you might not know is that the other four were adopted from the African country of Malawi. In 2008, she adopted a son, David, followed by a daughter named Mercy in 2009. Then in 2017, she adopted twin girls, Stella and Estere.
In a photo posted on her Instagram story in March 2023, Madonna revealed her household rules for her children to her nearly 19 million followers (via People). In the photo, Madonna holds up a board that says, "1. Smile, 2. Be Happy, 3. Listen to others, 4. Speak Kindness, 5. Be Happy with what you have." That said, Madonna has previously discussed the highs and lows of motherhood. In a 2019 interview with Vogue, she said that she does not have any role models to serve as an example of being a mother in the public eye.
Madonna explained, "Being a single parent of six children, I continue to be creative and be an artist and be politically active, to have a voice, to do all the things that I do. So I mean, there isn't anybody in my position."
Madonna gets real about motherhood
If you find motherhood difficult, then you have something in common with Madonna. In an interview published in the Italian version of Vanity Fair in January 2023, the singer revealed that being a mother and a pop star is no easy feat. She told Vanity Fair, "Nobody gives you a manual. You have to learn from your mistakes. It's a job that takes a lot of time, and it's tiring because there's never rest" (translated by Fox News). A few months later, Madonna got even more candid about motherhood in a Mother's Day Instagram post. 
Madonna's mother died in 1963 from breast cancer when she was only a child. In her post, she noted that her mother's death led her to fear becoming a parent. Moreover, Madonna said that motherhood ultimately changed her for the better. She also reiterated what she previously told Vogue and Vanity Fair; that she had no role models that were mothers and that there have been times when she had no idea what she was doing. Of her six kids, she said, "To say that I am proud of my children sounds arrogant or implies ownership. Better to say that they are all shining stars, and I'm happy that their souls chose me to be their mother."
Lourdes Leon on being raised by Madonna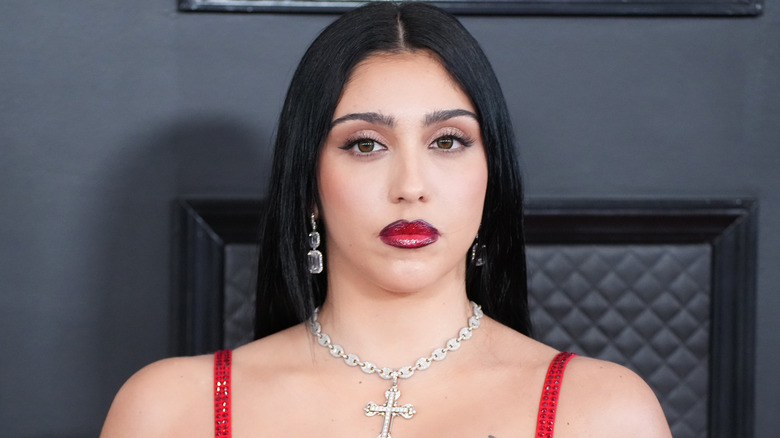 Jeff Kravitz/Getty Images
According to Fox News, Madonna told Vanity Fair, "Growing up with a mother like me is a challenge." While her younger children have not publicly discussed their mother, her two oldest, model and singer Lourdes Leon and artist Rocco Ritchie, have. In 2021, Leon spoke to actor and Madonna's longtime friend Debi Mazar for Interview Magazine. Leon told Mazar about her relationship with her mom and said she had a stifled childhood. She explained, "My mom is such a control freak, and she has controlled me my whole life. I needed to be completely independent from her as soon as I graduated high school."
Similarly, Ritchie told Ellen Degeneres in 2012, "She's a good mother. Yes. That's all I have to say. She's very strict but in a good way" (via USA Today). Madonna hinted she was a stern parent when she told Vogue in 2019 that she had no plans to give her then-13-year-old son David a cell phone. 
Nevertheless, Leon also told Mazar that she is protective of Madonna and even commended her career and music. She noted, "I'm increasingly able to recognize how influential and amazing this woman is, and how empowering to other women and ahead of her time she has always been." Before adding, "She's probably the hardest worker I've ever seen."