The Controversial Kendall Jenner 'Fit Fans Just Dubbed A Fashion Faux Pas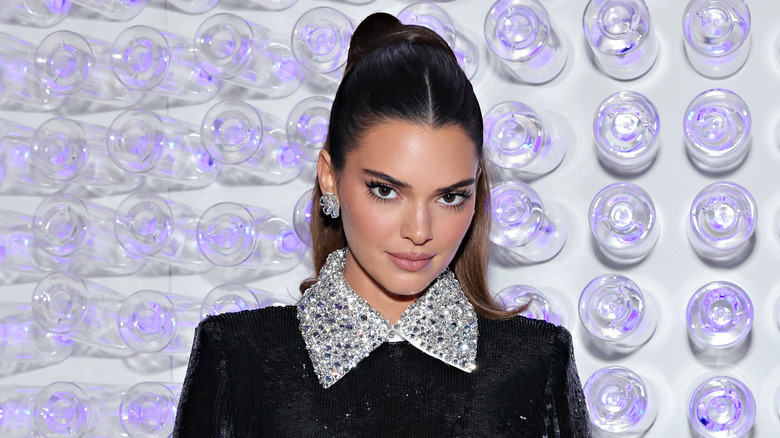 Cindy Ord/mg23/Getty Images
Kendall Jenner's latest choice of clothing aboard a yacht in Europe has come under criticism on social media, with some fans basically calling it a fashion faux pas. Of all Kendall Jenner's looks, this one might be the most unusual yet.
The 27-year-old shared and has since deleted the controversial outfit on her Instagram stories, which featured her posing in a black David Koma mini dress with a see-through top and two strategically positioned red floral nipple covers. The model and media personality looked like she was having a great time, but that hasn't stopped fans from leaving their frank opinions online.
One user wrote, "In what world do people think this looks good?" with another chiming in, "Classless! Not a good look! Yuck!" responding to Page Six's tweet featuring the outfit. Some went as far as to call the socialite an "exhibitionist" and "thirsty," while another said, "Do something original, Kendall! Wear clothes." Despite the fans pouring in with sour comments about her skin-baring dress, there were a few users who celebrated the look and cheered Jenner on.
'Do what you please' posted some fans
Fashion faux pas or not, Kendall Jenner had quite a number of fans come to her rescue on Twitter and Instagram. 
One user wrote, "She looks fab. I'd wear them ESPECIALLY on a yacht." A second shared, "This is what I was going to wear next weekend. Dang it. She def wore it better." On Instagram, one user cheered on, "love ya girl, do what ya d**n well please while u live, never back down to anybody." 
This is not the first time one of Kendall Jenner's inappropriate outfit choices has come under fire on social media, and the reality TV star has found subtle ways to address the negative comments herself. When Jenner's friend Lauren Perez shared photos of her Miami wedding, at which Jenner was a bridesmaid, there was an outpouring of similar sentiments. Perez intervened and posted a response, "She looked stunning, and I loved it," at which point Jenner too typed, "Obvi I asked for your approval in advance too. We love a beach wedding."