The Reason Eva Mendes And Ryan Gosling Never Walk Red Carpets Together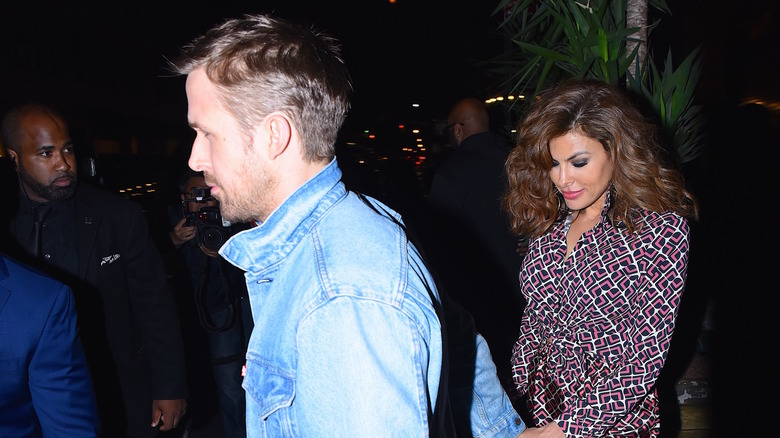 Robert Kamau/Getty Images
With his bleached blonde hair and penchant for pink, Ryan Gosling is taking his role in the "Barbie" movie very seriously indeed. The "Blade Runner 2049" star plays Barbie's under-appreciated sidekick, Ken, joking in an interview with Jimmy Fallon: "He's an accessory and not even one of the cool ones," (via YouTube). If the "Barbie" press junkets are any evidence, Gosling has fully embraced his inner "Kenergy." 
He's been spotted coordinating red carpet outfits with co-star Margot Robbie and taking inspiration from TikTok's "Barbiecore" aesthetic. As for the actor's real-life partner, Eva Mendes, she's yet to don hot pink alongside her live-action Ken. Ryan Gosling and Eva Mendes's relationship timeline stretches all the way back to 2011 when they bonded on the set of "The Place Beyond the Pines," and the couple has been inseparable ever since. 
Over their 10-plus years together, the low-key couple has welcomed two children into the world and expressed nothing but admiration for one another. Gosling told Hello! magazine in 2015 simply, "I know that I'm with the person I'm supposed to be with." Still, although he's made regular red-carpet appearances with famous co-stars like Emma Stone and, more recently, Robbie, Gosling and Mendes are rarely seen together in public. 
Eva Mendes believes in keeping her private life private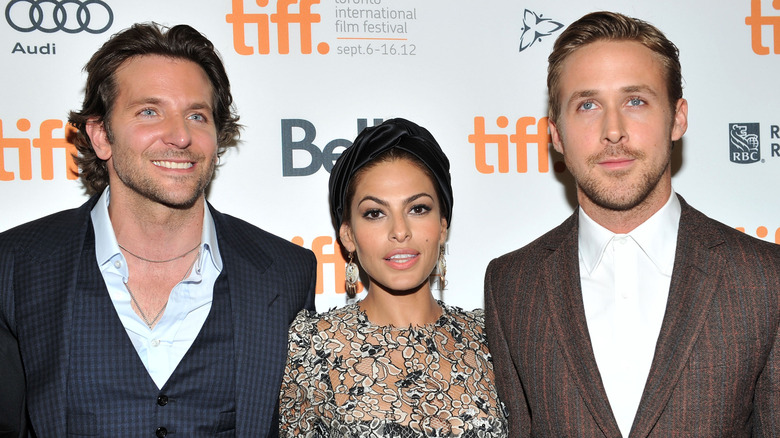 Sonia Recchia/Getty Images
After playing co-parents in "The Place Beyond the Pines," Eva Mendes and her future partner, Ryan Gosling, made waves (for the first and only time) on the red carpet — they weren't even a confirmed couple quite yet, and Mendes was still grappling with her feelings. "That's literally me going, 'I'm not in love with him. What? I'm not in love.' Cause we were trying to be very professional," she told Kelly Clarkson years later, reflecting on their early appearance together while promoting the film (via YouTube). 
In the years since the movie's release, the celebrity couple has tried to keep their relationship out of the spotlight. In April 2023, a fan commented on Mendes' Instagram, writing, "I really hope Barbie will get through the Awards Season just to see you [with] Ryan." The actor was quick to respond: "What a cool comment, thank you. But we don't do those things together." Mendes added, "Like these photos I've been posting, [I'm] only comfortable posting because it's already out there." 
In other words, at-home couple selfies and pictures of their daughters are a no-go. As Mendes previously explained to her social media followers under a since-deleted post, "My man and my kids are private" (via People). When awards season and movie premieres roll around, Gosling will either ride solo or take along a family member — his sister Mandi joined him at the Oscars in 2017, for instance, while Mendes stayed home with the kids.
They aren't the only celeb couple that keeps things low-key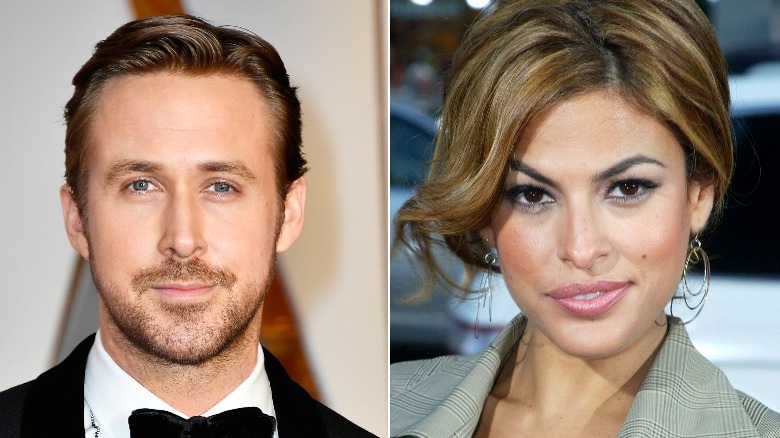 Frazer Harrison & Matthew Simmons/Getty
Some couples are known for linking arms on the red carpet. One of Hollywood's other favorite Ryans, Ryan Reynolds, likes to support his wife, Blake Lively, while she stuns at The Met Gala, and Chrissy Teigen and John Legend always stand out with their larger-than-life poses. That being said, Eva Mendes and Ryan Gosling aren't the only A-list couple that likes to keep a low profile. Robert Pattinson and Suki Waterhouse have been dating since 2018, but it wasn't until December 2022 that they appeared together on the red carpet. 
Although Taylor Swift and Joe Alwyn split in 2023, they were barely seen together at all throughout their six-year-long relationship. And, with the exception of Swift's song lyrics, they rarely commented on it either. "I've learned that if I [talk about my personal life], people think it's up for discussion, and our relationship isn't up for discussion," Swift informed The Guardian in 2019. 
It appears we won't be treated to a public appearance from Mendes and Gosling any time soon but that doesn't take away from their swoon-worthy romance. As the real-life Ken sweetly revealed to GQ, "There were moments on 'The Place Beyond the Pines' where we were pretending to be a family, and I didn't really want it to be pretend anymore." For this couple, it's those behind-the-scenes moments that really count.