With Love Star Emeraude Toubia Details Working With Show's 'Dream Team' - Exclusive Interview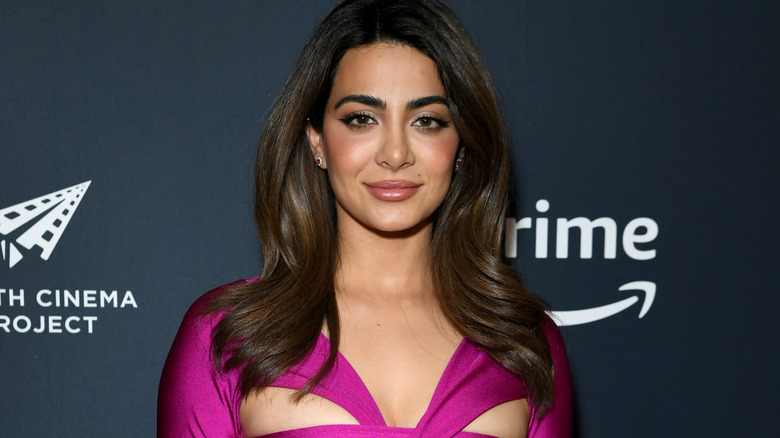 Jc Olivera/Getty Images
Amazon Prime's series "With Love" is hitting its stride in a sophomore season that will make viewers laugh, cringe, and tear up in equal measure. Beyond its family-centric warmth and drama, the show centers on a range of characters with diverse perspectives when it comes to love, marriage, and growing up. Emeraude Toubia plays Lily, the show's protagonist, who struggles when she's forced to move back in with her parents and hit the reset button on her adult life. Still, however misguided her family's support might be, it's always given "with love" as the series' title implies.
Emeraude Toubia herself is no stranger to playing a strong female character — she's starred opposite Mario Lopez in Lifetime's "Holiday in Santa Fe" and in Freeform's "Shadowhunters." Toubia spoke with The List about the newest season of "With Love" and everything she's learned from playing Lily alongside a talented cast and crew. She also gave a special shoutout to showrunner Gloria Calderón Kellett, who also created the beloved reboot of "One Day at a Time" and contributed her talents to "Jane the Virgin." 
With Love is more than a rom-com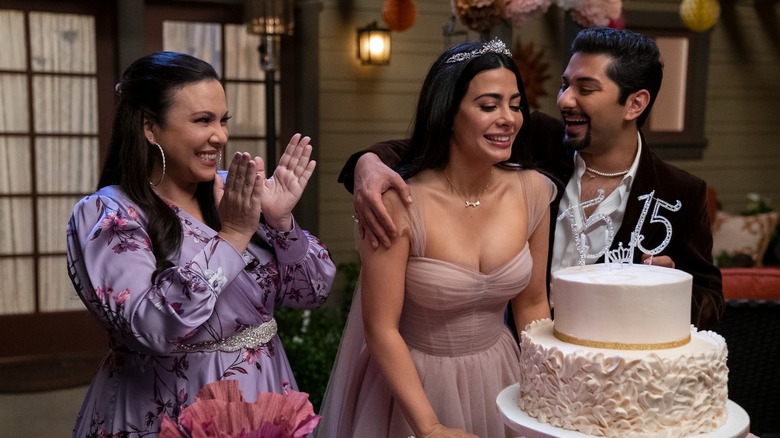 Amazon Prime
"With Love" represents such a range of different romantic relationships. What has it been like to be part of such a multi-thread-style narrative?
It's great. As actors, at the beginning, we think about acting and being on a show. Then we think about all the responsibilities that come with our power of connecting with people and reaching so many with the character, with the role. It started off with "Shadowhunters" — my character and the show [was important] for so many. I'm still doing conventions all over the world and meeting fans, and the impact that we have is unreal, so it's a responsibility. 
I feel so glad to be working on the show with an incredible group of people. Our showrunner, Gloria Calderón Kellett, she's become a really good friend. She took me under her wing, and she trusted me in being the lead of this show and setting the tone for everything. Amazon [has been] so supportive and so amazing with all of us. It's truly a dream team.
This show is more than a rom-com. It's a show that brings together a traditionally marginalized community and finally puts them front and center and lets them have a happy ending. That's not normally what's seen on TV with people of color. We're usually in trauma scenarios, which is fine, but that's not the whole truth. I feel this show is an inspiration for so many Latinos to see ourselves in this shining light. It creates inspiration; it creates hope; it creates confidence.
For people that are non-Latinos, it creates awareness, it creates an understanding, and it creates a connection. We're all human, and we all feel the same way, and that's what connects us. It's great to be a part of this show that's so positive and uplifting, because we need that for our community.
Lily is a super-relatable character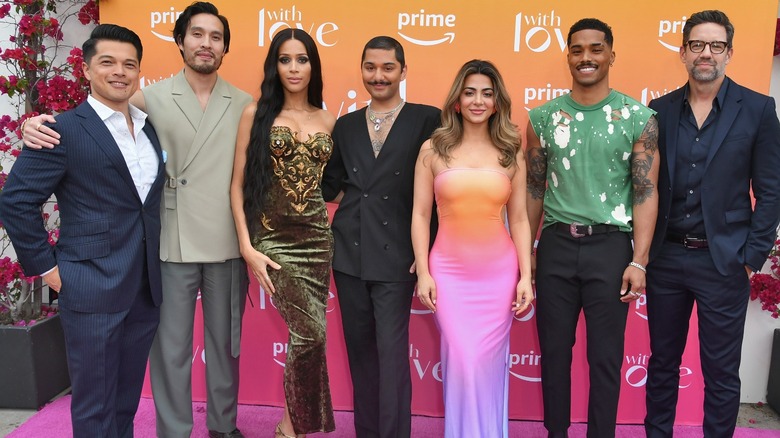 Amazon Prime
Family is a central tenet of the show, and your character experiences moving back in with her family after some time living on her own. Do you see this story as a coming-of-age story that represents the realistic ups and downs?
I love it — coming-of-age story. Nobody turning 30 wants to move in back with their parents. It's a major step back, so in a way, I feel like she hits rock bottom personally. The guy that she's in love with is not wanting the same things that she wants, but she learns how to let go and prioritize herself. She learns that even though she has to take a few steps back and move back into her parents' house, she is going to come out better from this.
I am so excited for her journey. I relate to Lily. My girlfriends relate to Lily. I'm sure all women are going to relate to Lily because we're navigating love, we're navigating our dreams, we're navigating our career. We have so much pressure from society and from our family [because] they measure our success by who we're married [to], if we're married, if we have children, if we're successful — but not too successful, 'cause you can't push men away. It's nice to find that balance that Lily is trying to find herself — what are the boundaries, what are her reasons, what makes her happy? It's this beautiful journey that we all can relate to.
The actress has rom-com idols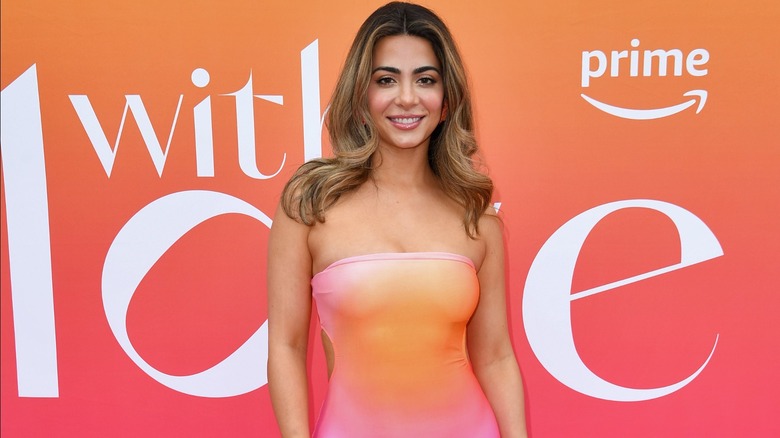 Amazon Prime
Amazon Prime has been producing a lot of rom-com-style shows in the last couple of years, "With Love" [being] one of them. Do you have any favorites in the genre?
"The Marvelous Mrs. Maisel" — I love that show so much. I love all the actors, and I look up to all the people that are on the show. Alex Bornstein gave this great speech when she won an Emmy or Golden Globe. She was like, "Break the rules." She's Jewish; she comes from a Jewish family, and her grandma asked to step aside, to not get in the line when they were in the concentration camps. And because she did step out of line, she was able to be saved and wasn't killed. It was incredible to hear her say [in] this speech, "Let's break the rules. Let's have the courage to step out of line." Especially people of color, especially women, we have to raise our voice[s] and we have to step out of line so things can happen. 
So [I love] "Marvelous Mrs. Maisel" in all its glory, both onscreen [and] offscreen. The characters in [themselves and] the people in [themselves] are very inspiring.
Your mom on the show is a comic actress, a veteran of "George Lopez." She's pretty well known for playing the mom on that show. What's it been like working beside Constance Marie?
I grew up with [the movie] "Selena," and she played Selena's mom. I'm emotional, but now she gets to play my mom, and it's like, "Oh my God, I'm living the dream." Speaking about this all day makes me think how blessed I am. She gets to play my mom, and it's really fun. 
The show uses a lot of physical comedy. Was that a style that comes naturally to you?
I grew up watching Jennifer Lopez, Reese Witherspoon, Sandra Bullock, and I try to study my favorite romantic comedies. I feel I took a little bit of everything and created Lily; Lily is a mix of all these great actresses that I grew up watching. I kind of let go [and] see what happens. 
Having Gloria [Calderón Kellett] on set is always amazing. She's taking us under her wing. She's the first one there; she's the last one to go. It's really nice to feel so safe on set that we are allowed to play and make mistakes and laugh at ourselves and not take ourselves too serious[ly].
Season 2 has some steamy scenes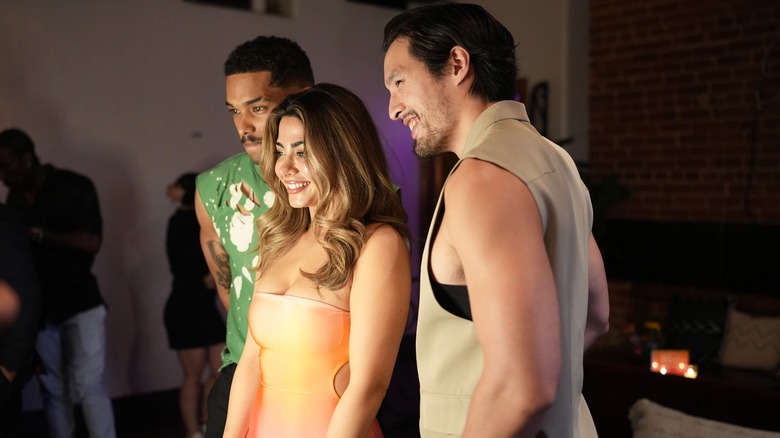 Amazon Prime
Last season, there was a love triangle drama. This season, there's marriage proposal drama and a bit of heartbreak. Do you have a favorite plotline this season that you can give us a sneak peek into?
[In] Episode 2, scene one, Lily has a bit of a fantasy, and that scene was a lot of fun to shoot. Another favorite episode of mine was Lily's doble quinceañera. She gets to do a really fun f*** it list, and I incorporated that in my day-to-day life. I'm doing a fun adventure of the month with one of my girlfriends because we feel that sometimes we take life for granted or we say we want to do things and then we never end up doing it. It was nice to be inspired by Lily this season and do one for myself. 
I also really like ... There's a great moment between Lily and her brother Jorge at the end, and it's so funny and so great, and I'm excited to see what the audience thinks of this season.
It's great that you learn things from your character. How much do you bring to her, and how much has she rubbed off on you?
We're both hopeless or hopeful romantics. I'm recently single as well, and it's nice to hold Lily's hand, and Lily's holding my hand simultaneously in this process. She makes a little bit more mistakes than I would make. I'm a little bit more focused and no red flags immediately. Lily gets carried away. She breaks a couple hearts along the way. There is another love triangle, and things get a little messy, but she learns from her mistakes, and that's what's going to make her stronger.
You're also a [Lifetime] alum, and you've starred opposite Mario Lopez in "Holiday in Santa Fe." What was your experience like working with the channel, especially on holiday content?
[I enjoyed] trying something different. I heard that the [Lifetime] offer came in because the daughter was a huge "Shadowhunters" fan, so that's part of the reason why I took it. Then with Mario Lopez, Mario Lopez is an icon. He's opened so many doors for Latin people in general, and how do I say no to Mario Lopez? Plus, I wanted to know his beauty secrets. [He] and J.Lo [make me think], "What are you guys doing? You guys look ageless." I wanted to dive deep and see what his beauty secrets were. But more than anything, I [enjoy] trying to take on characters that are different and representing my community. 
I was executive producing that movie as well. It was my first executive producing credit, so thank you to Mario and to Mark Roberts for allowing me to be part of that as well. It's little things that come along the way that are little gifts, and you enjoy your time.
Emeraude Toubia is talented off-screen too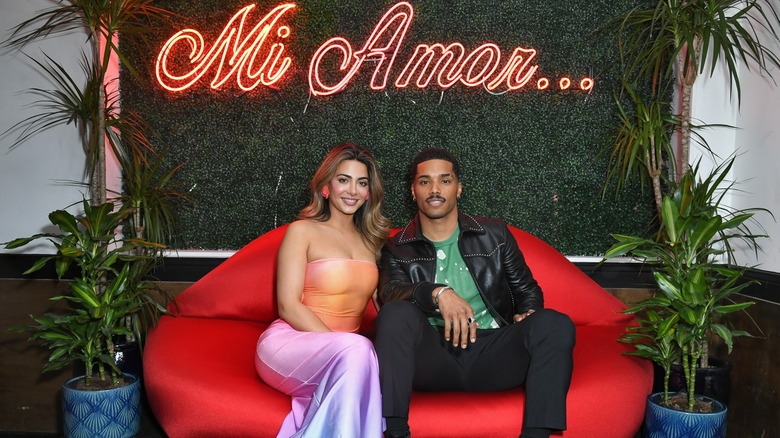 Amazon Prime
Do you see yourself producing more in the future, being behind the scenes more?
Yeah. I opened my production company, and I want to continue to create open doors for people, just [as] Gloria has opened doors for me, and take people under my wing as well and create content that I don't see out there. There's so [many] stories that I want to tell that are very female-driven. I have a couple ideas that I'm ... Right now, we're on pause because of the writers strike, but [I have] a couple ideas that we're taking out and pitching — really fun, great stuff.
This show and the cast do incredible things and have been all over the screen for years. The actor who plays Jorge — I've seen him in "Ugly Betty." I've seen him pretty much everywhere. How did you guys work on your chemistry as siblings?
The casting knew when they saw us [that] it worked. We're also professional. I guess sometimes you can't force chemistry, but we're professional, and some days we're getting along; some days we're not. It's like a siblings thing. We love each other. We get along great. We work long hours. There's days that we keep to ourselves. There's days that we party, we can't go on, we can't stop holding each other. It's like any other relationship. Overall, the energy that you see on screen is an energy that bleeds into behind the scenes. We have a great captain, which is our showrunner, Gloria, and she holds our hand. She's the first one in, last one out, and it's great to be around her.
She was also the showrunner for "One Day at a Time," right?
Yeah, but she was paired with someone else. They were both showrunning. This is her big solo baby.
Her work seems to do a lot in terms of representation across the board, and I love how the characters represent a lot of different communities — queer and trans communities, especially.
Yeah. This show has Isis King playing a transgender character and being transgender. It's [one of the first times] we ever see a transgender character in a rom-com trying to find love. That story hasn't been told before, so we're breaking barriers.
Season 2 of "With Love" debuts on Amazon Prime today, June 2.
This interview has been edited for clarity.