Austin Butler Brought Someone Other Than Girlfriend Kaia Gerber To The Oscars - Here's Why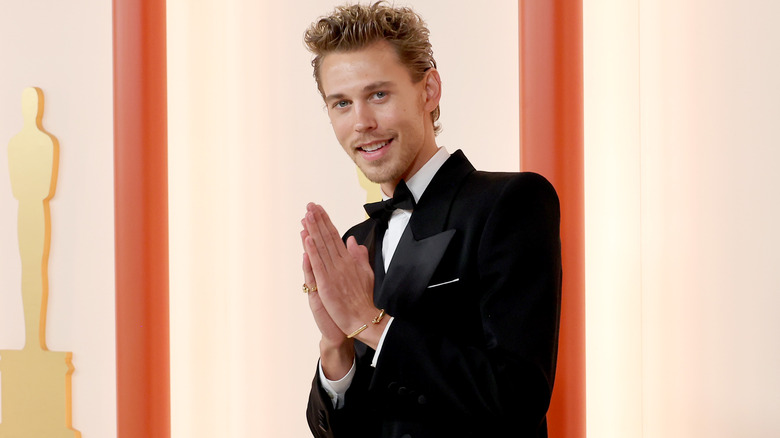 Mike Coppola/Getty Images
At the 2023 Oscars, Austin Butler seemed like a newcomer due to his somewhat under-the-radar rise to fame. After receiving supporting roles in sitcoms on Disney Channel, Nickelodeon, and the CW — followed by even more supporting roles in films like "The Dead Don't Die" and "Once Upon a Time in Hollywood," he caught a major break in the 2022 film "Elvis." He uncannily transformed into Elvis Presley and earned himself a best actor nomination at the Oscars and wins at the BAFTAs and the Golden Globes. 
Prior to these accolades, some may have only known him as the ex-boyfriend of Vanessa Hudgens, whom he dated for the better part of a decade. Despite the fame and more high-profile films in the pipeline like "Dune 2," fans still want to know about his love life. A few years after splitting with Hudgens, Butler began dating model and actor Kaia Gerber. However, she was not by his side at the 2023 Oscars.
Austin Butler brought a close friend to the Oscars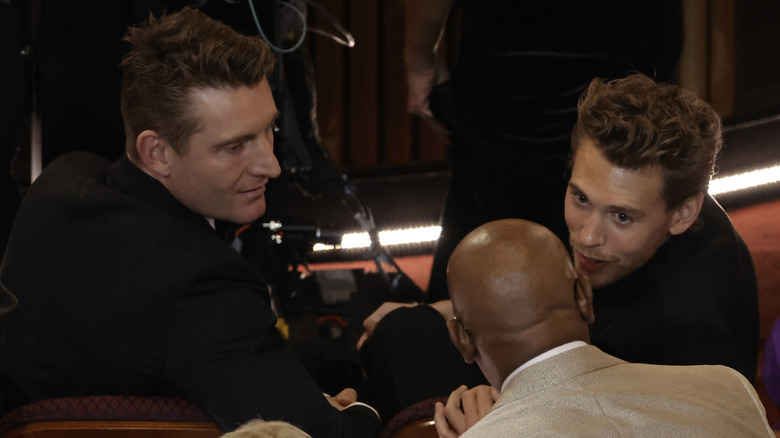 Kevin Winter/Getty Images
Austin Butler and Kaia Gerber were first spotted together in December 2021. Since then, the two have been spotted at major events like the 2022 Met Gala and the 2022 Cannes Film Festival, where "Elvis" premiered and received a 12-minute standing ovation. They have even been seen on vacation with Gerber's famous parents, Cindy Crawford and Rande Gerber. Many expected Gerber to attend the 2023 Oscars as Butler's date, but Butler's plus-one for the night was another important person in his life.
At the Oscars, Butler chose to honor someone in show business who was integral to his acting career. After all, behind every Oscar nominee is a support system of much more than friends, family, or even significant others. Butler's guest for the Oscars was his agent James Farrell. He explained why in an interview with Access Hollywood: "[He's] one of my best friends since I was 17, who then became my agent. I owe my entire career to him," Butler stated. "We grew up together." 
Austin Butler and Kaia Gerber keep quiet about their relationship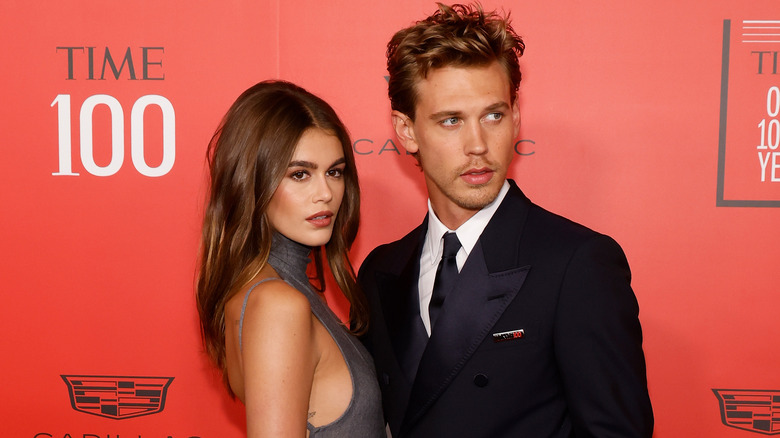 Taylor Hill/Getty Images
Still to some, it may sound strange that Austin Butler did not bring Kaia Gerber to the Oscars. However, this was not the first time that the couple did not appear at a major event together. At the BAFTAs, Butler's plus one was Polly Bennett his movement coach during filming for "Elvis." At the Golden Globes, he brought his sister, and at the SAG Awards, he brought his father. Gerber did join him for an Oscars afterparty hosted by Vanity Fair.
Few red carpet appearances together could be part of Butler and Gerber's efforts to keep their relationship out of the spotlight. Neither post photos with each other online or reveal much to the public. When asked about Gerber in a May 2022 interview with GQ, Butler replied, "I don't think there's anything I want to share about that." They are supportive of each other off the record, however. Butler attended a Celine fashion show in December 2022 wherein Gerber was one of the runway models and they attended the TIME100 Gala together in April 2023 as Butler was included in the publication 100 most influential people of the year.