Will Princess Anne Build The Bridge Between Prince Harry And The Rest Of The Royals?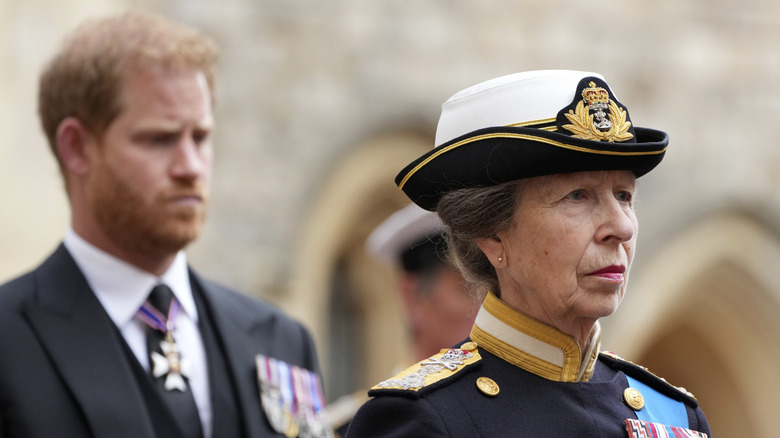 Wpa Pool/Getty Images
It's been over three years since Prince Harry, Duke of Sussex and Meghan Markle, Duchess of Sussex officially stepped away from their roles, and the couple's rift with the royal family hasn't improved much since then. The Sussexes left behind their Windsor cottage and currently live in Montecito, California, only making occasional visits to the U.K. However, the celebrity couple has continued making a splash, to the royals' dismay. 
In 2021, they gave a tell-all interview to Oprah Winfrey claiming, among other things, that Meghan experienced racism at the palace. Soon after, when asked by reporters if the royal family is racist, Prince William seemed to deny his brother's claims, stating emphatically: "We're very much not a racist family" (via the BBC). More recently, Harry published his memoir, "Spare," in which the prince opened up about his self-proclaimed disposable role in the family and all the trials and tribulations he endured with them. 
Harry's father, King Charles III, was reportedly deeply upset as a result, with a source informing Us Weekly: "Charles is distraught. He's angry and outraged that Harry's aired so many embarrassing and damaging assertions, and it's put him in a terrible position with [Queen Consort] Camilla of course now that she's been dragged into the equation." Reconciliation may seem unlikely, but the duke appears to have at least one valuable ally in his family who could help mend fences: Princess Anne.
Princess Anne and Prince Harry reconnected at the coronation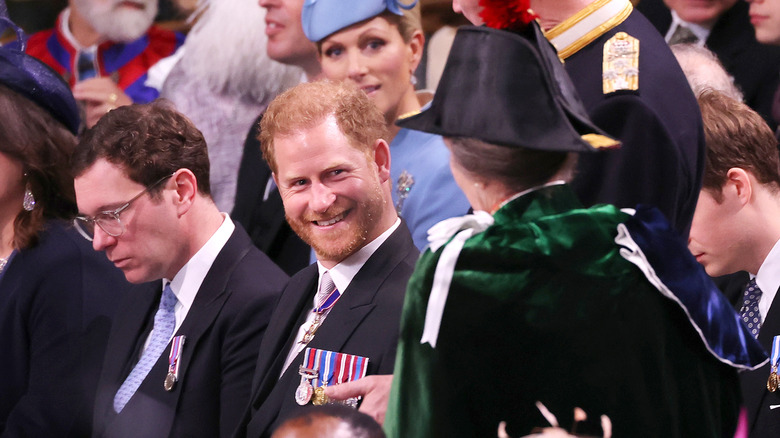 Wpa Pool/Getty Images
There was no shortage of drama surrounding King Charles III's coronation, and undoubtedly Prince Harry contributed to at least some of it. The BBC reported that the Duke of Sussex made a quick solo appearance and left alone following the ceremony, while other members of the royal family headed to the palace balcony. Though he arrived alongside his cousins, Princess Eugenie and Princess Beatrice, Harry wasn't seen interacting with Charles or his estranged older brother, Prince William, per People.
However, the king's sister, Princess Anne, gave Harry a warm reception at the coronation. According to the Daily Mail, she approached the duke at his seat, and the two even shared a laugh. Professional lip-readers also believe that Anne asked if he was okay with where he was seated, with Harry seemingly responding, "I don't mind. Sit at the front!" Later, viewers and onlookers poked fun at the seating arrangement after Anne's feathered hat obstructed Harry's view. 
But from the looks of their earlier interaction and outwardly friendly exchange, Anne appears to feel no animosity toward her nephew — something that can't be said for many other members of the royal family. As Daily Mail journalist and royal expert Kate Mansey posited, "Could Anne be called upon by king and country to build a bridge between father and son? As with most acts of service — at least as far as the Princess Royal is concerned — if duty calls then she will oblige."
They've always had a deep connection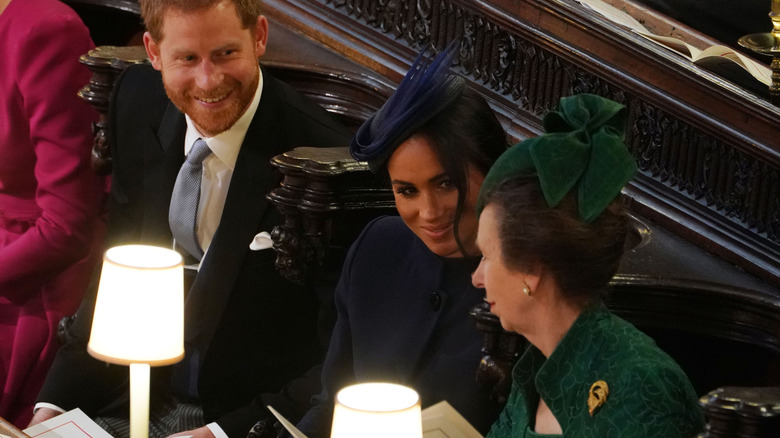 Wpa Pool/Getty Images
Princess Anne and Prince Harry have always had a tender relationship, according to the Daily Mail. A royal insider told the publication, "The Princess Royal has always had a soft spot for Harry and they both have a wicked sense of humour. People talk about Prince Andrew being the Spare but Anne was the second-born, too, and particularly since Diana died has always felt a duty to support her nephew. Both Anne and Harry have a great sense of humour and more in common than it might seem."
Like Harry, Anne has deviated from the norms of the royal family in many ways. She's the only royal to have a criminal record (after her dog attacked two children), and she's known to be somewhat of a reckless driver. Besides getting into trouble, Anne also made history in positive ways, like during Queen Elizabeth II's funeral, when she became the first woman to participate in the Vigil of the Princes. Then, there was her against-the-grain decision to not give her kids HRH titles when they were young. 
The Princess Royal argued in an interview with Vanity Fair, "I think it was probably easier for them, and I think most people would argue that there are downsides to having titles," shortly after the Sussexes decided to give up their own titles. Still, only time will tell if Anne and Harry's similarities will be enough to bring the royal family back together.