The Promise Sarah Ferguson Made To Queen Elizabeth Before She Died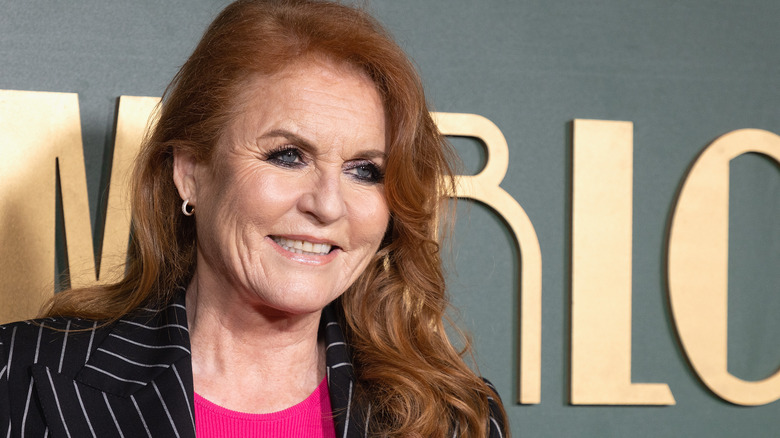 Jo Hale/Getty Images
Prince Andrew, younger brother of King Charles III, married his now-ex wife Sarah Ferguson in the summer of 1986, and the two soon welcomed their daughters, Princess Beatrice and Princess Eugenie (via Town and Country). Upon their marriage, Queen Elizabeth II gave the couple the titles of the Duke and Duchess of York, titles by which both Andrew and "Fergie," as the public affectionately calls Sarah, are still known today.
But in 1996, Prince Andrew and Sarah Ferguson divorced, bringing even more scandal to the royal family that had already been rocked by the separation of the then-Prince Charles and Princess Diana. Unlike the greatly tumultuous divorce of Charles and Diana, however, Andrew's divorce from Fergie did not leave a gaping rift between the two. Instead, the former couple has maintained a surprisingly close and friendly relationship for decades. 
While this unusual arrangement has raised eyebrows for a long time, it became the subject of even more scrutiny after Prince Andrew became embroiled in the drama surrounding child sex abuser Jeffery Epstein. When Andrew settled a civil suit with complainant Virginia Giuffre that alleged Andrew had sexually assaulted Giuffre on three separate occasions when she was underage and under the control of Epstein, many assumed Sarah Ferguson would cut ties. But she did not.     
The promise Fergie made to The Queen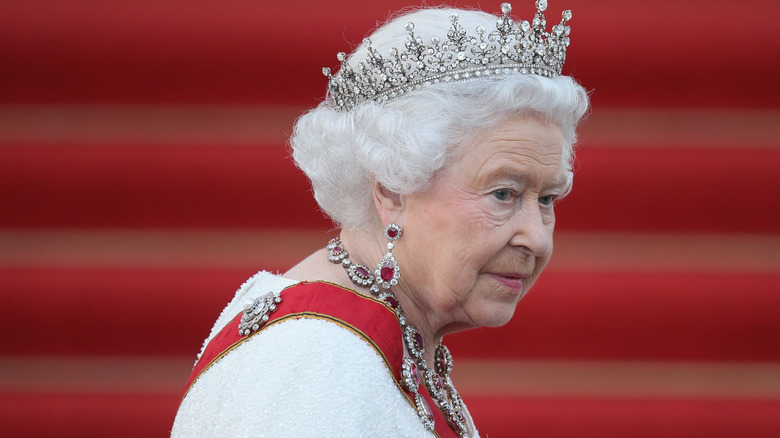 Sean Gallup/Getty Images
Since Prince Andrew's fall from grace following the highly-publicized sexual assault suit, he has not been welcome to participate in public events as a working royal. Further, Andrew has been stripped of his military titles and royal patronages, and he is no longer referred to as His Royal Highness (via NPR). And most recently, Andrew has been asked by his older brother, King Charles III, to move out of the Royal Lodge, where he has lived for over twenty years, and which he still shares with his ex-wife Sarah Ferguson (via New York Post). He has not yet moved out and is said to be refusing to leave.  
So why, after everything, is Sarah Ferguson still a loyal friend and companion to Andrew? A promise she made to the late Queen Elizabeth II might shed some light on Fergie's thinking. Fergie recently told ITV that she had a conversation with The Queen shortly before her death, and during that conversation, she made a promise to the ailing monarch. "I said to her before she died, I will be there with him [Prince Andrew], I will help him on his journey" (via She Knows). The Duchess of York went on to explain why she has empathy for her ex-husband, saying, "We've all got journeys. Just need to be there with kindness, no judgment and I will because he deserves it."
Fergie's loyalty to Prince Andrew explained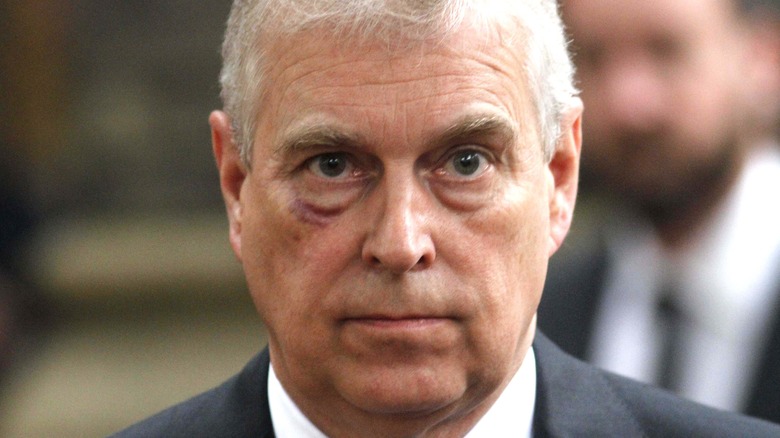 Wpa Pool/Getty Images
An unnamed source close to Prince Andrew and Sarah Ferguson explained that the former couple have long-kept separate bedrooms at the Royal Lodge, and that while some have speculated the two are still in love, that is not the case, calling the connection between the two "the deepest form of friendship" and not a "passionate romance" (via She Knows).  Another unnamed royal insider admitted, "It's a very unusual relationship for a divorced couple, especially to the outside world, but they're utterly devoted and would defend each other to the death."
While some might find Sarah Ferguson's unwillingness to pass judgement admirable, others may feel that there is a point at which someone has gone too far, done something too terrible, to still deserve the type of loyalty and friendship that Sarah provides to Andrew. Certainly, King Charles has no qualms downsizing his brother's royal status as much as possible in spite of Andrew's pushback. But Sarah Ferguson, for her part, seems unwavering in her promise to the late Queen Elizabeth, and remains as close to Andrew as ever as he struggles to maintain his hold on his longtime home.