Ariana Madix Was Never The Same After Scandoval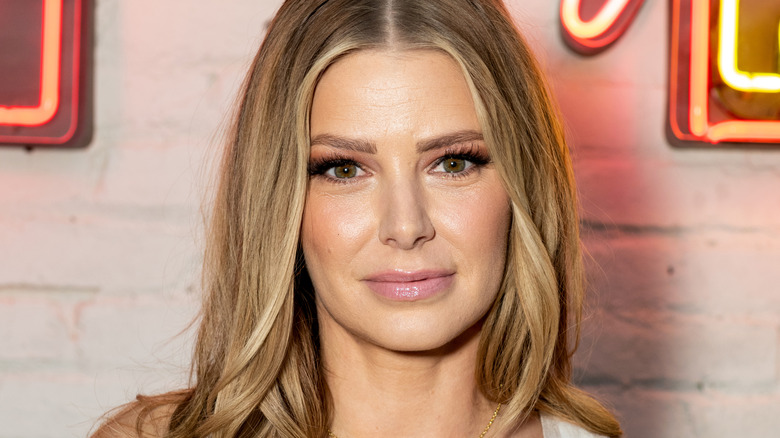 Amanda Edwards/Getty Images
Ariana Madix made a name for herself in the Bravo sphere through the hit reality television series "Vanderpump Rules." From starting as a side character bartending at SUR to becoming a central member of the series after dating castmate Tom Sandoval, Madix became more popular the more screen time she had. Unlike many of the other couples in the series, Madix and Sandoval seemed like they had a solid relationship. By Season 10, they had moved into a $2 million home together and released a book about their love of mixology ("Fancy AF Cocktails"). However, in March 2023, Madix was shocked to find out her partner of nine years had been having an affair with her best friend and castmate Raquelle Levis for over seven months. Now known as "Scandoval," most of the cast and production crew knew nothing about the affair until the news broke.
While most of the cast members of "Vanderpump Rules" have been cheated on or had public breakups before, the Scandoval affair was unique because of the intimate betrayal from both participants. Not only did the Bravo community rally around Madix, but brands and fellow networks jumped at the opportunity to show their support with sponsored deals, paid interviews, commercials, and beyond. Despite undergoing a dark time in her life — plus all the drama surrounding the "VPR" Season 10 reunion — Ariana Madix's future looks brighter than ever without Tom Sandoval. 
She's opening a business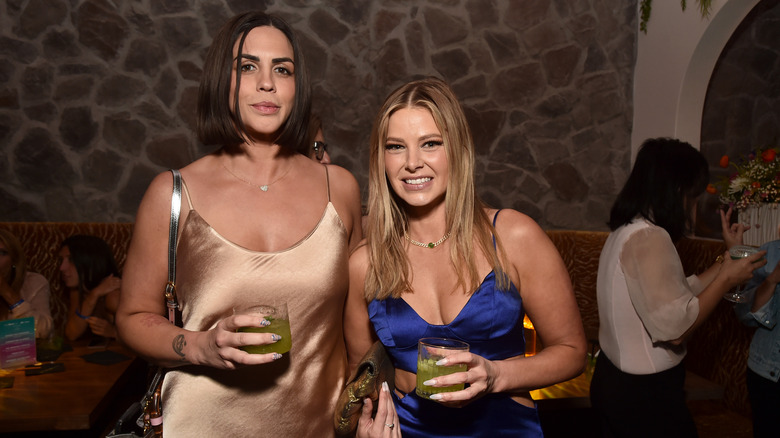 Alberto E. Rodriguez/Getty Images
Throughout Season 9 of "Vanderpump Rules," Ariana Madix and Katie Maloney talked about joining forces to open their own sandwich shop. Their former partners — Tom Sandoval and Tom Schwartz — were also in the process of opening their own bar, and Madix and Maloney wanted to create the same kind of impact around something they both loved: sandwiches. In Season 10, the two castmates expressed that they'd do whatever it took to open their business, Something About Her. But once Scandoval happened, fans weren't sure if the sandwich shop would open after all. 
However, Madix and Maloney put those fears to rest at the show's reunion. Not only did they say that they raised $200,000 for the eatery by selling Something About Her merchandise, but they announced plans to open their doors in summer 2023. With a feminine vibe, the chic eatery will have options like Greek Goddess and spicy turkey sandwiches. According to Katie Maloney, she also wanted to add adult beverages to the menu to complement the sandwiches. She told "Bachelor Happy Hour," "We want it to have its own vibe, its own personality ... A little bit of, like, retail ... a wine [and] beer bar, but maybe cocktails as well, depending on the space and if it has the permit for it." Now that Madix has her focus set on her business, who's to say how successful it could become?
She's moved on from Tom Sandoval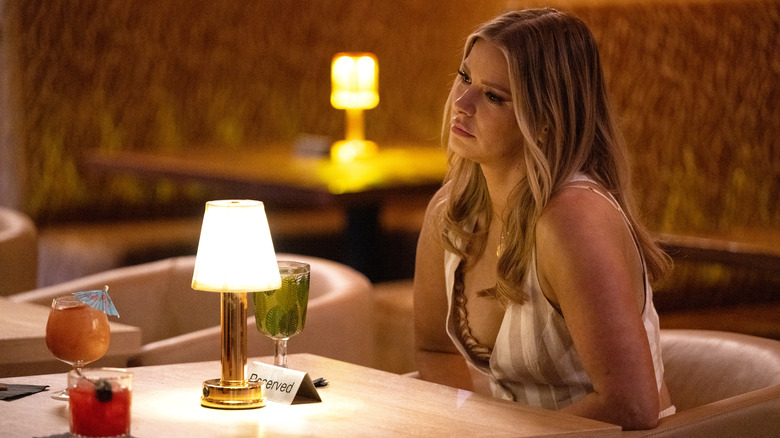 Amanda Edwards/Getty Images
Besides Coachella's status as an annual cultural phenomenon, the music festival is also a major conversation piece on "Vanderpump Rules," and the cast members who attended in 2022 raved about it in various episodes. Knowing what a special time it was for Ariana Madix and her then-boyfriend Tom Sandoval, fans were waiting to see if the two former partners would still go to the mega concert after their breakup in 2023. Madix wound up going, and, in a shocking twist, she was seen dancing with and kissing a mystery man. That man was New York City-based personal trainer Daniel Wai. As it turned out, the two met through mutual friends at a wedding in Mexico weeks prior. They've been spotted together at a Yankees game, at the airport, and strolling around the city hand in hand.
After dating Sandoval for nine years, Madix told "The Today Show" that while she's thriving post-breakup, she isn't rushing her romance with Wai. She explained, "I have just been taking things very, very slow and really enjoying myself." 
She made it big with Uber's new commercial
Scandoval took the world by storm primarily because the Bravo universe didn't see it coming, and neither did Ariana Madix. On the upside, Madix arguably profited from her breakup more than anyone has in "Vanderpump Rules" history. After finding out that her best friend Raquel Leviss had been sleeping with her partner, it wasn't just fans and friends that felt bad for her; it was popular companies and brands as well.
In early May 2023, Uber One released a new commercial starring Madix and two of her castmates and friends, Lala Kent and Scheana Shay. Singing a new Uber-inspired version of Shay's pop single, "Good as Gold," the three women danced and sang in the recording studio, with Madix making a subtle nod to her new single status by comparing Uber One to "freedom." This commercial exemplified just how much Madix's celebrity has grown, primarily due to the amount of positive press she's gotten in the aftermath of her breakup.
She made a splash at NBCU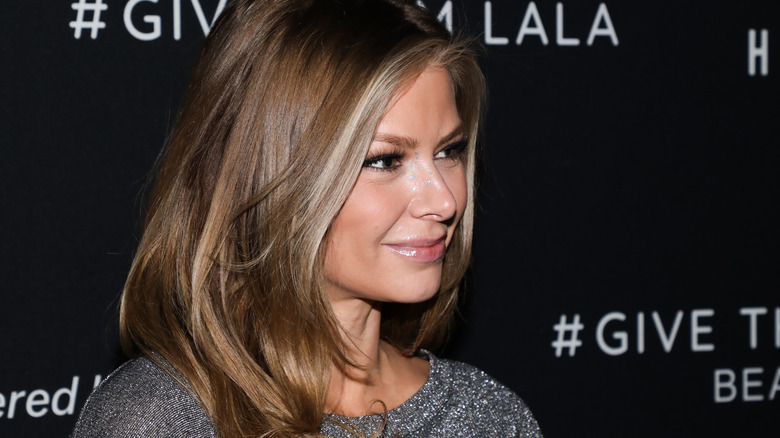 Paul Archuleta/Getty Images
The NBC Universal Upfront is a way for NBC to show advertisers and investors all of the good work they're producing and what to expect. Held at New York City's Radio City Music Hall of Fame, celebrities and business professionals gathered to see NBC's presentation. When it came time to talk about Bravo's weekend-long event, BravoCon, Ariana Madix made a surprise appearance. In yet another nod to Scandoval, Madix started the entertaining BravoCon segment by saying, "How amazing they made me appear here today. Now if only they could make some of those other people disappear." The reference was clearly directed toward Tom Sandoval, but she quickly moved on to the reason she was there, which was announcing that BravoCon would be held in Las Vegas instead of New York City as it had been in the past.
Announcing such big news on behalf of Bravo proved just how much support and trust Madix has from the network that's responsible for making her a reality star.
Keep an eye out for her on Lifetime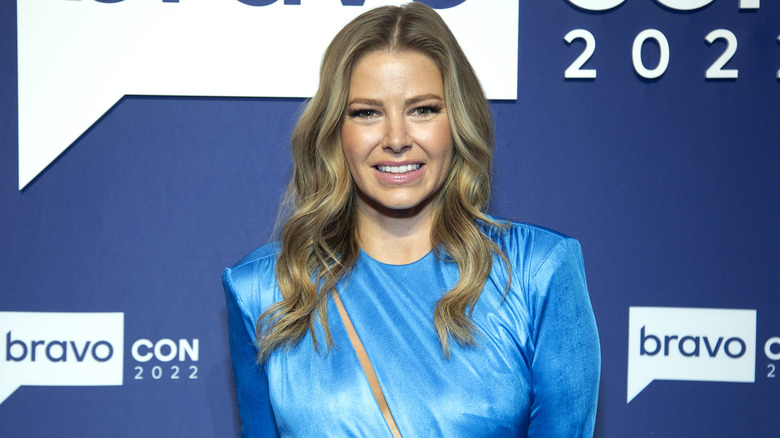 Santiago Felipe/Getty Images
One of the first exciting opportunities post-Scandoval for Ariana Madix was a role in an upcoming Lifetime movie titled "Buying Back My Daughter." The movie follows a mother who fights to save her daughters after they're sex-trafficked. Based on a true story, actress and executive producer of the film, Megan Good, has a lead role while Madix plays a policewoman named Karen. Karen, however, isn't just a local policewoman — she has a deep connection to the case, which makes it an especially important one to solve.
"Buying Back My Daughter" isn't Ariana' Madix's first acting job — she's appeared in episodes of "Single Siblings," "Paradise City," and "Waking Up with Strangers," to name a few. She was also in Yung Gravy's music video for his song "Oops!". With some credits already on her resume, Madix's role in a made-for-TV movie was the perfect next move after her breakup to continue honing her acting skills and get her confidence back.
A sponsored shopping spree at Bloomingdale's
While it might be tempting to hide out after a breakup, Ariana Madix has done anything but. In fact, her star has never been brighter. On top of appearing in a Lifetime movie, finding a new romance, and starring in an Uber One commercial, Madix was also seen doing major social media work with the shopping retailer Bloomingdale's.
In early April 2023, Bloomingdale's shared a stunning video of Ariana Madix posing in a red dress on the streets of New York City. The store shared, "It's Wednesday and we're *pumped* ! Guess who stopped by our NYC flagship for some #revengedress shopping." Unbeknownst to fans, Bloomingdale's helped Madix find her dress for the Season 10 reunion of "Vanderpump Rules." She ended up wearing a stunning red dress designed by Mōnot, and when the reunion aired, it was clear the star chose the best possible revenge dress to square up against her ex-boyfriend, Tom Sandoval.
She attended the White House Correspondents' Dinner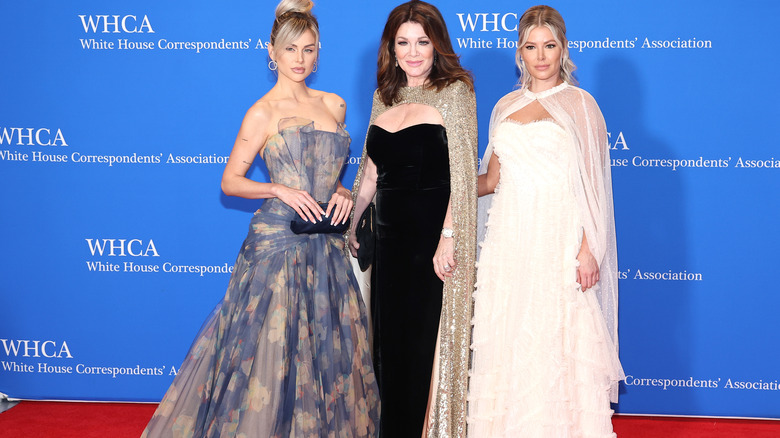 Paul Morigi/Getty Images
Probably the most surprising place that Ariana Madix popped up in 2023 was the White House Correspondents' Dinner. Joining her in Washington were Madix's "Vanderpump Rules" castmates Lala Kent and Lisa Vanderpump. And while it's not uncommon to see celebrities and TV stars at the prestigious annual dinner, it was a first for the trio.
What's more, during the event, comedian and host of the night Roy Wood Jr. made a nod to Scandoval (via The Daily Mail). "I work at 'The Daily Show,' so I too have been blindsided by the sudden departure of the host of a fake news program," he began. "Tucker [Carlson] got caught up. Got caught up like that dude from 'Vanderpump Rules.'" Madix even received a personal tour of the White House, telling The Daily Mail it was a sweet reminder of her late grandmother's love for local politics. 
She staged a move for a SoFi commercial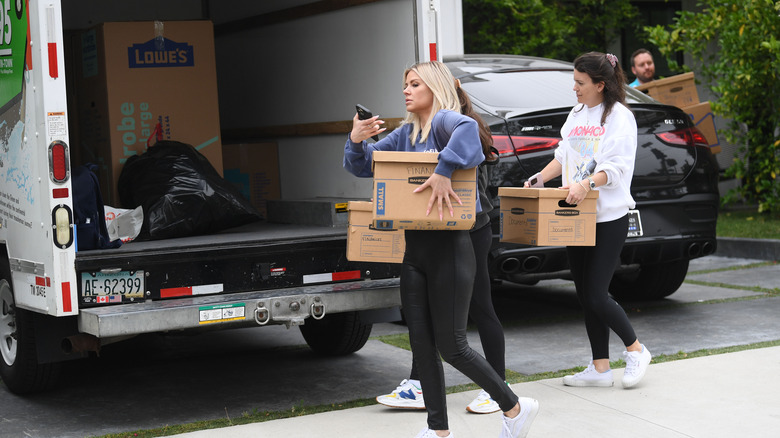 Mega/Getty Images
Ariana Madix has certainly made the best out of a poor situation. With the world rallying around her, she appears to have more high-end sponsorship deals than ever, including with the financial company SoFi. However, the collaboration caused confusion because of the lengths she went to for the sponsorship.
Wearing a SoFi hoodie, Madix posted a video on her Instagram story in front of her house with a few boxes behind her with the caption, "Ready to dip out" (which was a nod to her ex-boyfriend's love of the phrase "dipped out"). Fans quickly assumed that Madix was moving out of the multimillion-dollar home she shared with Tom Sandoval — especially when she loaded boxes labeled "finances" into a moving truck.
However, Madix clarified her next move via her Instagram story. She also posted a video saying, "I'm moving up, not out. Well not yet, at least," (via The Sun). Shortly after, she shared a commercial talking about using SoFi so she can get professional financial planning to move into her own home. Making light of the breakup, the commercial was upbeat and informative. And while some fans believed she went too far by pretending to move out of the home she shared with Sandoval for a sponsored post, others were happy she was getting paid and moving on from her tumultuous relationship.
Countless popular outlets have shared her story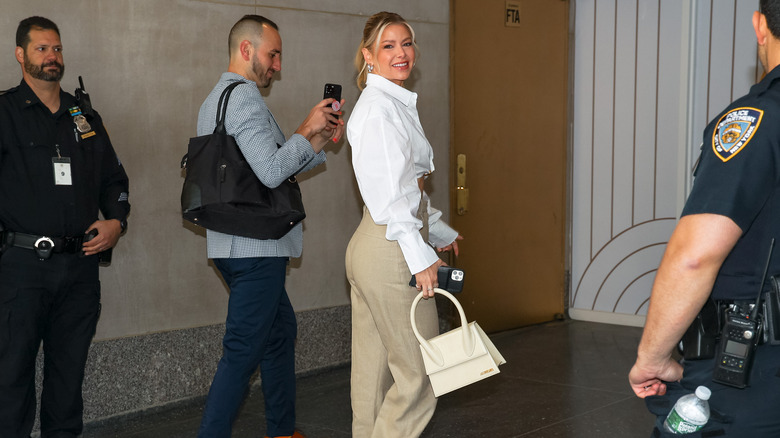 Jason Howard/bauer-griffin/Getty Images
When news of Scandoval broke, it seemed as though every popular tabloid, podcast, and talk show wanted a piece of the latest gossip. Tom Sandoval shared his side of things on the "Howie Mandel Does Stuff" podcast in April, but Ariana Madix waited until after the "Vanderpump Rules" reunion aired to share her side of the breakup with Andy Cohen on "Watch What Happens Live." After the initial interview, the star went on a small tour doing interviews about how she's handled her newfound fame after such a public breakup.
Some of Madix's bigger interviews were with "The Today Show," "Call Her Daddy," and The New York Times. With millions of people watching, reading, and listening to every word Madix had to say about the deception of a lifetime, she told The New York Times that it's been a lot of pressure, but all she can do is focus on the present and live her life authentically. 
She was supported at Coachella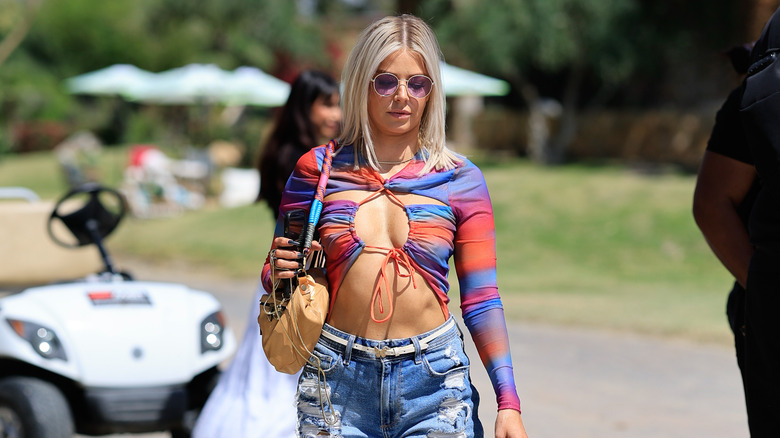 Rachpoot/bauer-griffin/Getty Images
It's no secret that the cast of "Vanderpump Rules" loves going to the desert festival Coachella. Ariana Madix's friend and fellow cast member James Kennedy even threw a Coachella-themed engagement party when he proposed to Raquel Leviss. For fans, knowing how special of a time the festival was for Madix's former relationship, it was a toss-up on if she would go and celebrate or if she would lay low, especially since Coachella happened so soon after their breakup. Happily, the reality star did go to Coachella with her closest friends and was even invited to some exclusive parties. 
On her Instagram stories, Madix showed off that she was at Kourtney Kardashian's POOSH party, where she ended up getting an alien tattoo. She was later seen at the Celsius Oasis Vibe party with her best friend and castmate, Scheana Shay. With so much negativity surrounding her breakup in the press, it was good for Bravo fans to see the "Vanderpump Rules" star so unfazed and enjoying the desert.
A Euro trip was needed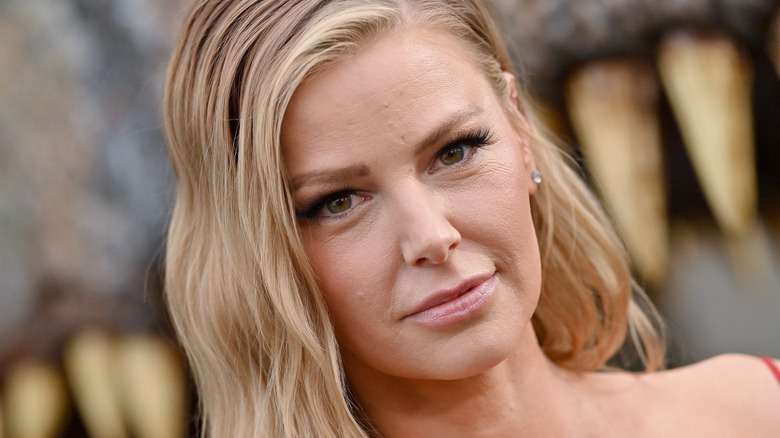 Axelle/bauer-griffin/Getty Images
Instead of hanging around Los Angeles in the same house she lived in with her ex-boyfriend Tom Sandoval, Ariana Madix headed for the airport and jetted off to Europe for some R&R. With her close friends in tow, Madix visited Edinburgh, Scotland. Madix spent her time sightseeing and eating local fare, looking absolutely carefree. Unlike some of the more emotional scenes from the "VPR" reunion, Madix and her castmates seemed to be in good spirits while visiting the cozy Scottish city.
The reality star was later seen in Cheshire, England with her business partner, Katie Maloney, and former "Vanderpump Rules" cast member Dayna Kathan. The three smiled on Instagram before jumping on a double-decker tour bus. The trio was in the United Kingdom for a wedding, and although her Euro trip didn't last long, Madix seemed refreshed overseas before coming back to the West Coast to do more interviews centered around Scandoval.
Is Dancing With the Stars her next big break?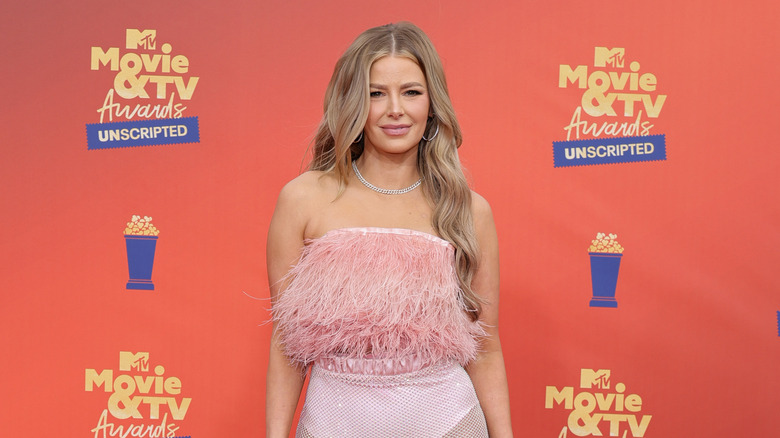 Amy Sussman/Getty Images
The Bravo world knew how big of a deal Scandoval was, but no one was prepared for the number of opportunities that were about to come Ariana Madix's way post-breakup. Getting a Lifetime movie gig shortly after the breakup was just the start; not long after that, it was rumored that Madix was going to be a part of the epic reality dance competition, "Dancing With the Stars." The series is already going on its 32nd season and has included major celebrities like NSYNC's Lance Bass, actress and "The Real Housewives of Beverly Hills" star Denise Richards, and even talk show host Jerry Springer.
Premiering this fall, fans of the dance competition don't know who's in the cast yet, but Madix's name has been thrown in the hat. The rumors continued gaining traction when Page Six shared that ABC was already in talks with Madix, according to an insider. But would her participation in "DWTS" affect her time on "Vanderpump Rules," which is owned by a rival network? According to Page Six's source, no. Apparently, the star "has already received all of the approvals and sign-offs from NBC Universal."
She dropped a fun line of merchandise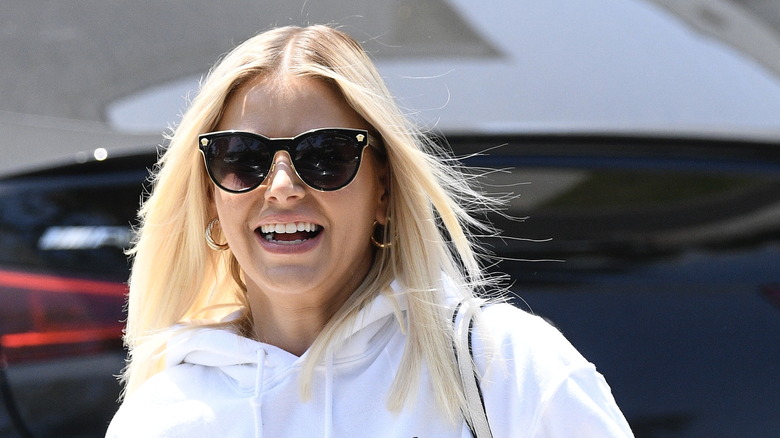 Photology/Getty Images
Although Scandoval is seemingly one of the lowest parts of Ariana Madix's personal life, it's also one of her most successful. As emotional as it's been, the breakup has brought countless opportunities to Madix's doorstep that have only made her more independent from her former relationship.
Before Madix was living her best life post-breakup, fans were asking how they could support her in the star's Instagram comments section. Shortly after that, she released Team Ariana gear for fans to buy. From hats to phone cases to hoodies, Madix also sold merchandise featuring a few of her catchphrases from the show. One of her more popular quotes ("I was born f***ing cool") appears to be a crowd favorite, with social media fans buying merch from her website and posting the slogan. Between personal merchandise, a movie, and sponsored social media posts, Madix is raking in the big bucks and thriving.
Will Ariana Madix be a part of Season 11?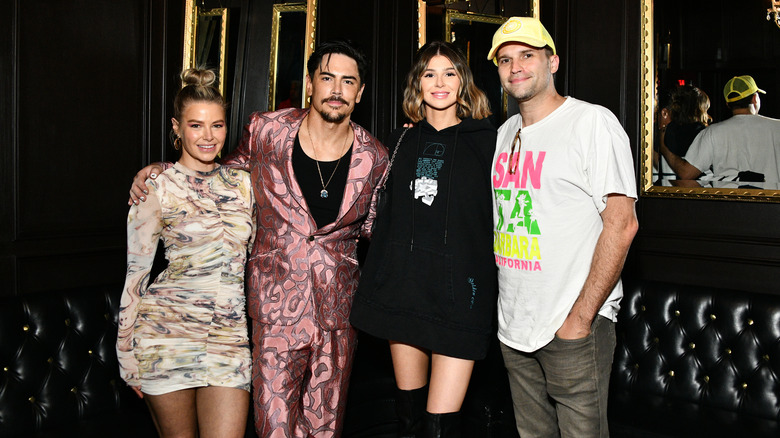 Araya Doheny/Getty Images
It's unclear who will appear in a potential Season 11 of "Vanderpump Rules." In an interview with the Los Angeles Times with her co-star and business partner Katie Maloney, Ariana Madix said, "It's not up to us who comes back. I'm just going to be doing me." And as expected, she noted that if she did come back for an 11th season, she wouldn't film with her ex-boyfriend, Tom Sandoval, or Raquel Leviss. "Me doing me means they are not a part of my life," she clarified. And with the entire cast cutting ties from Sandoval and Leviss, it seems likely that the series will fire Tom Sandoval, even though he's been an original cast member from the start.
With such an intense scandal in the friend group, Executive Producer for "Vanderpump Rules" Alex Baskin told Variety that the series was on "pause." The cast and crew both required some time to recoup after such a life-altering deception and needed to refocus before filming again. In the end, as long as she doesn't have to film with her ex Sandoval, it seems like Madix is up for another season to show fans where her life is now.