100 Day Dream Home Was Initially Pitched As Taking Even Less Time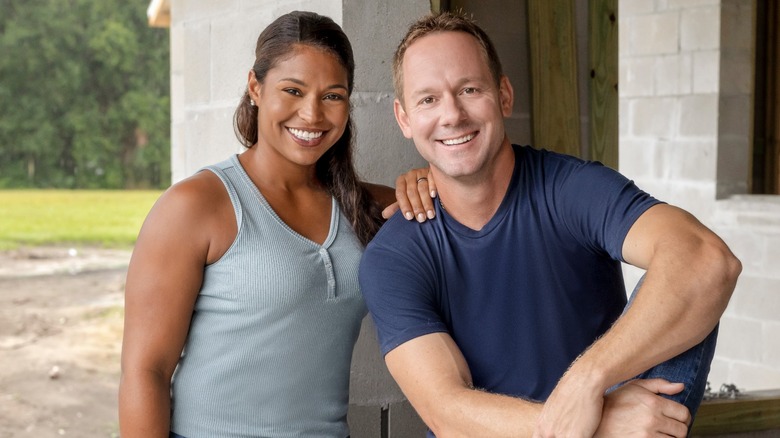 HGTV
For most people, a renovation can take just over three months; forget about building a dream home in that time. Constructing a house from scratch usually entails months of work, often lasting longer than a year. Of course, build time can vary, depending on the weather, how long it takes homeowners to pick out features, and unforeseen issues. But, for much of the population, building a home in a little over 90 days can seem like an impossible feat.
Unless you're Brian and Mika Kleinschmidt, the HGTV celebrities known for turning out dream homes in just 100 days. The husband and wife team are experts at whipping up drool-worthy residential spaces in a super-tight timeframe. What you see on television isn't even the couple's speediest builds. Before their series, Dirt 2 Design (the couple's company) allegedly built homes in less time. The Tampa Bay Times reports that the couple's home completion record is just 63 days.
However, a 63-day time limit was out of the question when they signed on to HGTV's "100 Day Dream Home" production. And, in the end, even 90 days was cutting it too close for producers. After the 2019 launch, "90 Day Dream Home" added a few more days to the title and timeframe.
How 90 Day Dream Home became 100 Day Dream Home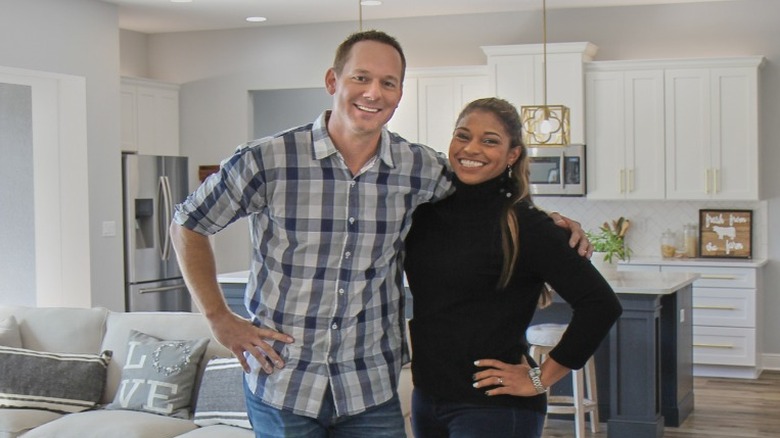 HGTV
Clearly, Brian and Mika Kleinschmidt have no problem churning out a gorgeous home in around three months. However, HGTV likes to play it safe for their fans, the production team, and the homeowners. So, they opted to give the husband-and-wife team 90 days instead of 100. On the HGTV website, you can still see the remnants of the initial timeline provided by the network, "90 Day Dream Home," which includes only one episode in Season 1 in which the Kleinschmidts build a "dream home" for two lucky "newlywed clients" in "90 days or less" (according to the HGTV synopsis). Today, "100 Day Dream Home" is on Season 4 of creating homeowners' ideal living spaces.
Brian and Mika have yet to miss a deadline, thanks to their honed knowledge of home-building lead times and homeowners' personalities. In an interview with House Digest, Mika said, "We do have a formula of when we need to order certain supplies because of lead time ... and we're counting construction timeframe, not any permitting or anything on the front end." Plus, Mika notes that not everyone is a candidate for the show, warning that "indecisive" clients aren't usually a good fit.
Brian also mentioned that their team is really what makes the dream work. Unlike in normal builds, many construction crew members are willing to be in the home at the same time; plus, the couple's use of "private inspectors" and not starting the 100-day countdown until they break ground really helps expedite and streamline the process.
100 Day Dream Home hiccups
Although Brian and Mika haven't broken their reputation for building a dream home in a little over three months, it doesn't mean the show isn't without its tense moments. With the show taking place in Southern Florida, weather concerns like hurricanes routinely threaten to derail the timeline. Even if they don't strike the building directly, torrential rains and gale-force winds have the power to hold up supply deliveries and shut down work. More than building the home, furnishing it can also be a nightmare; so any product delays are truly disconcerting for the duo.
The Kleinschmidt's told House Digest that, in Season 4, another obstacle was trying to tackle their first commercial build. Instead of a residential abode, the HGTV personalities took on a 12-room hotel. The only problem was that the owners began taking reservations during the 100-day renovation. There's nothing like an 11 a.m. guest check-in to put the pressure on! Brian reflected, " ... we literally did the reveal, and the next day, guests were checking in."
A three-month-ish home build from start to finish is enough to move any homeowner to tears (and maybe a contractor, too, though likely not tears of joy). Still, for the Kleinschmidt's, it's just another day and another HGTV season. Whether it's 90 days or 100, this power couple can create a residential oasis faster than most people can pick out countertops.