Susan Boyle Delivers Update On Private Health Struggles In Surprise On-Stage Return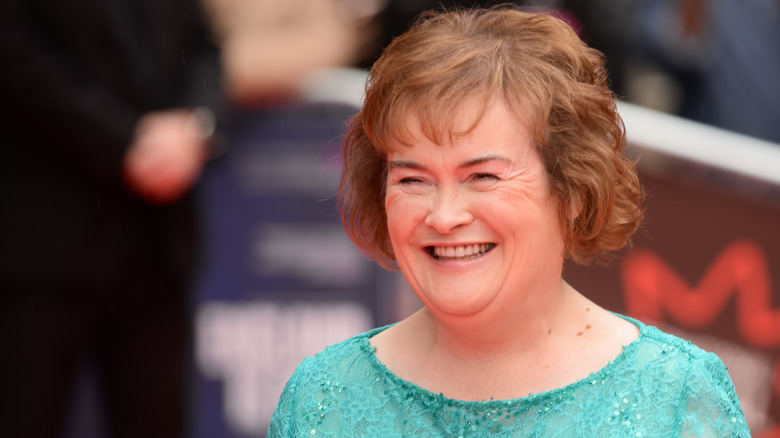 Roberto Ricciuti/Getty Images
In 2009, 47-year-old Susan Boyle of Scotland took the stage for "Britain's Got Talent," and she absolutely blew away the judges and the audience as she sang "I Dreamed A Dream" from "Les Misérables." Of her unexpectedly stunning performance, judge Amanda Holden said that Boyle completely flipped the script: "I know that everybody was against you. I honestly think that we were all being very cynical, and that was the biggest wakeup call ever . . . It was a complete privilege listening to that." After the audition performance, which went viral, Boyle had a quick rise to fame. She came in second during her season of "Britain's Got Talent," and after the show, Boyle released a number of albums — two of which were nominated for a Grammy — and went on tour.
The singer has been out of the spotlight in recent years: here's the real reason you don't hear about Boyle anymore. But she made an unexpected return to the "Britain's Got Talent" stage to sing the song that put her on the showbiz map 14 years before. But it turns out that her being able to sing on that stage came about only after a lot of recovery after having had a stroke in 2022, per Daily Mail.
Susan Boyle had to work for a year to sing again
During this year's finale of "Britain's Got Talent," Boyle joined the West End cast of "Les Misérables" during their performance of "I Dreamed A Dream." Afterward, she spoke with presenters Ant and Dec about what it was like to be back on the "Britain's Got Talent" stage, and she revealed that it was "extra special" to be there again since "last April there, I suffered a minor stroke." Boyle's health issues seemed to come as a surprise to Ant and Dec, but Simon Cowell had already known about it, and he said, "I knew you weren't well, but if anyone was going to come back, you were going to come back because we wouldn't be the same without you." 
Apparently, the stroke had been damaging enough that she had been left unable to speak or sing, and it took months of hard work to regain her beautiful singing voice, as the Daily Mail reported. Boyle posted some pictures of the event on her Facebook page and wrote about some of the work it took to get her voice back and how happy she was that she was able to sing for "Britain's Got Talent" again, noting that "tonight my hard work & perseverance paid off, singing the song that started it all." We're glad her recovery went well, and if the comments on her Facebook post are any indication, her fans are too!
Frazer Harrison/Getty Images
Healing from a stroke takes time and includes different forms of therapy to help an individual get better. While Susan didn't go into detail about what helped her recover, the National Institute of Health lists physical, speech, and occupational therapy as methods used to help restore one's health. The site also details the signs, like feeling dizzy or being unable to speak clearly, that indicate a stroke is about to occur. 
In another social media post, this time shared on Instagram, Susan wrote, "For the past year I have worked so hard to get my speech and singing back, with the sole aim of being able to sing on stage again ..." Being able to perform on "Britain's Got Talent" was a highlight for the singer who credits her strong determination for the reason she was able to do so. Coupled with the gratitude she felt about the outpouring of support she received, Susan was able to help "Britain's Got Talent" end on an unforgettable note.