Arnold Schwarzenegger Has Nothing But Praise For Former Co-Star Bruce Willis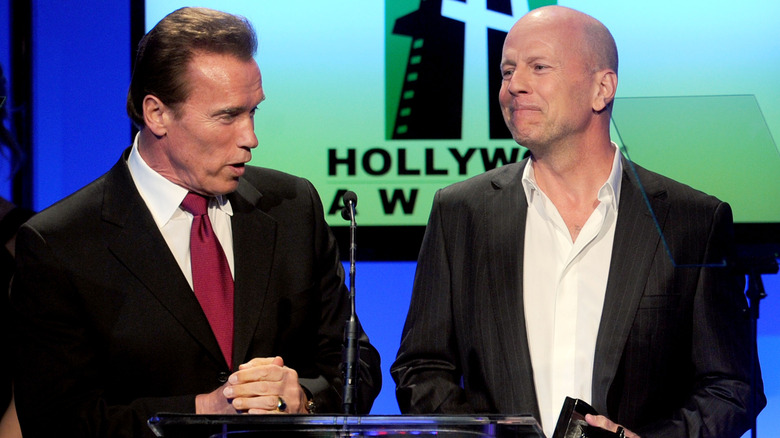 Alberto E. Rodriguez/Getty Images
To say the least, Arnold Schwarzenegger has had a long and successful career. The Austria-born star began his work as a bodybuilder and moved on to become an acclaimed Hollywood actor, a lucrative investor, and even the governor of California. Down this long, winding path to fame and fortune, Schwarzenegger has kept company with some of Hollywood's biggest stars. One of his most enduring friendships has been with Bruce Willis.
Back in the '90s, the two movie stars and fellow actor Sylvester Stallone partnered together in the restaurant franchise Planet Hollywood. In later years, the three united again, working on the movie franchise "The Expendables." Through thick and thin, Schwarzenegger and Willis have remained supportive friends. This has become even more apparent recently as Bruce Willis has made public his diagnosis of a progressing cognitive disorder. 
Now, more than ever, Schwarzenegger shares that he has nothing but respect and admiration for Willis.
Arnold Schwarzenegger and Bruce Willis' friendship goes way back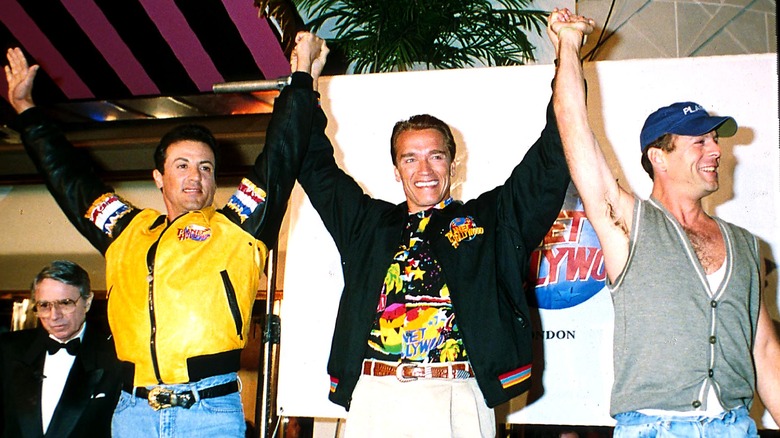 Dave Benett/ Getty Images
In the '80s and '90s, young Arnold Schwarzenegger and Bruce Willis were two of Hollywood's biggest celebrities. Schwarzenegger's popularity went sky high with his role in "The Terminator"; meanwhile, Willis was appearing in a series of blockbuster films like "Die Hard" and "Pulp Fiction." The two became known for their roles in high-intensity action films and the impeccably fit physiques that they had to maintain for these parts. Despite their similarities, they both knew that they offered something very unique and valuable.
In a clip from a 1991 interview with Terry Wogan, Sylvester Stallone, Arnold Schwarzenegger, and Bruce Willis all agreed on this. Wogan egged them on a bit, saying that they must all be competing for the same roles. However, the three buddies quickly shook their heads and explained that they find each other talented in very different ways. These action stars didn't let jealousy get in the way of their friendship. According to the interview, the three considered each other good pals. Schwarzenegger and Willis even shared that they'd been on ski trips with one another. Schwarzenegger smiled, calling them "skiing partners."
Arnold Schwarzenegger's response to Bruce Willis' retirement and health issues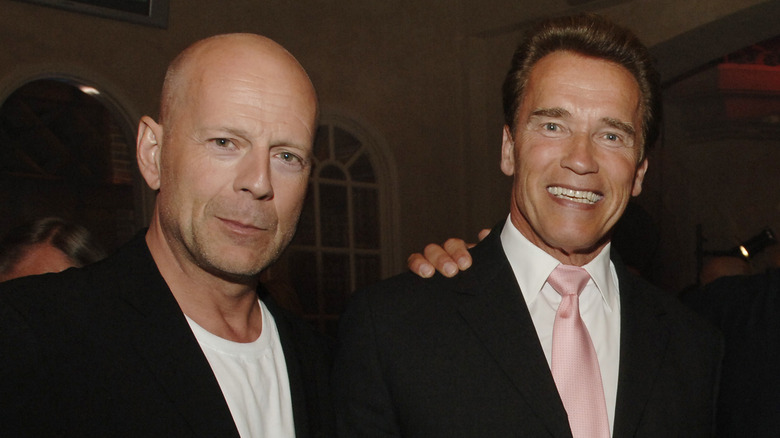 Denise Truscello/ Getty Images
Sadly, in March 2022, Bruce Willis' family announced devastating health news about the actor. Via Instagram, his wife, Emma Heming Willis, shared that Bruce Willis was diagnosed with aphasia and would be retiring from acting. Unfortunately, Heming Willis updated the public on her husband's health status in February 2023. Beneath her Instagram post of Willis smiling peacefully in front of a beautiful beach, she wrote, "Bruce's condition has progressed and we now have a more specific diagnosis: frontotemporal dementia (known as FTD)."
In an interview with Cinema Blend, Schwarzenegger commented on his friend's unfortunate but necessary goodbye to acting. "I think that he's fantastic. He was, always for years and years, is a huge, huge star. And I think that he will always be remembered as a great, great star. And a kind man." 
While Bruce Willis will no longer continue to pursue his career in Hollywood to focus on his health and family, it's certain that he's left his mark on the world of acting and the lifelong friends he made there.