Kris Jenner's New Look Stirred Up Some Ruthless Comments From Fans
Jc Olivera/Getty Images
The Kardashian family — who has undergone a stunning transformation over the years — has been very open about many aspects of their lives. Kris Jenner and her daughters have shared some very personal things with their reality TV fans, including divorces, births, businesses, marriages, and so much more. However, one thing that fans have always been curious about is the family's plastic surgery procedures. In 2023, Jenner fell under heavy criticism for her appearance after rumors of more plastic surgery surfaced. For her part, the Kardashian "momager" has admitted to having several cosmetic treatments throughout her lifetime, starting with a breast augmentation decades ago. However, she didn't stop there.
"Botox and fillers and laser [treatments] and things like that. I had a boob job in the '80s after four kids because gravity took over," Jenner said of her plastic surgery history during an appearance on "Good Work" in 2015. Jenner went on to explain that decades later she had a breast lift and her implants replaced with smaller ones. However, one thing that she claims she's never touched is her nose. "I get a lot of people saying I got my nose done ... never had my nose done," she noted at the time. "I have the same nose I was born with," she stated (via Life & Style).
Sadly, Jenner's 2023 appearance has sparked some harsh comments from fans.
Fans claimed Kris looked different during Season 3 of The Kardashians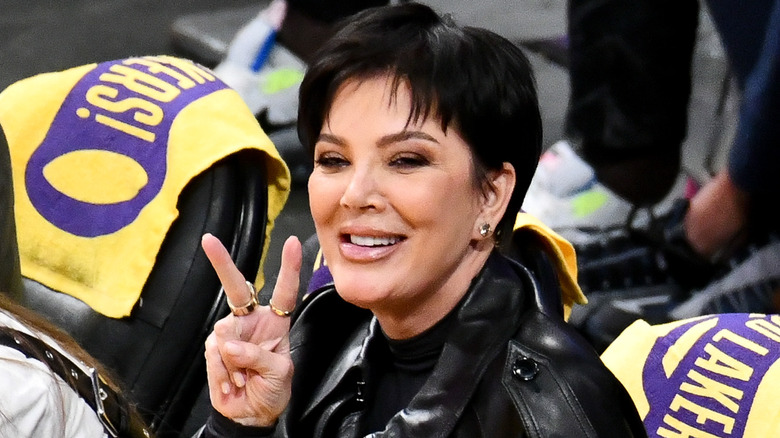 Allen Berezovsky/Getty Images
During the Season 3 premiere of "The Kardashians" on Hulu, many fans noticed that Kris Jenner's appearance looked different than in the past. During one specific scene in which Jenner consoles her daughter Kim Kardashian, the Kardashian matriarch's face appears tighter, and her cheekbones and lips are highlighted. Some fans of the show took to social media to reveal that Jenner looked less like herself and more like other famous stars who have had plastic surgery, such as Liza Minnelli and Michael Jackson. Other fans compared Jenner's looks to that of James Charles, Elvis, and even her ex, Caitlyn Jenner.
"Kris looks awful I was shocked to see how badly botched her face is. She should embrace some wrinkles she's almost 70 this looks very odd and scary," one person said (via The Daily Star). "She kinda looks like that guy who got plastic surgery to look like a human Ken doll," another stated. Another person agreed, commenting "Someone tell Kris [to] put the filler down she looks like a human KEN doll." However, others believe that Jenner's appearance may be the product of editing and filters used to make her look younger on camera. "The amount of airbrushing in this show is insane," one person revealed, per Page Six. "The smoothing filter is actually so distracting lol," another quipped.
Whether Jenner had work done or editing to make her appear different during the episode, many fans agree that she was nearly unrecognizable.
Other Kardashian family members who've gone under the knife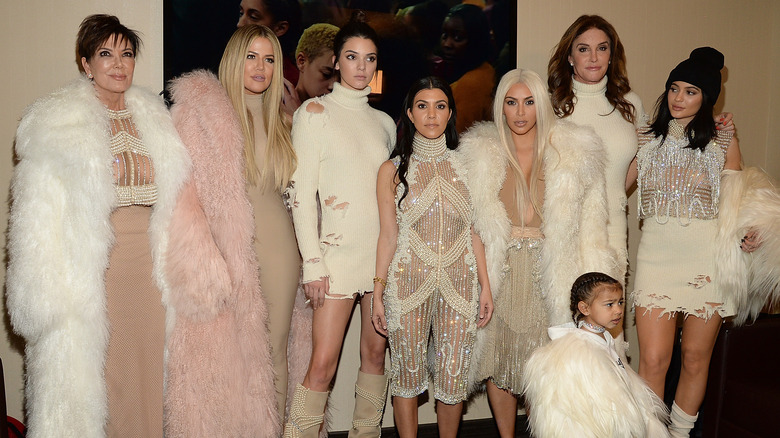 Kevin Mazur/Getty Images
Meanwhile, Kris Jenner also had a neck lift and a chin lift in 2011, which was documented on the family's reality series. However, she isn't the only member of the Kardashian/Jenner family that has admitted to going under the knife (via Just Jared). Kourtney Kardashian previously had a breast augmentation, which she later confessed that she regretted. Meanwhile, Kim Kardashian has copped to having Botox, butt injections, and skin tightening procedures. She's also had her stretch marks removed and her belly button tightened after pregnancy. Kylie Jenner has come clean about having her lips plumped and using fillers. Of course, Khloe Kardashian is always at the center of plastic surgery rumors as well. However, the youngest of the Kardashian sisters claims that she's had injections and a nose job, but she's denied other plastic surgery rumors.
Meanwhile, Kendall Jenner has never admitted to having any plastic surgery procedures. "As a model, why would I have my face reconstructed? It doesn't even make sense," she said in the past (via Us Weekly). She also added that criticizing people's appearances is cruel. "People forget that they're talking about real people who have real feelings and actually live their everyday lives (for the most part) just like everyone else," the model stated.