The Dress That Jennifer Aniston Stole From The Set Of Friends Didn't Belong To Rachel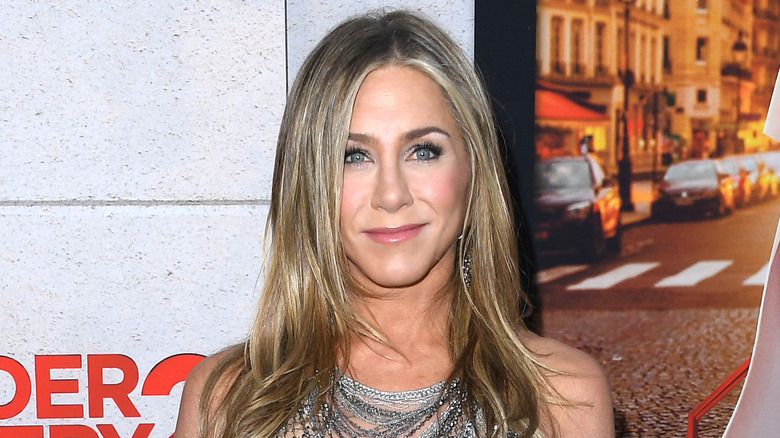 Steve Granitz/Getty Images
Jennifer Aniston has been beloved by fans for decades. However, in addition to her acting skills, fans look to her for fashion and beauty inspiration as well. The former "Friends" star has been slaying her looks for years and was the epitome of cool and sexy in the 1990s. It all started with the "Rachel" haircut that everyone wanted to mimic shortly after "Friends" became a hit TV series. Aniston's character, Rachel Green, became someone that women looked at to amp up their style from then on, copying not only her hair but her clothing as well, per ELLE.
Although "Friends" officially ended its 10-year run in 2004, it has become a pop culture phenomenon, and new generations of fans are born all the time. According to Rivet, the show has been a major influence on Gen Z when it comes to revisiting iconic '90s styles. Even trendy TV shows such as "Euphoria" are taking cues from the fashion of "Friends," which seems to be timeless.
Aniston seemingly knew that some of the styles from the show would never be outdated and even opted to snag one very familiar dress from the set before the show wrapped up. To this day, the actor still rocks the garment to prove just how great it looks.
Jennifer Aniston stole Monica's dress from Friends
While Jennifer Aniston's "Friends" character, Rachel Green, may have been the one known for her style during the show's run, the actor actually loved one of the other character's wardrobe pieces so much that she stole it from the set. Aniston has admitted that she took a flower print V-neck dress with lace trim that was previously worn by Courteney Cox's character, Monica Geller. The dress makes an appearance in the Season 8 episode where Rachel's baby is past due and she's feeling miserable. While the dress wasn't anything spectacular in the scope of "Friends" fashion, Aniston saw it as a gem and knew she had to get her hands on it.
In 2019, the actor admitted her theft: "I still have a dress that I still wear to this day that I stole from Monica's closet," she said (via Bustle.) Aniston again admitted to taking the dress during an interview with People Magazine, revealing that she stole the garment off of Cox's costume rack before the series wrapped. The dress is now a key piece in Aniston's personal wardrobe. "I went into [Monica's] line of clothes and I pulled it out ... I still wear it to this day and it still fits."
In 2022, Aniston proved that she still owns the dress and wears it when she posed for an Instagram photo with her hairstylist Chris McMillian while wearing the piece.
Aniston kept other pieces from her Friends days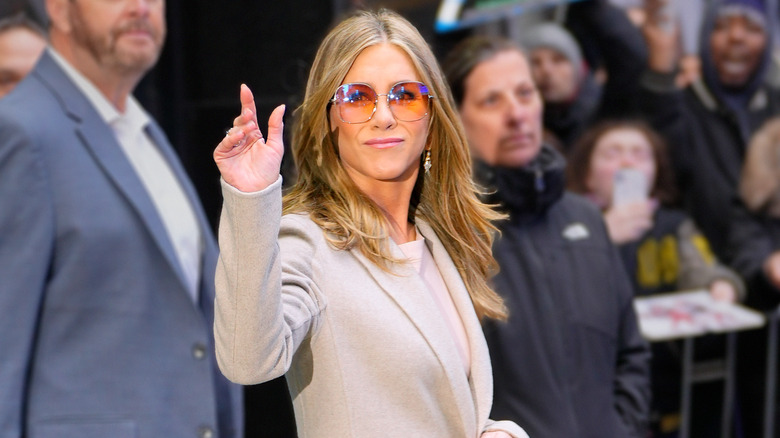 Gotham/Getty Images
Of course, Jennifer Aniston didn't just take home one of Courteney Cox's wardrobe pieces from "Friends." She also has some of Rachel's stylish clothing as well. During a 2016 interview with Vogue, Aniston admitted that she was glad to hear that '90s fashion was coming back into style because she's still got some of her old clothes from her "Friends" days. "That's really good because I have certain things I have yet to throw away from my days on 'Friends.' My red squared-toe loafers might actually be making a comeback, that's awesome. See, it's coming back—I knew it. I also have those nice high-waisted jeans. I'm so glad I didn't throw any of those out. I loved the '90s," Aniston told the outlet.
While Aniston may have been a fashion inspiration in the '90s, the actor claims that her fashion in the '80s wasn't always on point. "Sometimes what's in fashion isn't always your best friend," she admitted. "The amount of makeup I piled onto my skin and the wonderful hair colors and cuts that my hair went through—I don't look back fondly on some of those choices. But I do laugh at them!"
Not that fans know that Aniston has a few pieces from her days on "Friends," everyone will be keeping a closer look at what the actor is wearing to see if they recognize her outfit from the iconic TV series.