Are You Choosing The Right Type Of Foundation To Apply To Textured Skin?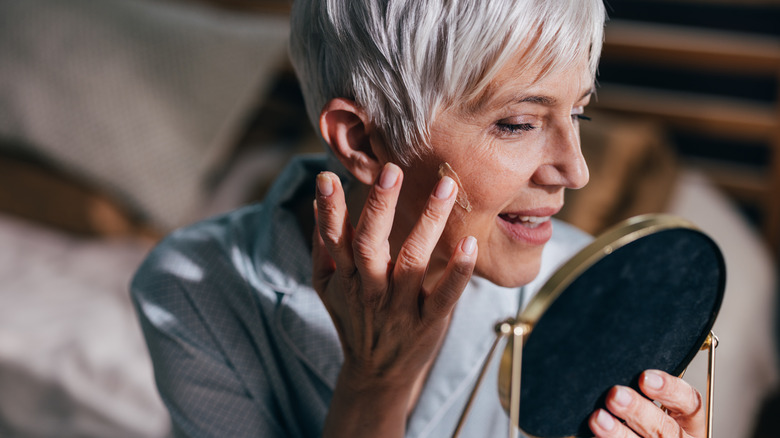 Freshsplash/Getty Images
We may receive a commission on purchases made from links.
When you have textured skin, finding the right products that don't exaggerate the unevenness of your skin can be a challenge. If your foundation of choice doesn't settle into the bumps on your cheeks, then your concealer might highlight the pores found on your T-zone. While textured skin can be caused by genetics, it can also result from clogged pores, acne scarring, or aging.
Thankfully, it's not impossible to reduce the appearance of textured skin by using a little makeup magic, and knowing the best foundation finishes and formulas that don't settle into the skin can help you achieve this look. However, the most important part happens before you apply makeup. Prep the skin by washing with a cleanser like the Paula's Choice Pore Normalizing Cleanser. It's formulated with a low dose of salicylic acid, so it exfoliates away closed comedones while being gentle enough for everyday use.
Go in with a moisturizer that doesn't have pore-clogging ingredients — like the La Roche-Posay Toleriane Matte Moisturizer — then use a primer. Opt for one that's equally blurring and smoothing, like the Fenty Beauty Pro Filt'r Instant Retouch Primer, which smooths away the appearance of pores while evening both your skin tone and texture.
Which foundations are best for textured skin?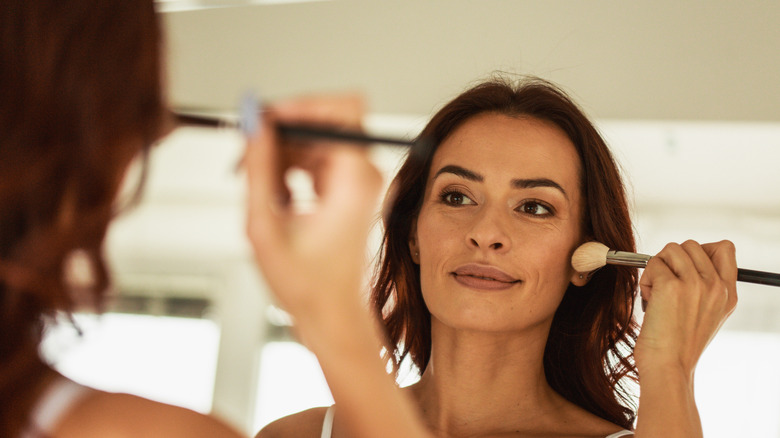 Fotostorm/Getty Images
To prevent your uneven texture from being emphasized, use foundations that are lightweight and buildable. Something that's cakey, such as cream foundation, will only amplify your uneven texture. Powder foundation can give off similar results, as the fine particles tend to fall into fine lines, pores, and bumps, further accentuating them.
Instead, use liquid foundations that aren't too heavy on the skin. While powder and cream foundations often make pores and fine lines more apparent, liquid foundations smooth over them, fading the look of them away. Apply a light, buildable foundation such as the Danessa Myricks Yummy Skin Serum Foundation to ensure a flawless finish.
To create an even, skin-like base, blend out the foundation with a beauty sponge instead of a brush. Dampen it with water or some setting spray and gently tap the makeup into the skin. Blend it outwards, focusing on the areas that may need more coverage. Powder can be tricky when it comes to textured skin, however, the Rare Beauty Always an Optimist Soft Radiance Setting Powder smooths and blurs the skin without settling into texture.
How to reduce texture on the skin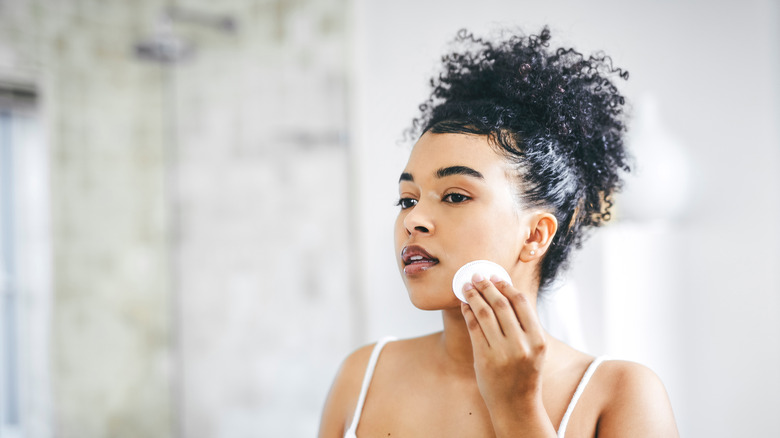 Charday Penn/Getty Images
Since the biggest culprit of texture tends to be a buildup of dead skin cells, exfoliating regularly can help slough away bumps and texture on the surface of the skin. Use a BHA, such as the Paula's Choice Skin Perfecting 2% BHA Liquid Exfoliant, or if you have sensitive skin, spring for a gentle exfoliant instead. The Byoma Clarifying Serum contains PHAs, the gentlest chemical exfoliant for your skin.
On the days you're not exfoliating, use a pea-sized amount of retinol to renew your skin texture from deep within the skin. For people who don't want to use something too strong, there are plenty of skincare ingredients to look for if you're going retinol-free. 
Bakuchiol, which is derived from the babchi plant, is a common alternative. The Inkey List Bakuchiol Retinol Alternative Moisturizer reduces the appearance of texture, as well as discoloration and fine lines, without drying out the skin or causing the infamous retinol uglies. Lightweight and antioxidant-rich, it hydrates skin thanks to the squalane and sacha inchi oil it's formulated with.